One thing I learned from doing field recordings over the last several years, and one thing I learned from various mentors of mine that use field recorders is that you want the best audio possible, in the simplest package possible. Besides the main factors of simplicity and audio quality there are a few other factors to throw in there:

Rugged

Durable

Portable

Reliable

Well, if you put all of those features together, and then you list off some of the main qualities of the iPhone, then it's a no brainer that a recording app for the iPhone is a great thing. After all, the iPhone is:

Portable

Durable (with the right case)

Reliable

Rugged

Simple to use

Since the creation of the iPhone, there have only been a handful of field recording apps that have really caught the attention of the pro audio community. The main app leading the charge has been Fire, by Audiofile Engineering. And, in truth, Fire is an extremely hard act to follow, as it heartily lives by the features above: Simplicity, rugged, sounds good, etc. Well, there is a now a serious contender for the position of best field recording app in the form of Pro Audio to Go.

Intuitive yet Powerful
It's hard to believe that an app could be made to behave simpler than Fire, but Pro Audio to Go really pulls it off... Almost to the point of going overboard. For example: There are no visible waveforms being created as you record. Instead you just have very simple, but responsive digital PPMs informing you of your levels. Then, there are also a few other nuggets that I found to be very handy...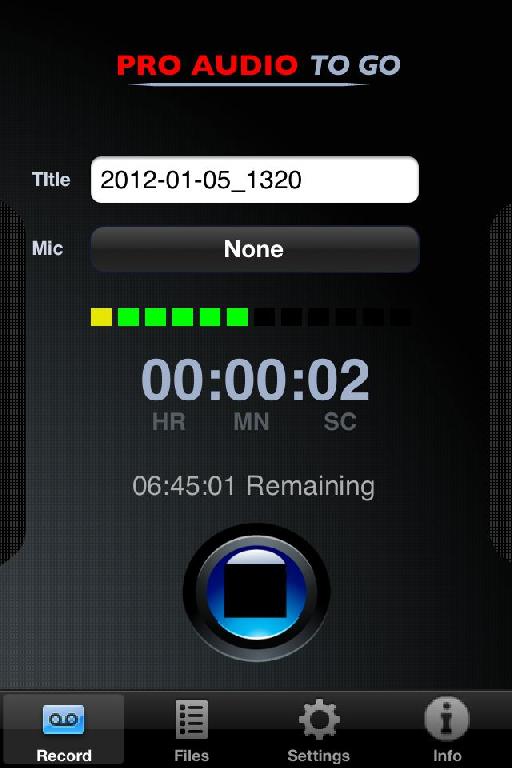 For starters, you can choose to name the file before the recording begins, a huge plus for journalists, and sound designers doing lots of sessions who want to keep things orderly. There's also access to Mic EQ presets. If applied, the EQ settings are actually applied to your audio through rendering once the recording stops.
If you're worried that the EQ presets are proprietary and un-editable, fear not! Through the Settings Page, you have access to the High, MID, and LOW bands, as well as Gain, which can be especially helpful when connecting an external Mic.

Speaking of microphones, RevUp Transmedia offer optional cable adapters for your new portable field recorder. Connecting through your headphone jack, you gain an XLR input, and a headphone connection so that you can monitor during recording, listen after recording, etc.

Pro Features
Back to the main page, one feature I've grown especially fond of is the portion of the display that gives you a highly accurate depiction of how much overall recording time you have left on your iPhone. Let's face it: Apple has never made it easy to determine how much space, time, etc. is left. The only way to really gauge it is through hooking up to iTunes. Pro Audio to Go actually fills you in with the hours, minutes and seconds. Nice!

Also of huge importance to me was the ability to save directly to an FTP that you have access to. Simply enter the FTP site, your name and password in the settings field, then it becomes a save option later on... And it does work well. One thing I would like to see is the password field encrypted. Currently, if you go to the FTP Sites page in the Settings area of Pro Audio to Go, your login and passwords are fully visible. Not a pretty thing if your phone gets jacked.

Conclusion
All in all, I was highly impressed with Pro Audio to Go. The 48kHz recordings coming out of my phone sound great and on the website as well as the FAQs, the developers have stated that more options are coming, like the ability to record in Mono, as well as Stereo. The price of Pro Audio to Go could be seen as suspect: $29.99. However, with the ability to easily get audio back and forth from your iPhone, even as remotely as an FTP site, the convenience and simplicity does make up for it. And, if journalism, or field recording is how you make a living... Well, that's another write-off, right?