Dubstep, Trap, EDM, Glitch Hop, like all the other genres are quickly evolving. With this being said, it's tough keeping up with all the cool, new gear that you need to make this happen. It's even tougher if you're really into any of the genres above, and don't have any gear to make anything happen. Thankfully, Prime Loops just released a sample pack that, for under $50 will dispel almost any roadblock in your way for making something sick.

Beats Are Big
You don't have to search through too many files to find something that will make your head bob. The loops included in Virtual Riot will get you moving. Though, I do have to commend Prime Loops, these loops are hard hitting. But, at the same time, because the beats are basic, these can be recycled through many different sessions. This is especially true if you're only doing something in the 140 tempo range. If you're up for experimentation, well, these loops will last you for a long time. Plenty of well produced fodder, here. And, it's not just drum loops. In fact, the bass loops included with this bank really are the centerpiece. All example of Dubstep filter tricks are present along with the attitude. Destructive patterns that feature some amazing filtering grace the set, and once you hear them, you'll definitely be coming back for more. And, it's not just loops for the bass. There's plenty of one hits, along with synth loops and hits.

Thankfully, the synth loops are broken down enough that it's not 'canned' music, like some of the loop makers are starting to feature, now. While some of the synth parts are catchy, most excel at what they are intended for, background. And, they do a fine job, adding attitude and cool factor.


Hits Away
If you're not really in to the loop action, there's a really nice set of drums for you to work with, here. The kicks and snares are as tight as they come. There are even layered kicks and snares that have been mixed with secondary sounds like bells and robot sounds to add in some interesting variety. Cymbals and FX, along with percussion are also well accounted for, here. Though, I'll mention that in this particular area, the creators of Virtual Riot definitely thought outside of the box. Granular hits, Transformer style hits, sprinkled with healthy doses of bread and butter percussion let you know fast that while there's some 'new and different' in there, there's enough mainstay to keep this set flexible.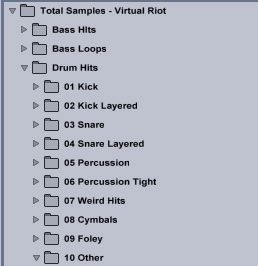 The only thing that I didn't really understand was why there are so few hi-hats. Granted, some of the genre don't seem to use them as much. Still a few more hi-hats would be nice.

Conclusion
If you're doing EDM, Trap, Dubstep, or Glitch you need to at least check out what Prime Loops has put together for you, here. There are several varieties of methods to pick up Virtual Riot—Ableton Pack, REX files, Apple Loops, Reason Refill, or just good ol' wave files. But, beyond the convenience factor, this pack hums. It's loud and has some serious backbone. This is especially true in the bass department.

Price: $41.53 USD

Pros: An amazing collection of loops and hits that really will help you write some amazing Dubstep, EDM, Trap and Glitch Hop.

Cons: Where are the hats?