Wolfgang Palm is somewhat of a legend in the synthesis world, often credited as the father of digital synthesis. He invented wavetable synthesis and his company, Palm Products GmbH (PPG) has been responsible for some highly collectable synthesizers including the venerable PPG Wave.
So when the father of digital synthesis makes an iPad synthesizer, any self-respecting synthesist should stand up and take note.
PPG WaveGenerator
WaveGenerator is a wavetable synthesizer, much like the aforementioned Wave. It comes with a wealth of preset wavetables and the user can also generate their own by using the touchscreen to edit either a Spectrum Editor or a Wave Editor. The app can also create tables from pictures on your iPad or even direct from the camera.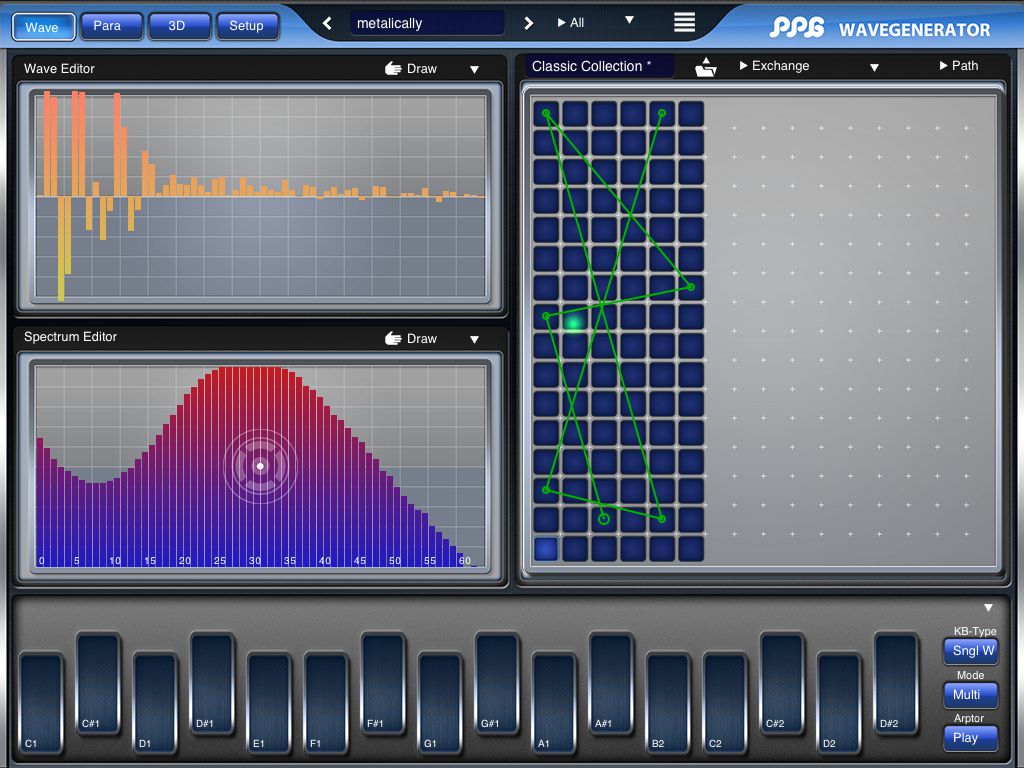 Editing and creating wavetables has never been easier.
A wavetable can consist of up to 256 waves in a 16x16 grid. There are a number of clever ways to modify and travel through the table using the touchscreen.
The wavetable is shared by 3 oscillators which can use independant envelopes to travel through different parts of the table. There are a total of 13 dedicated ADSR envelopes with looping and variable logarithmic and exponential curves.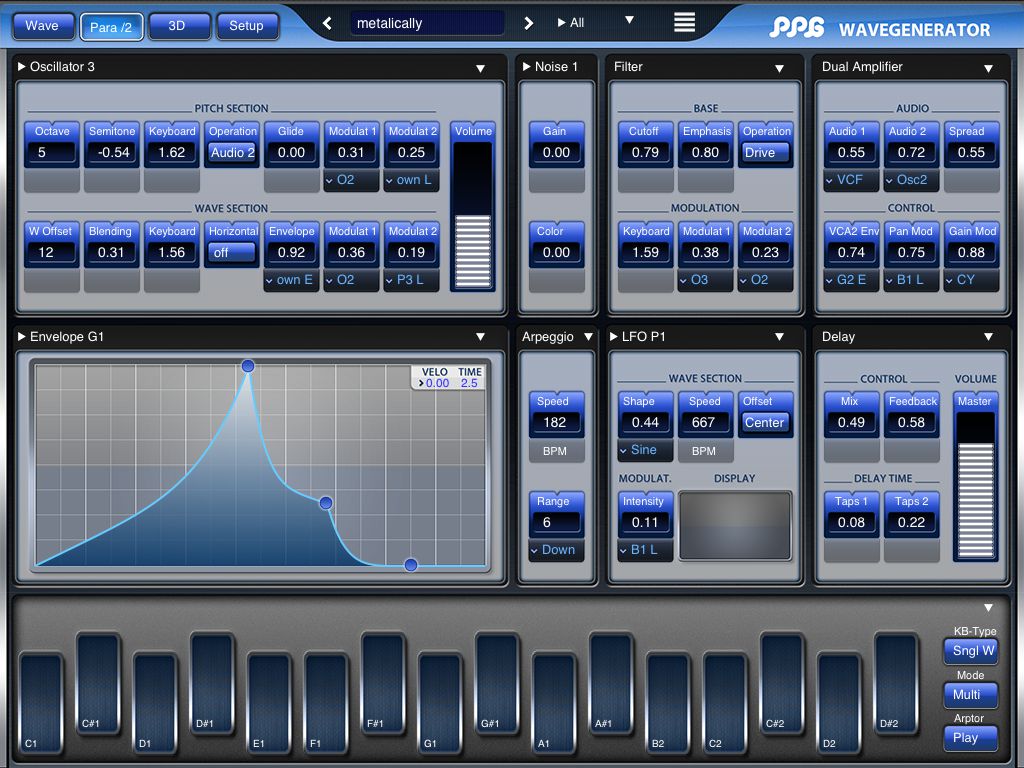 The Para screen is where all the synthesis parameters can be found, neatly arranged in modules.
Additionally, there are three noise sources (one for audio and two for modulation), a 'classic' 24 dB filter with overdrive (possibly modelled on the Wave's SSM filter?), two VCAs with selectable inputs, 4 LFOs, an arpeggiator, built in delay/reverb and a customizable keyboard (think user scales) with X/Y modulation support. There is even a rotatable 3D rendering of the currently selected waveform - I'm not entirely sure of its practical use, but it looks cool.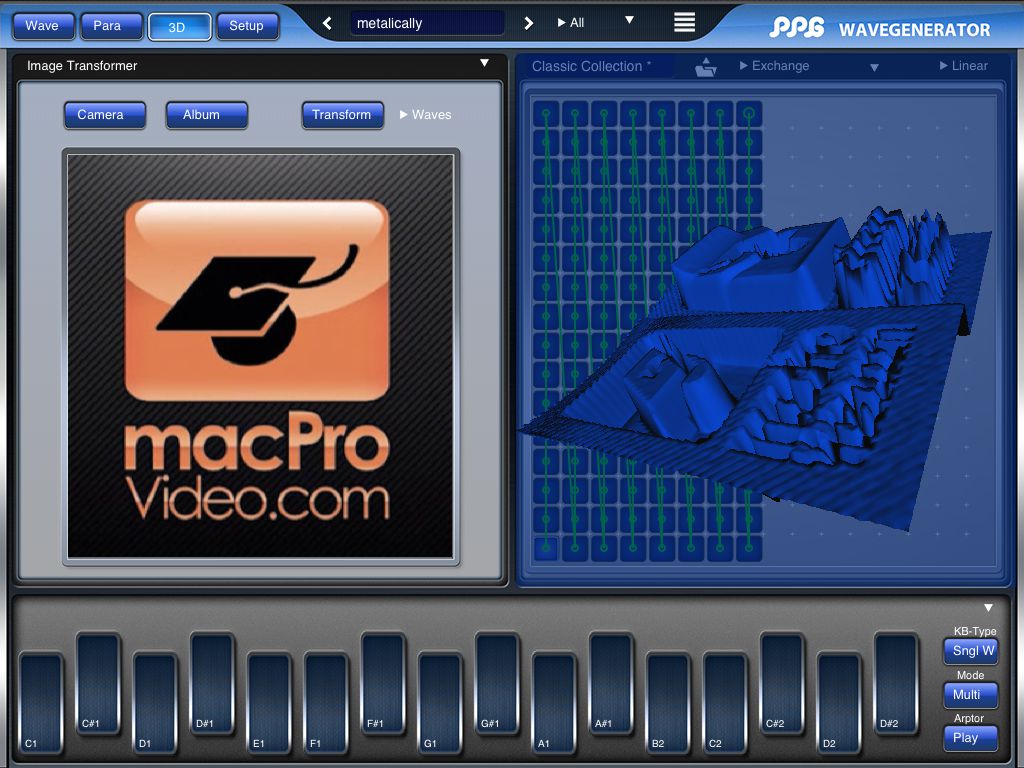 Import pictures from your library or use the camera to create unique wavetables.
All in all it's an impressive list of features. 90% of programming time will be spent flipping between two different pages, the Wave page - for dealing with all things wavetable - and the Para page - for all other synthesis parameters. Layout is neat and intuitive for the most part. Careful attention is needed when editing oscillator or envelope parameters as it's all too easy to forget which oscillator or envelope is currently selected and showing. I also found that careful attention had to be payed to gain staging otherwise the sound could clip internally, but this is fairly common with digital synths and as long as you're careful, it will sound great.
The overall sound of WaveGenerator is pleasingly familiar if you've ever used a wavetable synth. If you haven't then you're in for a treat, think digital landscapes, glassy plucks, industrial percussion, beautiful chimes and a whole load of other fun besides.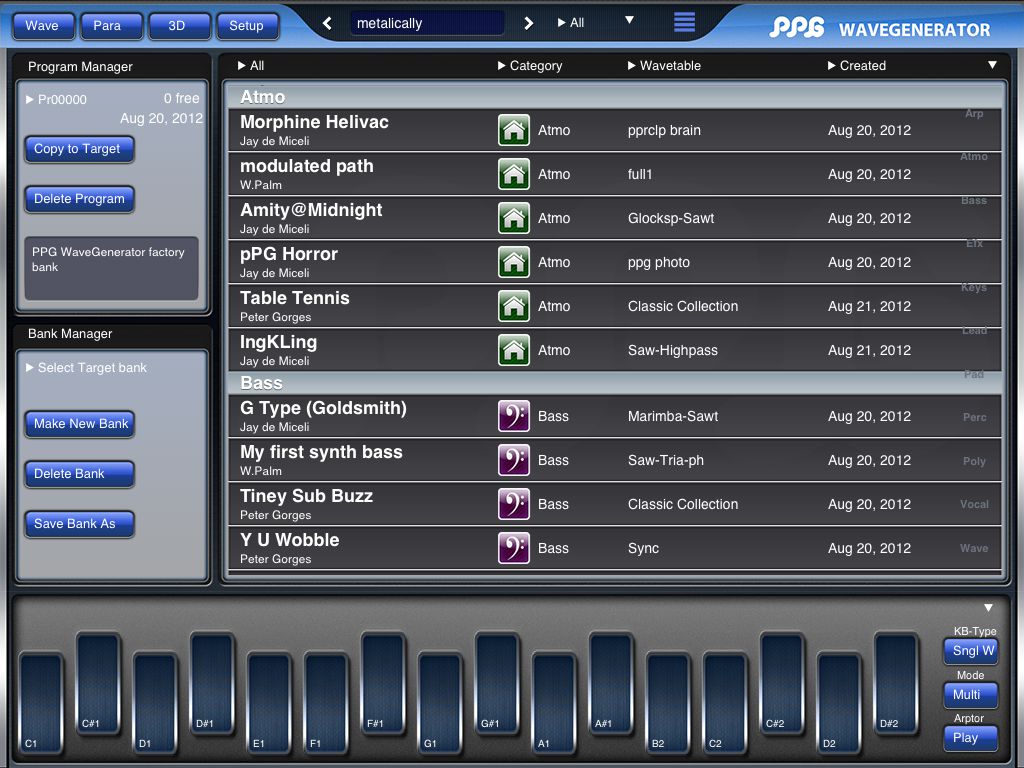 The factory presets are varied and interesting, with some real gems scattered throughout, but the real fun comes with rolling up your sleeves and creating your own unique sounds.
Conclusion
Wolfgang Palm is to digital synthesis what Bob Moog is to analog synthesis. In some ways, the PPG WaveGenerator stands beside the Moog Animoog and rightly so. Both are impressive synths with serious pedigree and far more depth than one might expect from an app that costs the same as a round of beers. The WaveGenerator has its own unique sound, and if you've ever coveted the famous PPG Wave sound, or just want to explore a different form of synthesis, it has never been more accessible than it is now.
I know you were wondering what the MacProVideo logo sounds like as a C Minor 7th chord... well here it is!

PPG WaveGenerator is available now for iPad. It requires iOS 5.1 or later and costs $19.99.