It's relatively unusual for a developer to start off making apps for iOS and then leap to the desktop world. Usually it happens the other way around. Positive Grid's BIAS amp suite for iOS was well-received and the company has now made a version to plug into your desktop DAW in AU, VST, RTAS and AAX formats for Mac and PC as applicable.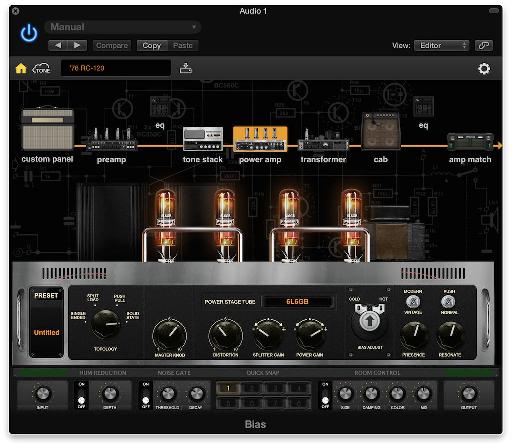 The basic premise is the same: drag and drop various modules into the signal chain to create a setup. Each one can be tweaked just like real hardware, and of course units can be combined in any configuration you like. The design is really nice with gorgeous yet functional graphics that really make it feel like you're working with proper guitar kit. The first module is a custom panel where you can set basic EQ, presence and gain and also customize the material used for the background, which is a nice touch. Then there's a preamp stage with extensive controls and presets available and you can precisely tweak both the model and behavior of the tubes, bias and distortion applied. 36 amp models are provided with the initial release.
Rack 'em up
An 8-band EQ can be found at two points in the signal chain, and there's also a Tone Stack, Power Amp and Transformer modules each with presets and extensive controls. The Cab module lets you choose from a selection of cabinet models and move the mic around to change the tone, as well as selecting one of two different mic models. Along the base is a master section containing global controls like input level, hum reduction level, noise gating, eight preset slots for quick patch selection and a Room Control section with reverb and damping.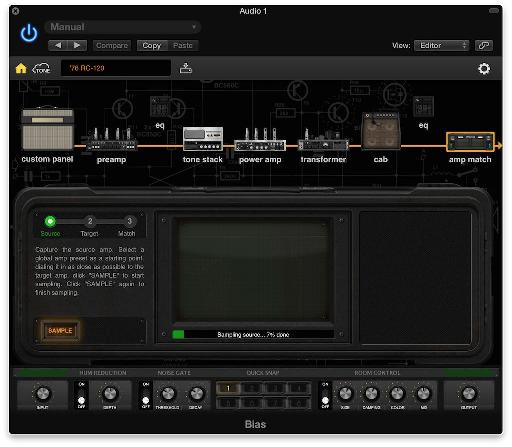 If you opt for the Professional version, you get all the same stuff from the regular version with some additional features. One of the more interesting comes at the end of the signal path and it's called Amp Match. This module can help you to replicate any amp sound that you are able to create or indeed import into your DAW. You start by dialing in a preset that's as close to your target sound as possible, then pressing the Sample button inside the module. The plug-in analyses the sound and attempts to do an EQ match to make your settings match up to those of the sampled signal. This actually works pretty well and you can see some examples of it in action on the product website.
The Pro version also adds featured artists Amp Matching presets and three amp expansion packs thrown in. There are lots of excellent presets to get you started and you can also connect into Positive Grid's ToneCloud to share and download presets from inside the plug-in's interface. It's nice that you don't have to leave the interface to do this, it's all integrated.
Leaning towards BIAS?
BIAS Desktop is a great guitar effects suite that goes beyond what most others can offer both in terms of tweaking every aspect of the way a sound is processed, right down to the power unit and letting you match an existing tone with its clever Amp Match system'"at least in the Pro version. It also integrates with its iOS counterparts as you would expect. It's a shame there's presently no standalone version as that would be the icing on the cake.
Price:
BIAS Desktop $99
BIAS Professional $199
Pros: Gorgeous design. Excellent guitar tone. Insane depth of tweakability. Amp Match is really clever. Good online integration with ToneCloud.
Cons: No standalone version. Price jump for Pro version seems a little steep.
Web: www.positivegrid.com