A new polyrhythm learning tool was recently released for iPhone and iPad aptly called the PolyRhythmApp. Knowing how to execute syncopated rhythms is an important skill for musicians and composers alike. Syncopation is the music theory term for notes that are played in between the main beats of a measure and held across the main or down beats. These rhythmic figures play off of the main beat to give a groove a jazzy or more complex feel and there are tons of variations. The PolyRhythm app allows users to try various syncopated rhythms in different time signatures and durations. The design has simple, well thought out features for experimenting with a variety of different rhythms.
Polyrhythm App Interface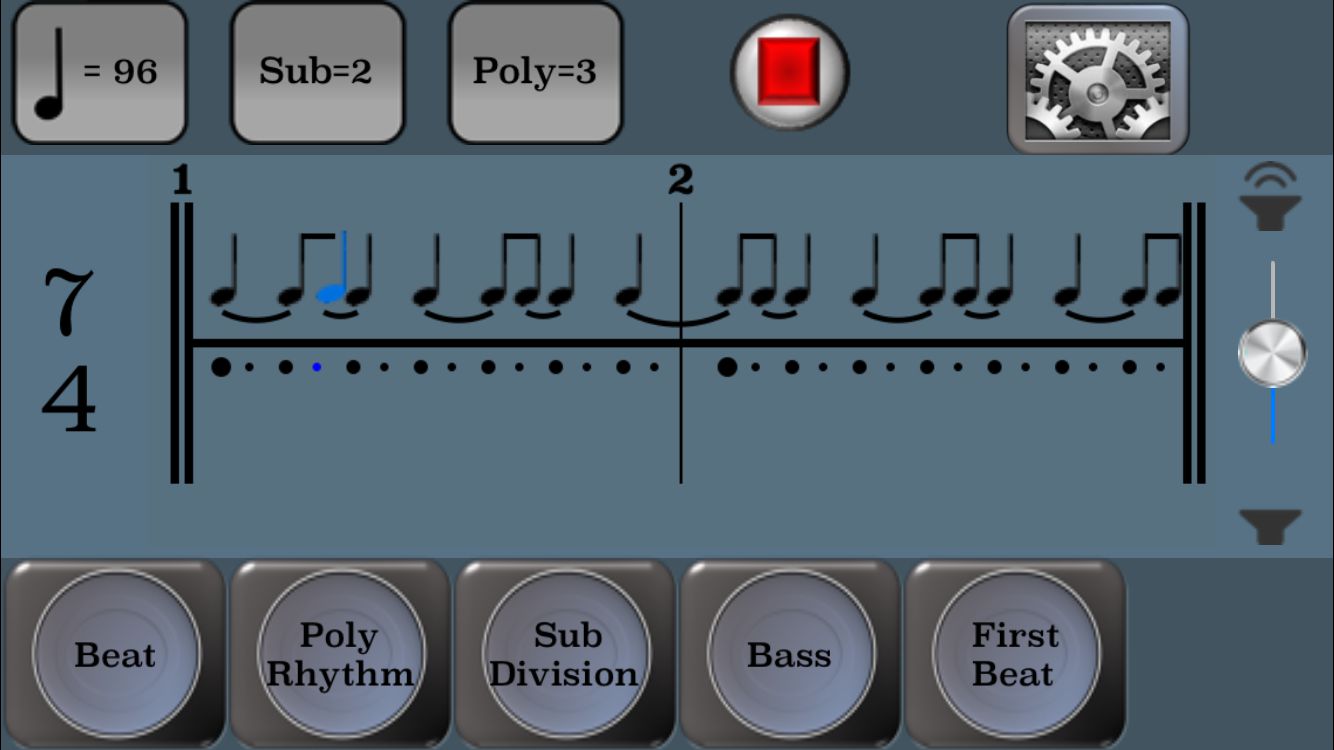 Figure 1 – PolyRhythm Main Playback Window
The main playback window shows the syncopated rhythm as notes and the main beats and subdivisions of the beat as dots underneath. You can easily turn on and off the various parts that include the downbeats, accented first beat of the measure, the polyrhythm, subdivision of the beat (that pulses quietly underneath) and the bassline. The slider on the right is a global volume setting. The playback window will scroll from measure to measure depending on the length of your loop. The design isn't flashy, but the ease of use makes up for the lack of eye candy.
Changing the Parameters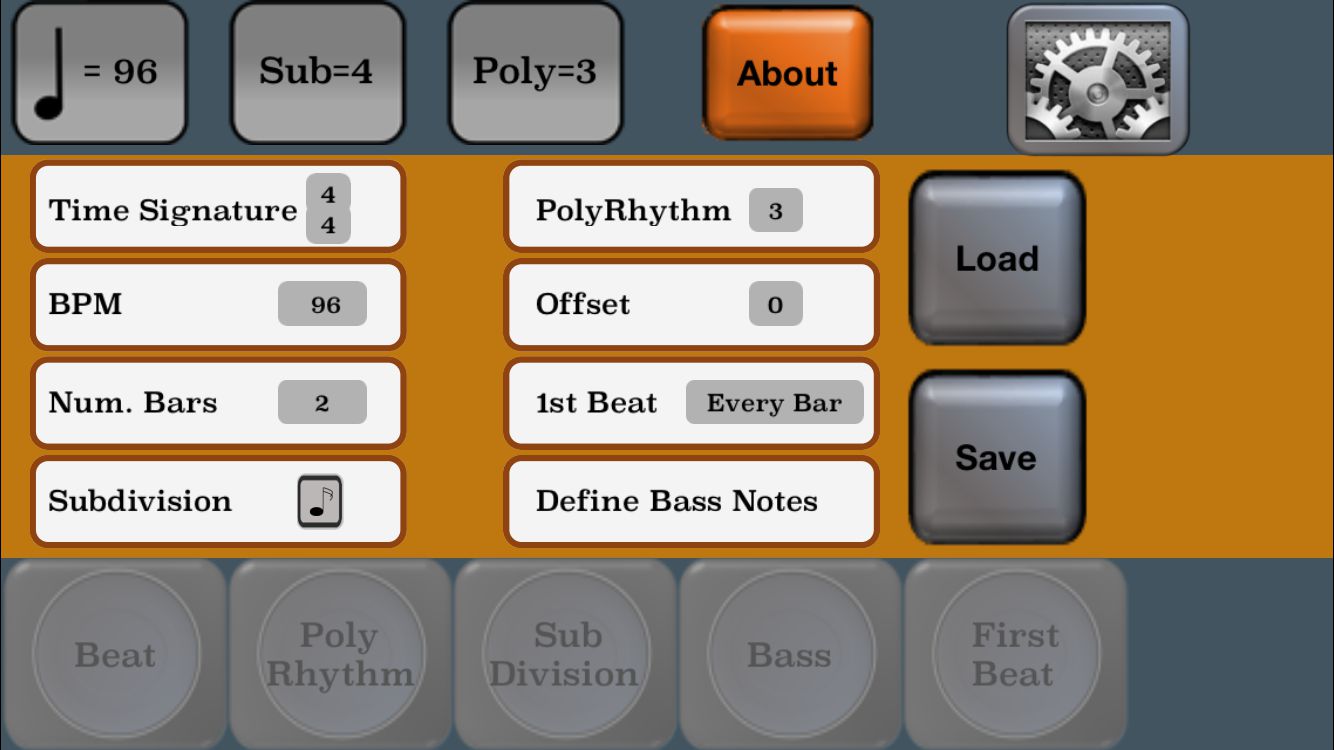 Figure 2 – Parameter Selection
The settings icon is lifted straight from our system preferences on the Mac. When selected, a window is revealed allowing users to change the time signature, polyrhythm, subdivision, BPM, number of measures and bass notes. Loading and saving your favorite polyrhythms is quick and easy. I suggest trying different time signatures, polyrhythms and odd subdivisions for exploration purposes. You will soon find rhythms you recognize and can use in your next production.
Add a Bassline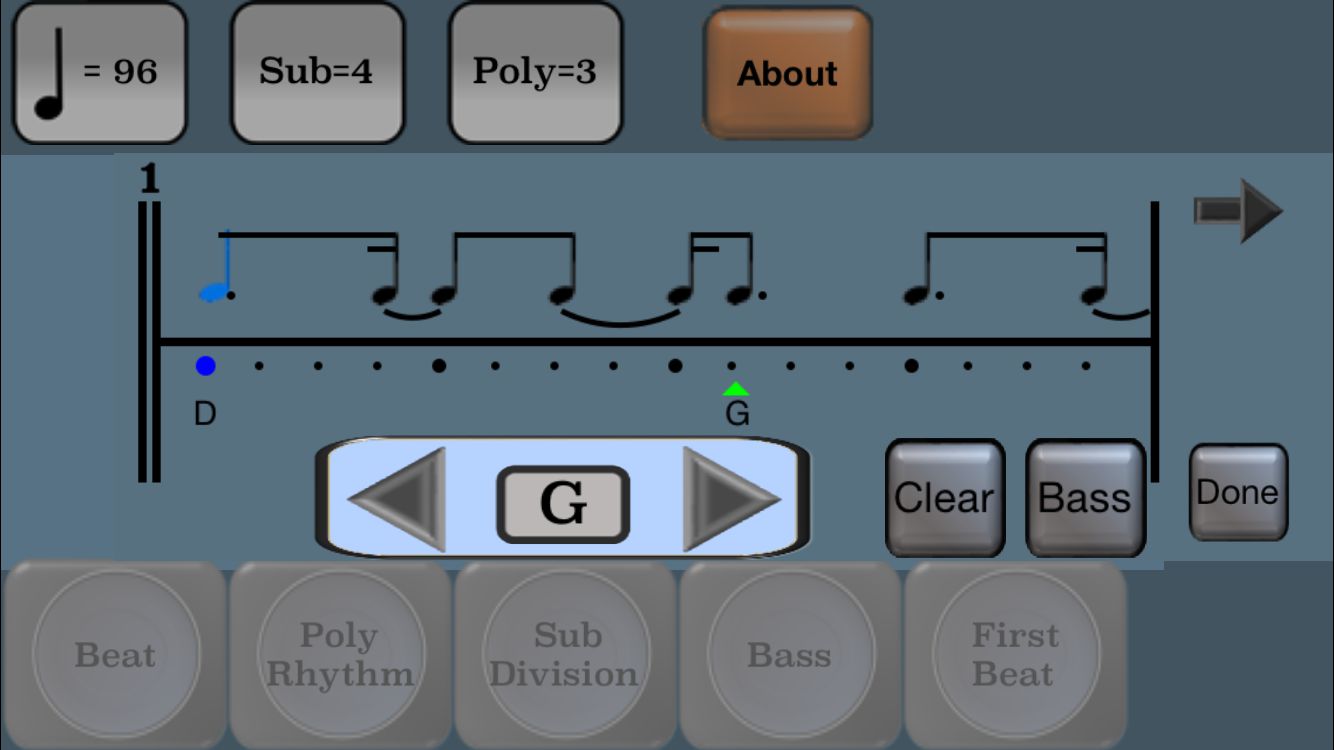 Figure 3 – Add a Bass Line
A neat feature of PolyRhythm is the ability to add a simple bassline to the groove. When you select 'Define Bass Notes' in the settings section, you can choose notes to drop into the downbeats or subdivisions. If you are using the app to practice jazz soloing, as one of the tutorial videos suggests, try a II – V – I Root progression to see how the polyrhythm can effectively play off the bassline to accompany your practice.
In Review
Although the app doesn't allow for changing the individual volume of each part, it's a great tool for hearing how various syncopated rhythms work. A MIDI export function would also be nice in the future for composers. All and all, it's a great practice and learning tool for the rhythmically challenged as well as seasoned musicians who want to explore other possibilities in the world of polyrhythms. This is a great app for music teachers to use in their lessons too. Check out the video tutorials on their website for a quick run down of how to use the app' s features. Happy grooving!
Price: $4.99

Pros: Simple layout, customizable, great learning tool
Cons: No individual mixing controls for sounds, no MIDI export