Recently I've been on a quest to find ultracompact, super affordable hardware synthesizers with dramatic flare and serious attitude. Ploytec Pi Lambda squared 2 (or simply PL2) is a minuscule Herculean duophonic subtractive synthesizer that fits the bill and remarkably exceeds my expectations. Despite the fact that it looks like a glorified LEGO and can fit into a pocket of a pair skinny jeans with room to spare, this little bad boy packs a punch much larger than its physical proportions.
To give you an impression as to the nature of the beast and sonic signature we're dealing with, the company remarks: "No other synth on the market has more aliasing and quantization noise."
If you're searching for a timid, delicate playground, run in the opposite direction. The PL2 is most suited to producing fat basses, quirky filthy leads and noisy effects that range from dirty, warm and bold, to peel the paint off the wall destructive.
To further give readers an idea, I designed some sound examples to illustrate… like this dirty filter sequence.
Ok, fair enough… it can be tender too. PL2 patch mixed with some gated software effects and panning modulation.
PL2 Variants
PL2 Leukos is the white colored USB variant that connects directly to your Mac or PC computer, and to your audio interface or mixer with a single RCA output. The original black version is exactly the same except that it's only MIDI powered with no direct computer connectivity (useful for users with computer free setups).
In addition to its USB connection, the PL2 Leukos has an additional MIDI out port that is designed to connect with an original PL2 to double the number of voices from two to four. Double your pleasure… quadruple your fun.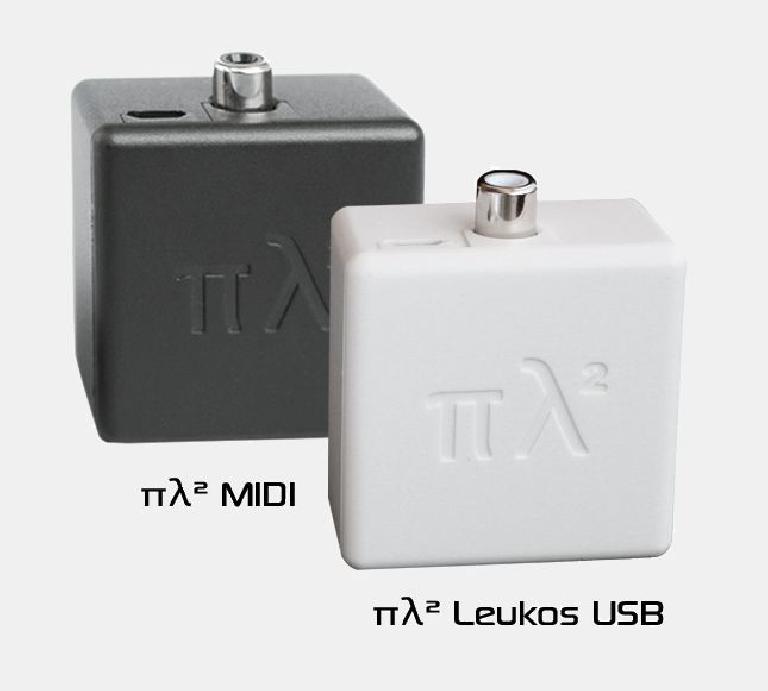 Subtractive Sound Architecture
The sound engine is driven by two analog pulse wave oscillators which Ploytec has coined "Square Wave Synthesis." These can be configured as two individual notes, stacked notes, octaves, or mono which can be further modified with the PWM sliders. To make it subtractive, the oscillators run through an adjustable digital filter. To warm the party up and round off the overall timbre, the signal then feeds into a separate lowpass analog filter.
The PL2 offers two modes with 4 waveforms each. Mostly each of these settings offer different configurations for pitch, oscillation periods and pulse width (see chart below). Additionally, firmware version 2.0 delivers a keyboard split bass drum mode for creating kicks and noise wave type snares.
Shape it Up
The PL2 has a standard ADSR amp envelope but no filter envelope. Users can however assign a handful of parameters to the LFO including PWM Modulation, Filter Mod, Amp, Wave DC offset, etc. There are also separate modulation assignments for the mod wheel providing auxiliary options for movement and sound shaping.
Note: LFO—and envelope-speed synchronize automatically to an external applied MIDI clock—whereby the PL2 perfectly adjusts to your song tempo.
The PL2 has a dedicated analog saturation stage at the output which induces dynamic compression… a formidable tool for adding low end articulation and respectable bass punch.
Bass Dive with analog saturation:
Additionally, you'll want to explore the DC Offset Wave control as it acts as a Bitshifter. Manipulating the Filter DC Offset is where you can really dial in those lo-fi, aliasing distorted, destructive sounds you're seeking.
Filter DC Offset modulation in action:
Master Control
As to be expected from a mini synth this size, there are no physical controls on the unit itself. Instead it requires some basic MIDI knowledge to set up additional controllers to send MIDI CC messages to edit any of PL2's parameters. Fortunately, there are some tools and templates available to help get users up and running.
Visit the Ploytec website and download the editor for Mac, Windows, and/or iPad. Contained within this download, you'll also acquire templates with corresponding CC mappings for some commercially available controllers as shown below.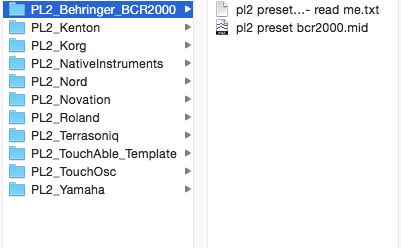 Templates
Software Editors
The free software editor's graphic user interface is extremely old school looking but does the job sufficiently. There's a page for loading, saving, modifying and learning controller mappings. Another for global settings such as updating firmware versions, assigning MIDI I/O and denoting mod wheel and note range values. The third tab allows users to change, load and save programs and gives access to parameter adjustment and modulation assignment settings.
Note: If you're keen to throw the dice and get crazy with it, there's a Random button under the settings page for scrambling parameters.
The best news is for Native Instruments Reaktor users as there's a free Ploytec PL2 Remote Programmer ensemble that loads into your digital audio workstation of choice. It's a much nicer interface and offers many of the same options contained in the software editor.
Download - Ploytec PL2 Remote Programmer
As stated on the ensemble's download page, "Every parameter is adjustable and it is fully compatible with firmware update 2.0. This remote also enables the user to create a virtually unlimited amount of presets on the computer. Apart from the hardware parameters, there are also new options like controlling the LFO speed (by controlling the song tempo). Intended future updates contain, amongst other features, computer side modulation (LFO/envelope) of the PL2's parameters."
Once the ensemble was set up in Ableton Live, I effortlessly configured parameters to my Push 2 controller and automated control changes in real time just as I do with any other software synth.
Important note: To route the PL2 Reaktor ensemble correctly users will need to instantiate the VST version rather than Audio Unit plugin. Since Reaktor itself is an instrument, you'll need an additional MIDI track to route MIDI out to the PL2 and a separate audio track to bring back the audio input. Check out the screenshot below for appropriate I/O settings.
Say Whaaaaaat?
As briefly mentioned, separate firmware versions can be switched and loaded directly to the PL2 from the software editor seamlessly, all within a few seconds. Firmware version 2.56 converts the PL2 into a speech synthesizer inspired by the 1980s General Instrument SP0256 chip. Great for techno, glitch and chip tune lovers, it transforms the PL2 into a Speak and Spell!
There are plenty of dry listening examples on the Ploytec website, so I took the liberty of doctoring these a bit using some additional software FX and a beat from a couple of my drum machines.
That's a Wrap
There's very little not to love about this tiny synth. At a price point of €77 (includes shipping) it's cheaper than many soft synths on the market. The PL2's powerful but simple layout makes it a prime candidate for beginners wanting to get more into synth programming. Moreover, it's unique enough to engage even the most avid synth enthusiast.
Ploytec has indicated that new firmware versions are in the works. This means users will be able to update for even more functionality in the future. Looking forward to seeing what they come up with next!
Price: €77 Euros (includes shipping)
Pros: Ultracompact and affordable duophonic mini synth, Unique sound chocked full of character, All parameters are CC controllable, Switch between firmware updates to expand functionality, 64 programs - 32 user program slots, Includes templates for setting up controllers, Mac/Windows/iPad compatible Software Editor (PL2 Leukos), NI Reaktor PL2 remote programmer
Cons: No dedicated filter envelope, No legato envelope triggering, Pitch bend is always one octave, Limited LFO settings