Review: Plankton Electronics ANTS! Semi-Modular Analog Synth
ANTS! is a semi-modular analog synth that not only looks cool, it sounds great too. Find out much more about it in this video review.
This written and video review is by Nic Britton from TILT.
The Plankton Electronics Ants! is a fully analog desktop semi-modular synth with Eurorack compatible connectivity. It is normalled to be able to be used without any cables as a 2 Oscillator monosynth and is able to be triggered without any external keyboard. By using the MIDI connection on the back of the device, or its CV/Gate connections on the front, you can then play the Ants! from an external source.
Video Review
Army Ants!
Once using patchable cables, the Ants! can utilise its 4 Oscillators, 2 VCAs, 2 LFOs (switchable to 4 by changing 2 of the XT Oscillators into LFO mode), 2 Envelopes (one Attack / Decay, the other Attack / Release), Sample & Hold, a switchable filter with a 12db/oct Low-Pass & a 6db/oct Hi-Pass mode, plus a Noise Generator, Mixer section and a Logic gate.
The Oscillators between them can generate Sine, Triangle, Saw and Pulse (with PWM) waves. They hold their tuning well once warmed up (10-15 mins), but this only extends across a 2-3 octave range. The Oscillators sound like typically analogue VCO's, and if I had to bracket them I would say they are somewhere between a Moog to Roland sound. However, they do have their own character.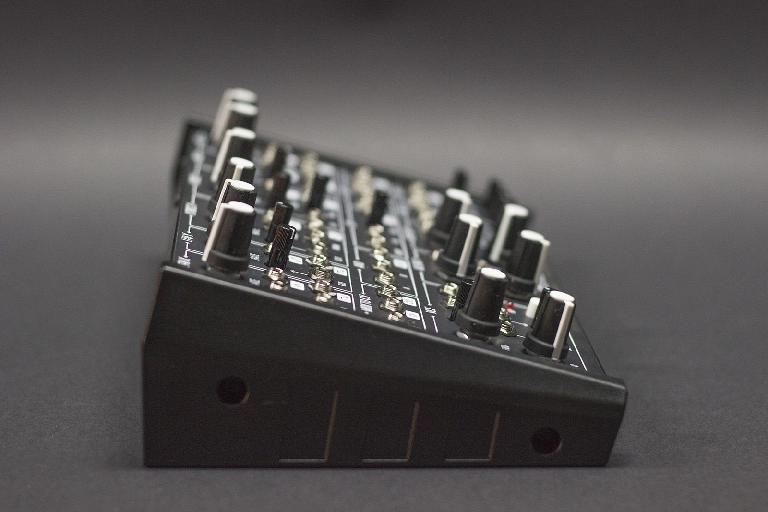 Depending on the amount of drive applied to the Filter, its tone can be quite dramatically changed from smooth to aggressive. Both the Low Pass and High Pass filters can self-oscillate and there is no stepping when sweeping through either the Cutoff or the Resonance (Q).
The Ants! is also "Hackable" for those brave enough and with the knowledge to do so. This functionality is accessed via an ISP port within the unit.
The Ants! is built from a rolled steel case with plastic covers on its side. The knobs have a soft rubbery feel to them but turning the pots feels sturdy. Although this is no wooden-end boutique style design, the Ants! doesn't feel cheap and I think it would survive live work well. It ships with some brightly coloured patch cables and 3 "Ninja Stars" which are used to split or combine signals.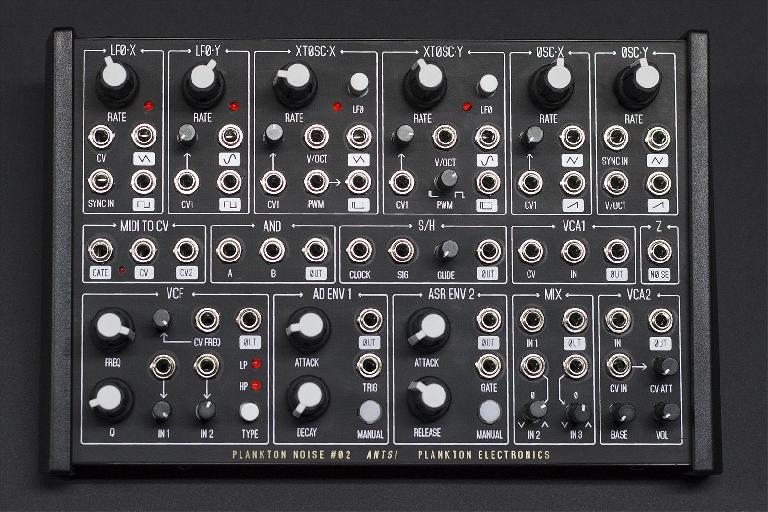 Verdict
For the cost, the Ants! is a great sounding analogue monosynth for anyone looking to expand a Eurorack system or as a standalone desktop unit. For those with larger modular setups, unfortunately the Ants! can't be retro-fitted into a Eurorack case but all its input and output connections are fully compatible with the Eurorack voltage standards.
Price: 490 EUR excluding tax
Pros: 4 Oscillators, Flexible Filter tones, True Analogue Character, Lots of Patchable Modulation options, Eurorack friendly voltages, Built in M.I.D.I to CV interface, Excellent Manual, Open Source, Affordable price.
Cons: Tuning stable between 2-3 octaves, External power supply, Doesn't fit into a Eurorack case.
More About TILT