Review: Pioneer DJ TORAIZ-SP-16
Featuring a 16 pad sampler & step sequencer & Dave Smith Instruments analog filters, Pioneer DJ's TORAIZ-SP-16 is aimed at forward thinking DJs & producers. Sara Simms finds out if they hit the mark.
I was curious to find out more about Pioneer DJ's new TORAIZ-SP-16 sampler. The unit combines a 16-pad sampler, Dave Smith analogue filters and a Roland-style 16-step sequencer. The TORAIZ-SP-16 is Pioneer DJ's first step into the production world and the sampler claims to bridge the gap between production and DJing. Would the TORAIZ-SP-16 really be able to make production work easier and be integrated into a DJ set? I gave it a test drive in my studio and during live shows to find out how the TORAIZ-SP-16 really works...
Watch a brief demo of the TORAIZ-SP-16 in action:
Overview
The Pioneer DJ TORAIZ-SP-16 is a compact unit housed in a standard black Pioneer DJ chassis. On the surface, you'll find 16 velocity-sensitive rubber performance pads, a 7-inch full-color touch screen, a 16-step sequencer, Dave Smith analogue filters (the same as on the Prophet-6 synth) and a touch strip. There's a USB input for loading samples into the TORAIZ-SP-16 located in the upper right-hand corner. Overall, the layout is slick and modern looking.

On the rear of the TORAIZ-SP-16, there are eight 1/4" outputs, two 1/4" inputs and a level adjustment, a USB port, MIDI In and Out/Thru ports and an AC connector. The various connectors become useful when examining the connectivity options that the TORAIZ-SP-16 presents to DJs and producers.
Connections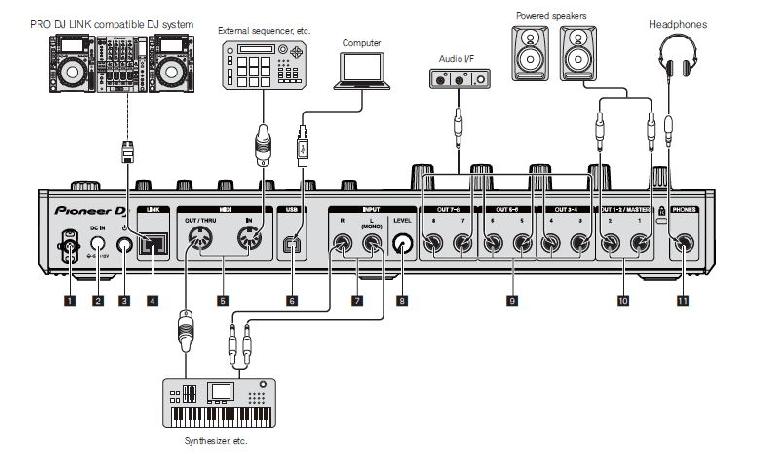 The TORAIZ-SP-16 offers a wide variety of options for connecting with a DJ or production setup. For example, the Pro DJ Link can be connected with compatible Pioneer DJ equipment (a CDJ/DJM setup) and productions created on the TORAIZ-SP-16 will be synched with tracks that have been analyzed with rekordbox. For those who don't use rekordbox, the TORAIZ-SP-16 can sync via MIDI to your DJ software or DAW. External sequencers can be plugged into the MIDI In port, and the MIDI Out port can be plugged into synthesizers or other MIDI devices for use in the studio or during live performances.
Workflow
It was easier than anticipated to begin using the TORAIZ-SP-16. The sampler comes loaded with 2 GB of samples from Loopmasters, which are helpful in pattern creation. Each song you create is organized into a Project on the TORAIZ-SP-16. Rhythms and grooves can be programmed into Patterns, which are between 4 and 64 beats long. Songs are organized in the Arranger screen, which contains up to 16 Scenes. Once I started to use TORAIZ-SP-16, it was fairly easy to learn the on-board system for programming beats. Pioneer DJ has created a series of tutorials on their YouTube channel to help users learn to use the TORAIZ-SP-16.
A new Project can be created in the Menu, then custom sample kits can be created by using the on-board samples, or by loading your own samples onto a USB key. Rhythms can be programmed in by using the 16-step sequencer or by real time recording using the performance pads. The step sequencer offers an intuitive way to program new grooves and these can be used to enhance a DJ set, or in the studio to start generating new ideas. Those who are familiar with MPC style-programming will appreciate the TORAIZ-SP-16's pads for finger-drumming in ideas and the Slice and Scale functions to chop longer samples.
Analogue Filter Collaboration with Dave Smith Instruments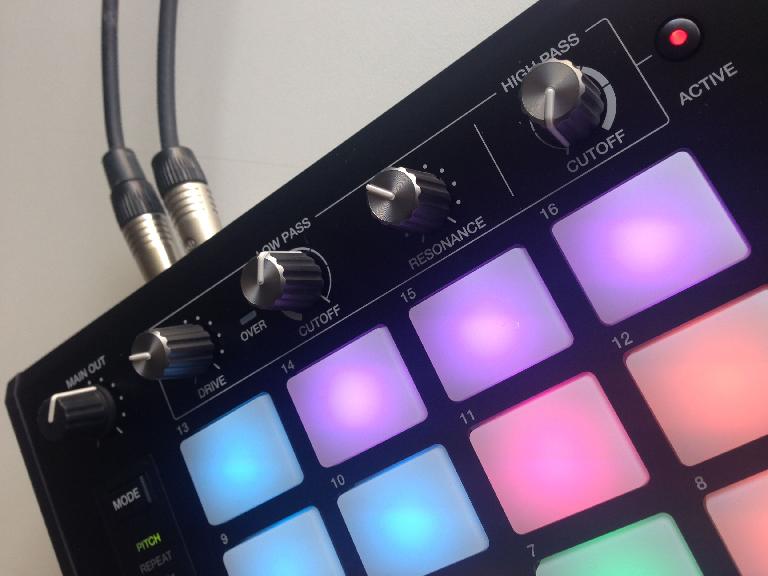 One great feature of the TORAIZ-SP-16 is the analogue filter section that features filters by Dave Smith Instruments, which are the same filters that exist on the Prophet-6 synth. In the low-pass section, there are rotary knobs for drive, cutoff and resonance and in the high pass section, a single knob for cutoff. The filters sound smooth and are fairly transparent sounding. They don't add a lot of color to the music, but do give accurate control over filter sweeps. The fact that the TORAIZ-SP-16 features these filters is sure to be a selling point for both DJs and producers, especially those who are fans of Dave Smith's synthesizers. It's inspiring to see Pioneer DJ collaborating together with a company whose focus is on musical instruments and hopefully the TORAIZ-SP-16 will encourage future equipment collaborations.
Production Elements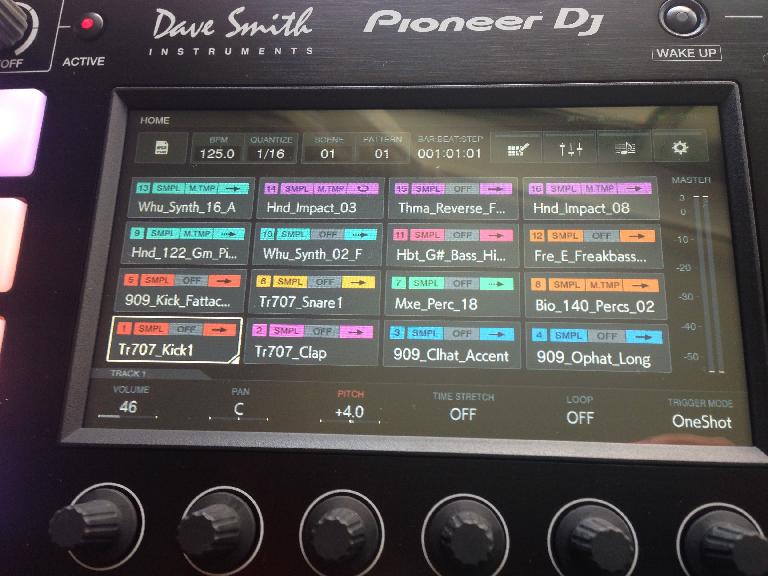 In true sampler fashion, the TORAIZ-SP-16 offers a real-time processing engine for samples. Each individual sample can be time stretched in real time and the pitch and length can be adjusted for each sample. Pitching samples like bass or piano hit up or down at different parts in the groove and allow users to easily program in melodic lines. There's also an amplifier envelope and effects that can be applied to samples.
Once a groove is programmed, the samples can be mixed together in the mixer section, accessible on the LCD touch screen. In the mixer section, individual volume levels for each track can be set, along with panning. Individual tracks can be sent to one of two effects; delay and reverb. The mixer section allows you to quickly and easily develop a rough mix with programmed grooves. The touch screen is easy to see in different lighting levels , and gives the TORAIZ-SP-16 a futuristic feel and look.
Portability and Storage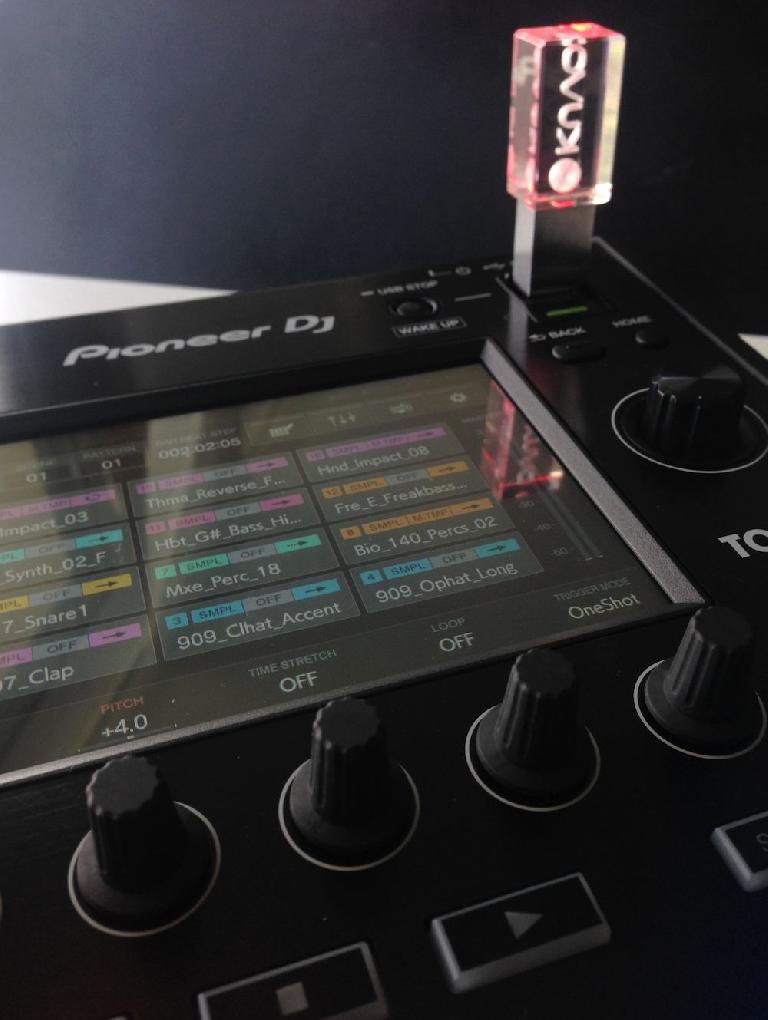 The TORAIZ-SP-16 comes with 8 GB of memory for building your own sample library and storing projects. Due to its internal memory capacity, the TORAIZ-SP-16 can be used as a stand-alone unit and doesn't have to be plugged into a computer during use. This makes it a solid choice for busy DJs/producers who are mobile and need to get new ideas started while on the road. The TORAIZ-SP-16 is small enough to travel with, and although it can't be classified as lightweight at 3.2 kg, it can easily be packed into a road case (I would definitely recommend protecting it in a good quality case).
Touch Strip
On the left-hand side of the sampler is the touch strip, which has four modes: Pitch, Repeat, User1 and User2. Once a mode is selected, the user can slide their finger up and down the touch strip to change the sound of the sample. The touch strip offers additional creative control over the sound of the samples during performances. The effect from the touch strip only functions when you continue pressing a performance pad; these effects cannot be used in a sequence. This makes the touch strip a handy creative feature to use during live shows.
Summary
The TORAIZ-SP-16 is a unique sampler that can fluidly transition between enhancing DJ sets and track production. It has a lot of attractive features that will appeal to both DJs and producers, including the high-quality performance pads, 16-step sequencer, filter section by Dave Smith Instruments and the touch screen. It can easily be connected to Pioneer DJ equipment, or synched via MIDI using your favorite digital DJing software. It features a straightforward production approach and overall it's an excellent hybrid DJ/production tool. I hope to see many DJs and producers embrace the TORAIZ-SP-16 in the booth and behind the scenes.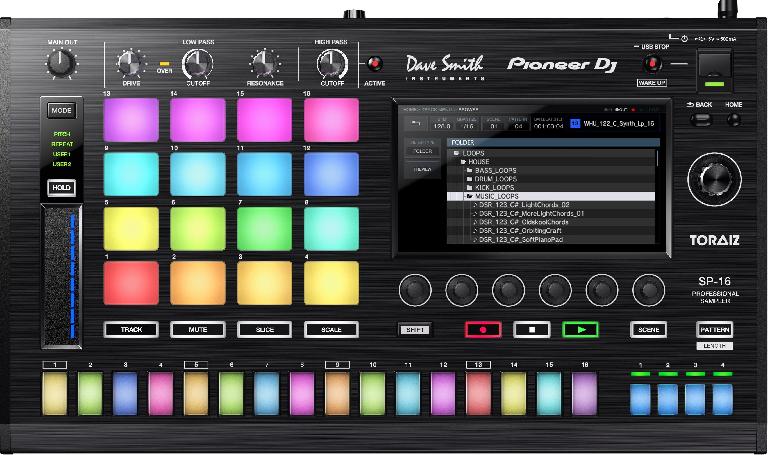 Price: $1,499.00 USD / $1, 999.00 CAD
Pros: Intuitive touch screen, Dave Smith Instruments filter section, High quality performance pads, 16-step sequencer Easy to use.
Cons: It's expensive, but the touch screen and Dave Smith Instruments filters justify the cost. The price means that only well-to-do musicians will be able to afford to invest in one. The TORAIZ-SP-16 is slightly heavier than I anticipated it would be, which makes it less of a portable unit that can be thrown into a backpack, and more of a serious piece of studio/live gear. Be prepared to invest in a good quality carrying case for it before taking flight with the TORAIZ-SP-16.
Web: http://www.pioneerdj.com/en/product/production/toraiz-sp-16/black/overview/