Pioneer DJ has released an exciting new addition to their production and live performance line called the TORAIZ AS-1. I was intrigued with the unit after trying it out at Pioneer DJ's Artist Lounge during Miami Music Week. I simply couldn't wait to get my hands on one again and luckily it wasn't long before a TORAIZ AS-1 arrived at my doorstep for review. Would Pioneer DJ's second collab with Dave Smith Instruments offer analog sounds distinct enough for discerning producers? Would its creative potential entice DJs to incorporate it into their live rigs? I put the TORAIZ AS-1 to the test in my studio to discover what it's truly capable of. Read on...
Overview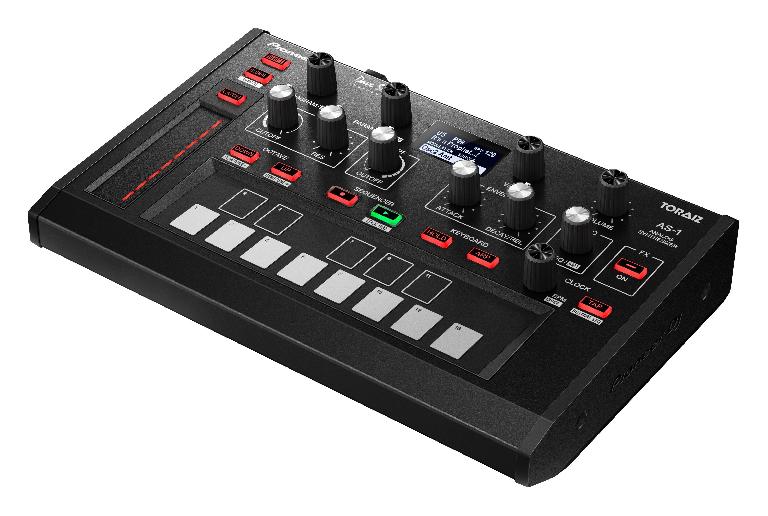 The Pioneer DJ TORAIZ AS-1 is a monophonic synthesizer that was created in collaboration with Dave Smith Instruments. It's a user friendly synth that's made for both studio work and live performance. Its features include a 64-step sequencer and the voice from Dave Smith Instruments' Prophet-6 in a small footprint. The TORAIZ AS-1 is a truly analog synthesizer with four voltage control filters and a stereo output. It's compatible with Pioneer DJ's DJM mixers via Pro DJ Link and MIDI and can be used to generate analog leads in sync with the beat of the music.
Analog Sounds from Dave Smith Instruments' Prophet-6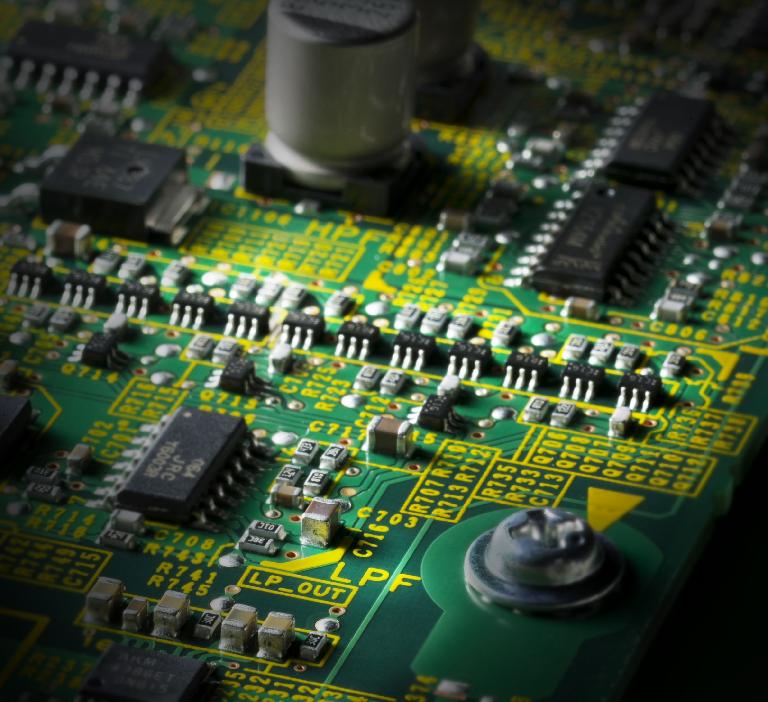 The sound engine inside the TORAIZ AS-1 sounds amazing and can be used to create rich bass lines, lead lines, pads and effects. The sound bank alone gives the TORAIZ AS-1 a versatile appeal that will attract both professional and aspiring producers. There are 495 presets inside the TORAIZ AS-1, each with a corresponding sequence. In total, there are five factory banks of sound and five user banks available for storage.
It's easy to draw inspiration from the vast array of on-board sequences; each sequence can be locked in place and played with new sounds. Melodies and patterns can be composed in minutes by modifying on-board sequences and/or recorded. The TORAIZ AS-1 has two voltage-controlled oscillators (VCO's) with continuously variable triangle, sawtooth and pulse wave shapes. Presets can be modified and saved in the user bank, or the real synth experts can construct sounds from scratch.
Parameter Controls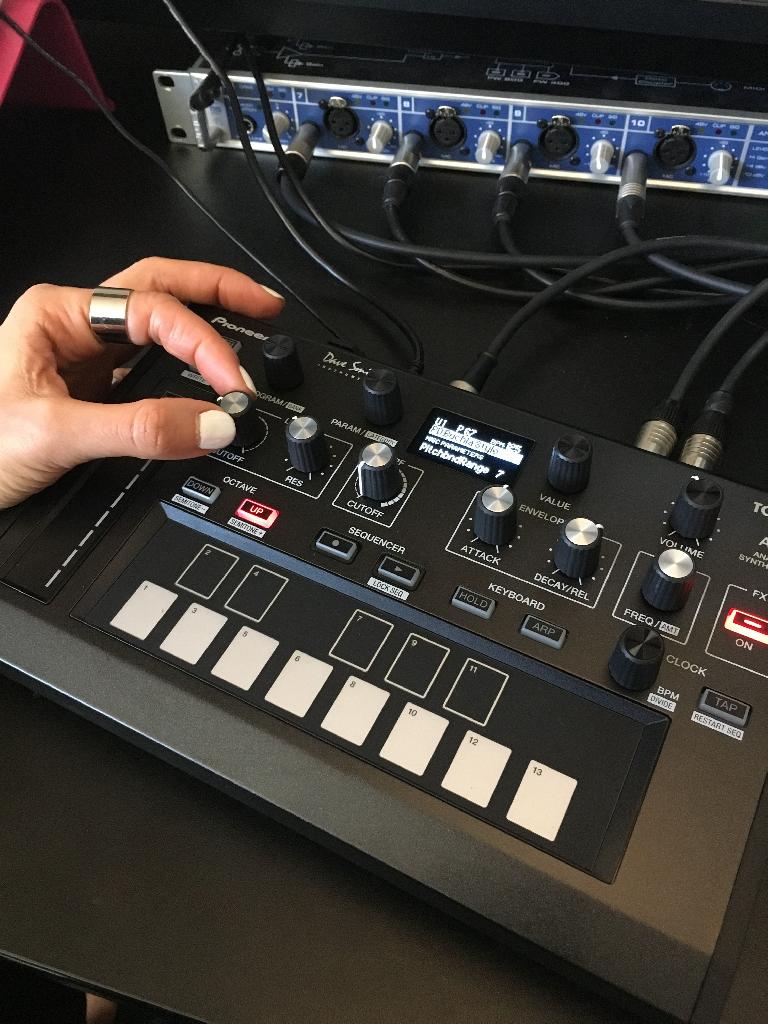 There are six main parameter controls on the AS-1; a Low Pass Filter section with Cutoff and Resonance, a High Pass Filter Section with Resonance, an Envelopes section with Attack and Decay/Release and a Low Frequency Oscillator section with Frequency and Amount. The HPF Cutoff sounds very smooth; it's possible to almost completely cut the audio out when the filter is fully engaged. The LPF sounds great and can be used to make acid sounds. On the Envelope side, the Decay/Release can be used to sculpt and transform sound.
FX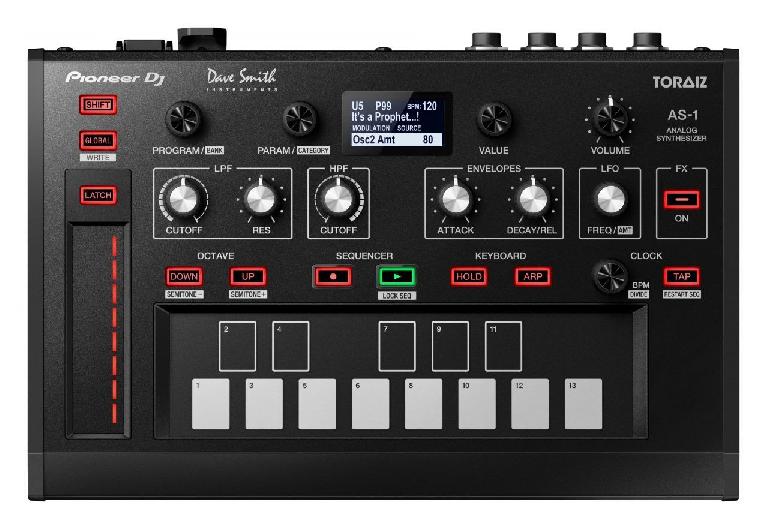 The TORAIZ AS-1 offers two FX banks derived from the Prophet-6 to spark creativity. The FX can be used as a single FX or layered together. FX 1 includes Bucket Brigade Delay, Distortion and Ring Modulation and FX 2 includes Chorus, High-Resonance Phaser, Low-Resonance Phaser and a Maestro Phaser. It took me a little time to get used to applying the FX using the small screen, but once I got past the initial learning curve, applying effects to sequences was a fun and rewarding task. A few of my favourite effects include the Bucket Brigade Delay, Distortion and Ring Modulation.
Keyboard and Scale Mode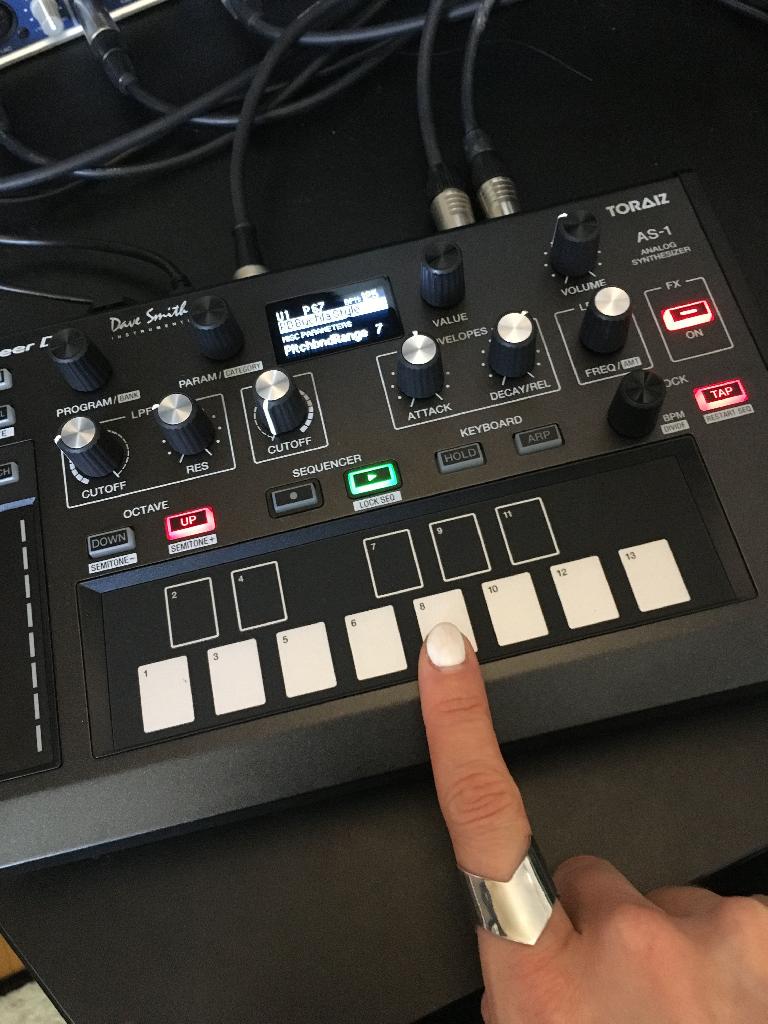 The TORAIZ AS-1 features a keyboard for performances and recording. An interesting feature of the TORAIZ AS-1 is the scale mode, which changes the scale of the white keys according to the selected scale. Users can choose from a wide variety of scale choice, including Ionian, Dorian, Phrygian, Lydian, Mixolydian, Aeolian, Locrian, Major and Minor Pentatonic and more. The scale mode allows musicians to jam along on the TORAIZ AS-1 to a song harmoniously and stay in key. As a former jazz school student, I found this feature to be particularly intriguing as it made me start thinking about improvisation. Now if only the TORAIZ AS-1 would tell you what scale you should be playing over the chord changes in a track!
The keyboard feels good under your hands and is fun to play. On top of merely being a keyboard, thirteen preset sounds can be assigned as Quick Programs to each key for quick recall. This certainly makes finding your own favourite sounds a faster process, as scrolling through the TORAIZ AS-1's extensive sound library can be a time consuming process.
Sequencer, Arpeggiator and Slider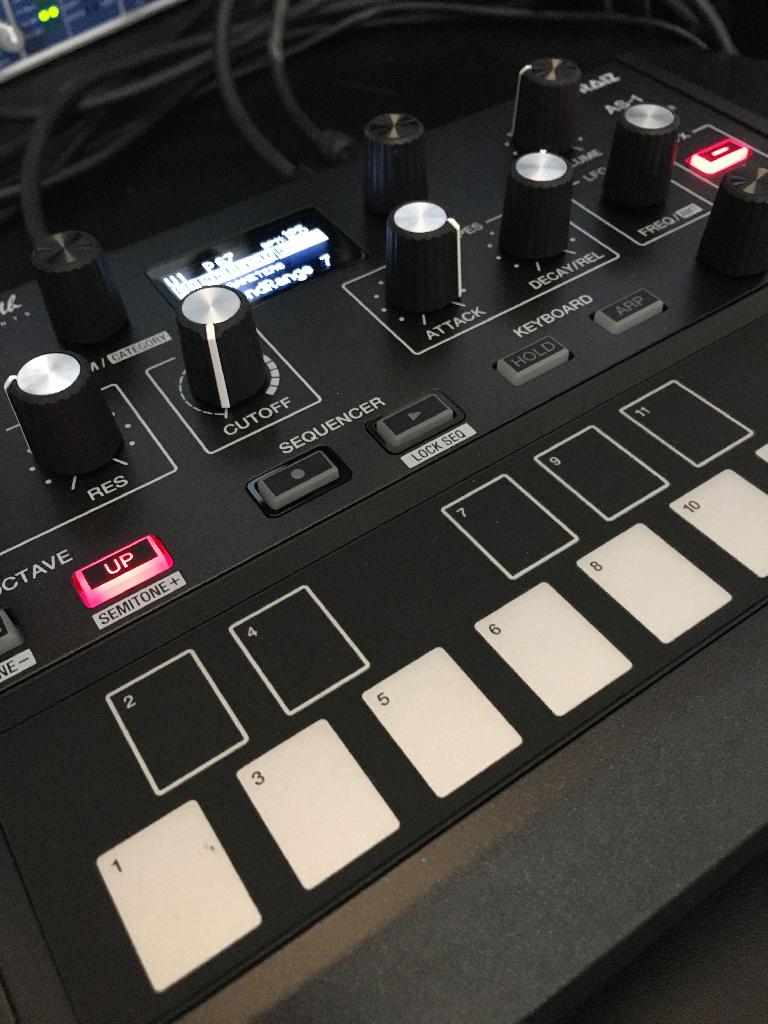 One of my favourite features of the TORAIZ AS-1 is the 64-step sequencer. Sequences can easily be transposed by using the keyboard, allowing musicians to put good ideas into different keys or string together new ideas based on a single sequence. I enjoyed using Sequence Lock; a feature which holds the sequence in place so sounds can be scrolled through or edited. There is also an Arpeggiator, which makes it easy to create ideas based on repeating chord patterns. There are some truly great melodic phrases that can be found in the internal sequences on the TORAIZ AS-1. I wouldn't be surprised if more tracks are released based on these sequences in the near future.
The TORAIZ AS-1 features a slider on the far left that can be used to change the tone of the synth. Multiple parameters can be assigned to the slider using the screen, including layered effects. The slider is a fun addition to the unit and makes using it a more tactile experience.
Connections and Hardware

The TORAIZ AS-1 is surprisingly powerful for a unit of its size. At the top of the unit is an LED screen that displays the parameters. While the screen is small, it displays all the information that needs to be viewed at any given time. It takes a little time to adjust to navigating the unit using the Program/Bank, Param/Category and Value knobs, but this learning curve can be overcome within a few sessions. The TORAIZ AS-1 is housed in a black metal chassis that feels sturdy enough for the studio or stage. On the back of the unit, there are two 1/4" audio outputs, a 1/4" trigger in, MIDI In and Out/Thru, a USB output, DC input and Headphone Output.
Overall the TORAIZ AS-1 is a powerful and inspiring unit for live sound or composition. The sound engine is stunning and it's a pleasure to use the two voltage-controlled filters (VCF) from the Prophet-6 to modify sounds. Ideas can be easily generated and altered using the Sequencer and Lock Sequence functions. The TORAIZ AS-1 has been meticulously designed and creative DJs and producers should take note of this versatile unit for its sound capabilities, portability and quality construction. On top of all this, it's affordably priced and won't take up much space in your studio or live rig. Open-minded DJs and producers should give the TORAIZ AS-1 a test drive and consider all the possibilities it offers. I highly recommend it.
Price: $679.00 CAD / $499.00 USD
Pros: Amazing sound engine. Two voltage-controlled filters from Dave Smith Instruments' Prophet-6. 495 presets and sequences that can be locked and edited. Keyboard that can be used to transpose melodies. Scale mode. Small footprint. Compatible with Pioneer DJ's DJM mixers via Pro DJ Link and MIDI. Great look and feel. Affordably priced.
Cons: FX on the TORAIZ AS-1 are a little challenging to use, as they require using the small screen and fiddling with value knobs. During live performances, it's easier to apply FX if they are accessible on independent controls, rather than having to scroll through multiple parameters to quickly locate them.
Web: https://www.pioneerdj.com/en-gb/product/production/toraiz-as-1/black/overview/