You know that feeling you get when you are off to a party and want to DJ but don't want to take your studio to bits in order to do it? Pioneer reckons it might just have the solution in the form of the DDJ-WeGO, a highly portable audio interface and DJ mixer and controller designed to slip easily into a backpack alongside your laptop, and retailing at £249.
The WeGO is lightweight yet solidly built, and comes in a range of five body colours to suit your tastes. Pioneer has made a clever design decision and kept all the ports on the sides of the unit, since you will almost always be using it directly in front of a laptop. Sending wires out of the sides means nothing trailing across your computer. On one side you'll find a USB port for power, control data and audio, an on/off button and a headphone output with both large and small jack connections. The other side has phono master outs, a Kensington lock port for securing it to a table and a mic input so that you can talk over your set.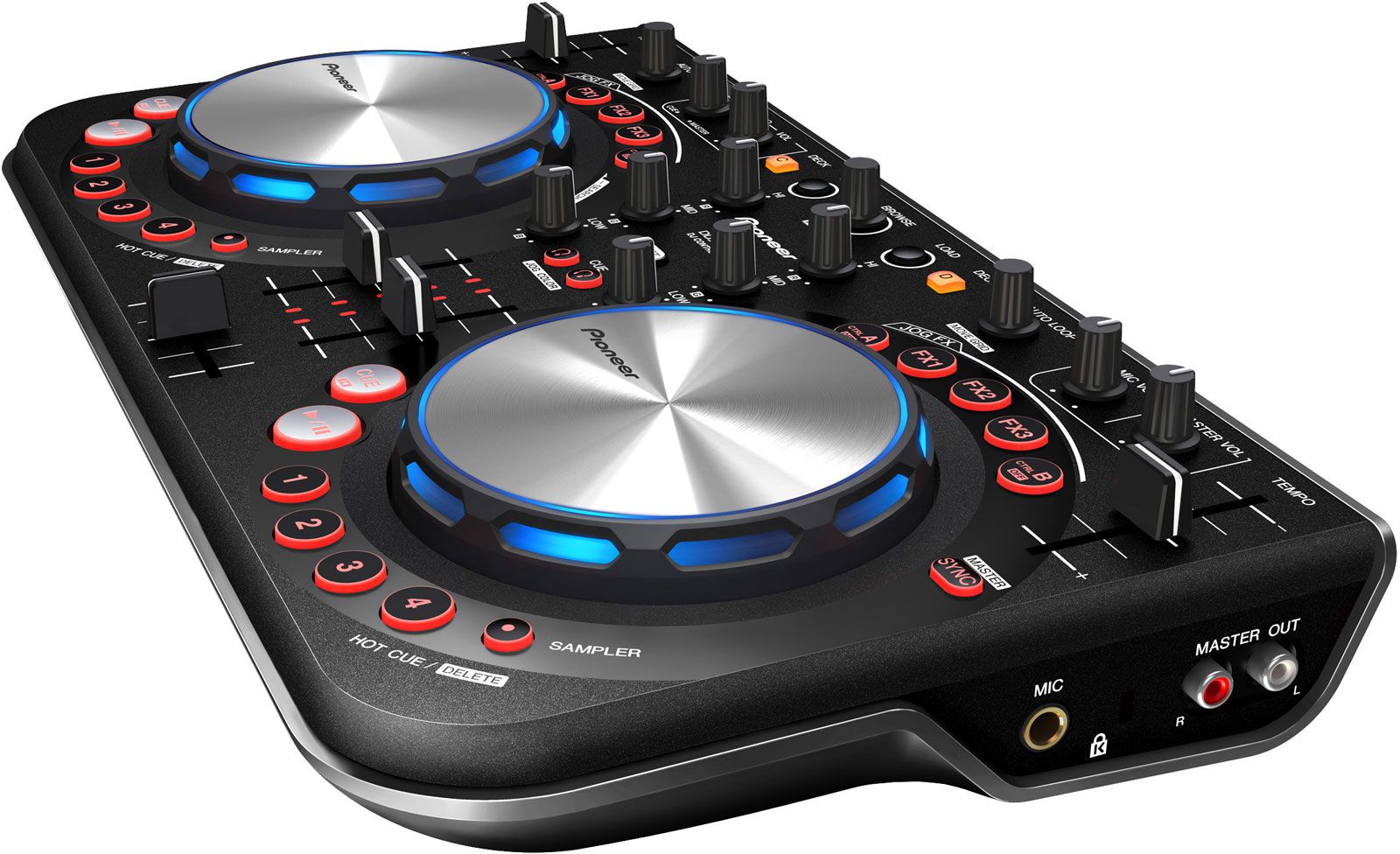 Pioneer DDJ-WeGo.
Make some noise
It comes with the Virtual DJ LE software for Mac and PC, and also supports djay for Mac, Serato and Traktor through additional downloadable maps. Connect the unit up over USB and on your Mac it uses CoreAudio and so works as an audio output device. The bundled DJ software is able to route audio in different ways using its Preferences section, and can be switched between two and four deck operation. As free apps go it's actually very good, and even though it lacks the graphical flair of some more expensive apps, it's easy to learn and use. Music can be dragged from anywhere on your Mac using the Browser into a deck and then cued up, synced to another deck, tempo or pitch shifted and easily looped. The loop controls for each deck are very good at correctly identifying transients and then you can punch in a loop and use the loop dial to change its length on the fly. So it's easy to get that classic ever-shortening loop effect and then drop a track back in.
Hands-on
This all ties together really nicely with the hardware of course, which is the whole point of the unit. The front panel is virtually identical to the interface of the software, so it's very easy to understand how the two relate to one another. Using the Browse and Load buttons on the hardware you can load tracks into decks and then preview them using the Cue function. Tracks can be synced to one another when playing using the Master / Sync buttons and their tempos are freely adjustable using the Tempo slider for each deck.
It's worth mentioning that the sync works really well here, and the Virtual DJ software seems to be very good at detecting tempo and matching the sync points of the decks. Even people with only beginner-level DJ skills will find this a breeze, which isn't always the case. There's a keylock option for each deck so that changing a track's speed won't alter its pitch : vital for seamless mixing of different tracks. As with any tempo matching, the more identifiable your beats, the better it will work. So techno is a doddle, but even hip hop was easy to sync accurately and quickly on my system.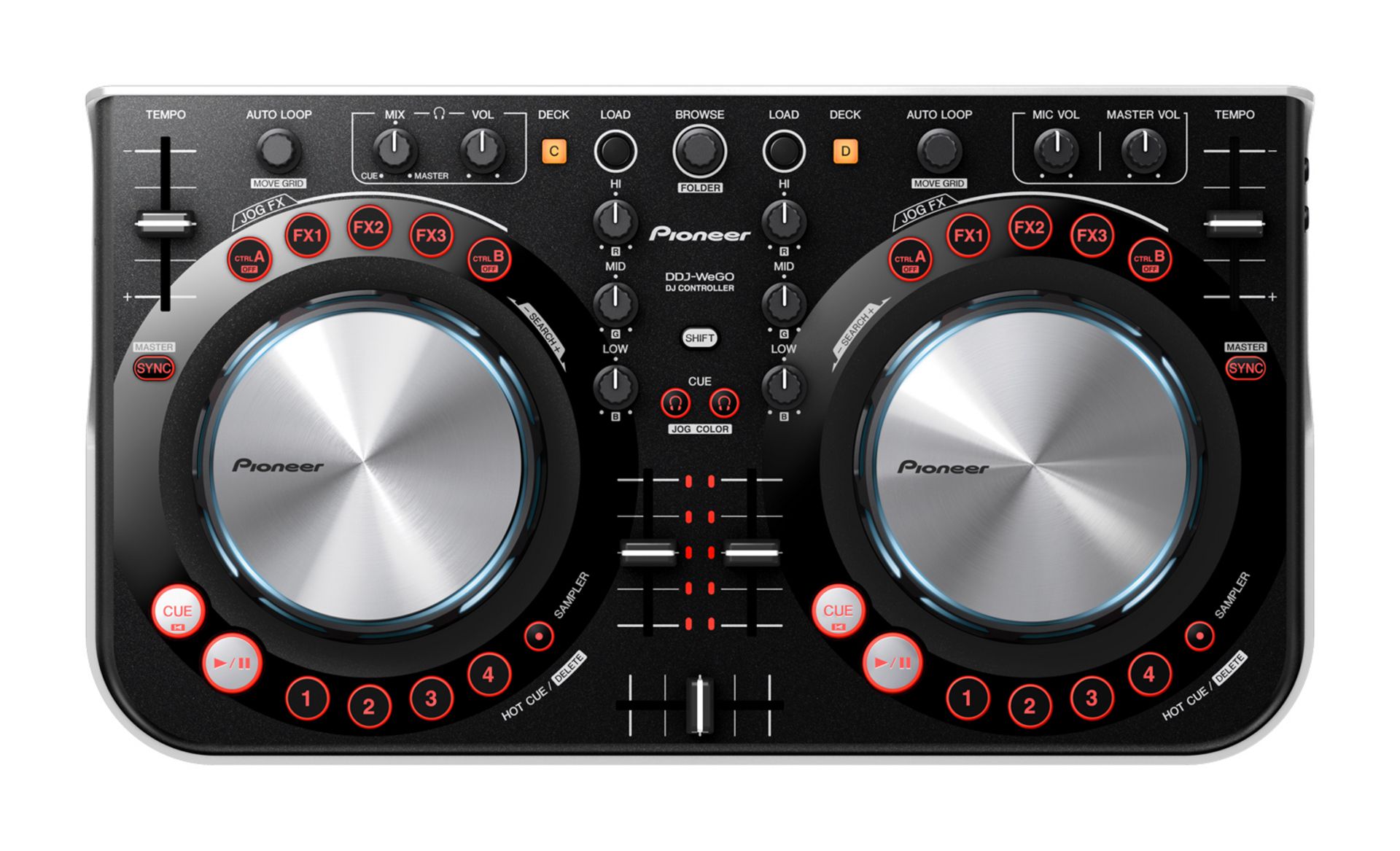 Pioneer DDJ-WeGo from above.
The two "platters" are smooth and responsive and can be used to "scratch" MP3s with ease, changing their speed or playing them backwards like real records. Another nice touch is that each one has five buttons above it and when activated, the platter becomes a controller for extra functions. Three of these are effects, and you can assign three per deck from a selection of cut, delay, flanger, echo, reverb and more. The fourth button lets you manually spin the pitch of the music up or down without altering its tempo, and the fifth is a filter, so changing it gives you that classic filter sound ranging from muffled through to sharp. These are great fun to use and make it simple to dial in effects in a way that feels natural. There's also three band sweepable EQ for each deck, with dials located on the front panel.
Northern lights
The hardware makes extensive use of coloured lighting, and it's not just for show. As well as being able to set custom deck light colours, there's a "Pulse control" function available too. The strength of lighting indicates the strength of beat sync between tracks, a red Launch Pulse shows that music is being loaded into a deck, and the yellow FX Pulse indicates that effects are being used to modify the sound, and the lights change over time. It's certainly a novel feature though how useful it is in telling you anything massively useful is debatable. If you were really attuned to the system you would be able to get feedback using the lights but you're more likely to use your ears and also watch your laptop screen. Still, it doesn't hurt.
Another nice touch is the inclusion of four buttons under the platers that can be used either as hot cue storage slots or as sample triggers. The software lets you store up to four samples per deck and these can be thrown into a mix to spice it up a bit. Taken together with mic input it can bring an added dimension to your performances.
Pioneer DDJ-WeGo software view.
Final thoughts
WeGO is a really nice, portable DJ controller for your Mac or PC, and the free software is rather better than you might expect, especialy when it comes to beat matching and looping, which are vital for most DJs. The free version can even record your set as a WAV file, and it's possible to upgrade to the Pro version, with a 20 day free trial of the expanded feature set. The app doesn't look quite as polished as some others, but it has the functionality where it counts. In terms of the hardware, it's easy enough for beginners to use but has enough pro features and feels like a serious enough bit of kit that more advanced DJs looking for ultimate portability might well be tempted too. As an affordable but effective DJ solution, WeGO definitely punches above its weight.
Price is £249 and $299.95. www.pioneer.co.uk
The white model is available from Apple Retail Stores and the Apple Online store:
http://store.apple.com/uk/product/HA483ZM/A/pioneer-ddj-wego-compact-dj-controller