Sometimes an app is so simple yet effective it makes you wonder why no one thought of it before. Truth is, in the case of Piezo, they did. Rogue Amoeba ("strange name. great software." it says on their website) who makes Piezo had a product called Audio Hijack a few years back, which enabled you to record the sound from any application on your Mac without a lot of fiddling about. That developed into the superb Audio Hijack Pro, which, great though it is, could be seen as over-featured and at $32 may be the wrong price point for those who simply want to record any sound their Mac makes.

Piezo's roots lie in the original Audio Hijack.
This is where Piezo comes in: Like its predecessor, it lets you choose an application or source to record, and if the chosen application is not open, will launch it for you. Piezo has some very basic preference settings, allowing you to change the recordings folder, whether to show the file after recording, and whether to check for software updates on start up and, errr..that's about it! For those who know Audio Hijack Pro, Piezo does not feature so-called "instant-on' recording" — you have to quit and relaunch an application that you want to record if it is already running (although Safari seems to be an exception). This subtle change however, has been made so that Piezo can be made available on the Mac App Store.
In use
The interface is charmingly old school, with a pair of VU-style meters and a counter much like those found on cassette recorders from the 1970s (or so my research tells me!). "Skeuomorphism", in app GUI design is where "an element of design or structure that serves little or no purpose" gives clues to the origin of the device on which it is found. In apps like OS X's Address Book and iOS's Calendar it is just plain annoying, sacrificing ease of use and good design principles (like effective use of space) for fake stitched leather binding. In Piezo however these vintage design elements work to support the recording process and add a certain charm to a basic utility, without getting in the way of its functionality.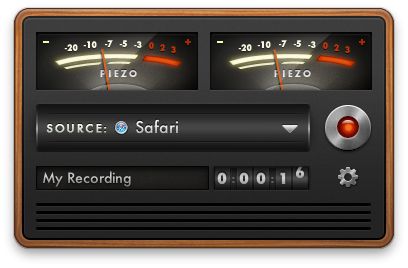 Piezo's interface: it's a little bit 'Grundig'.
The source drop-down menu also reveals that as well as recording any application, all devices that are recognized by Core Audio can also be recorded. So that includes both the Built-in Input and Microphone on your Mac as well as any external hardware with Core Audio drivers, which can be selected as Source with recourse to System Preferences.
The action button (which is the one that looks like a cog) reveals a dialog that lets you name the recording, add comments and choose from a variety of preset recording file types.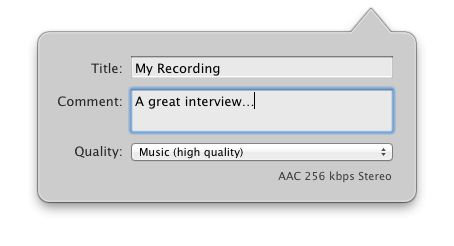 Add comments to recordings.
Under 'For personal use' you will find 'Spoken Word', 'Music (low quality)' and 'Music (high quality') which create 64 kbps, 128 kbps and 256 kbps AAC files, respectively. Under ' For internet distribution' the choices are 'Music (low quality)' and 'Music (high quality') which respectively create 128 kbps and 256 kbps MP3 VBR files.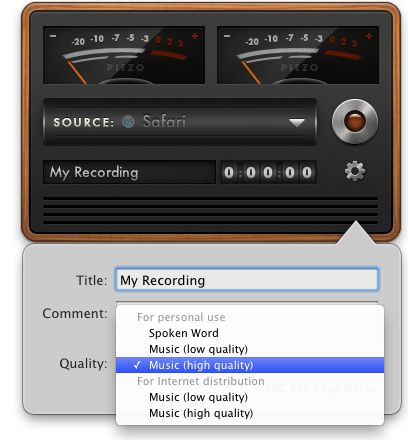 Choose preset file types and recording quality.
Having spent probably too much time with my iPad recently, I have grown to appreciate the "one app does one thing really well" approach, and Piezo is an app for Mac that takes that approach. I know I will be reaching for it on a regular basis whenever I need to quickly capture sound from any location in my Mac. Yes, I could do all this with Logic Pro and SoundFlower, but why use a couple of sledgehammers to crack a nut? And if it's a live broadcast that you want to capture you will probably miss it due to setup time unless you have Piezo on hand!
Now I just hope that Rogue Amoeba can come up with an iOS version to solve the challenge of moving audio around on iOS devices. Meanwhile Piezo for Mac comes highly recommended!
Discover more about Rogue Amoeba on their site here: