There is a certain level of awe that I feel every time I fire up the latest version of Pianoteq (I've been a Pianoteq user since version 3). 5 years into ownership of Pianoteq and I can't help but continue to be amazed that this great sounding piano could ship on a set of floppy disks. I have been on the road, needed a good piano sound and tethered off of my iPhone to get the latest version of Pianoteq installed on my laptop.

Wait, WHAT?
If this sounds bizarre to you, don't worry. It sounded bizarre to me at first as well. Back in 2008, after upgrading my samples hard drive to a massive size to accommodate my instrument library (which was growing at an alarming rate) I stumbled upon Pianoteq 3 by Modartt and was intrigued by the concept. Using physical modeling, Modartt had managed to create a virtual instrument that didn't rely on samples and RAM, but on the CPU power of your computer to mimic the physical acoustics and behavior of a piano. Pianoteq weighed in at 30 megabytes (yes, megabytes!) and promised to hang with the big boys of the sampling world. For the most part, Pianoteq lived up to that promise. Now in Version 5, Modartt isn't pulling any punches. Pianoteq is a premier instrument with options galore. Let's take a look.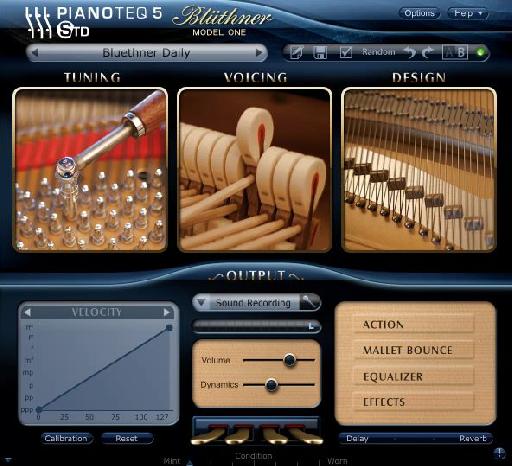 The Pianoteq interface.
Sound Refinements
The previous models (D4, Blüthner, YC5 and U4) have been updated to the new engine and now offer a more refined sound. There is more body and clarity, and I definitely noticed the adjustments they made to the attack sounds of the instrument. All 4 previous models '˜feel' more authentic and respond a lot closer to a real piano than previous versions.
I was extremely excited to check out the new K2 grand piano which was described to combine the best elements of several source pianos. It is based on a 6'11' cabinet and gives off a character that is powerful but not too '˜woofy' as many darker virtual pianos tend to be.
New Features

Fifteen microphones are modelled.
Mic placement and selection round out the feature set of Pianoteq 5. You now have the option to choose from 15 microphones of various brands and place them in just about any configuration you can think of. Control over polarity and proximity effect are also user-adjustable. You can place the mics, rotate them and even attach them virtually. I would have liked a bit more refinement in the graphical interface of this area, but I'm willing to trade that off for great sound and CPU efficiency.
Not Just Pianos
The Kremsegg Collection of historical instruments is now available in version 5 and is a lovely cross section of instruments from the 18th to late 19th century. I've always liked the keyboard-based instruments that Modartt has included with Pianoteq. The Rhodes and Wurly models are extremely playable, and Pianoteq has long been my '˜go-to' clav sound as well.
Conclusion
Pianoteq 5 is a very welcome upgrade. The instrument has only gotten more CPU efficient over time, and is now an extremely solid piano VI. Add to that the portability of Pianoteq, it's low impact on disk space and ease of registration (no iLok or dongle here - just a plain old serial number) and you've got a great piano instrument for your mobile rig (where I started using it) or studio (where I wound up using it).
Price: $129 Stage / $319 Standard / $519 Pro
Pros: Great sound quality. Wonderfully configurable. Very low impact on RAM. 37 megabyte footprint!
Cons: If you have become used to the sound of a specific sampled piano (such as a specific model Steinway or Yamaha) it may be hard to '˜dial in' your favorite piano sound as Pianoteq generates its sounds from the ground up.