Recreating the human voice, or a group of human voices, has long been the holy grail of many a sound developer. The complex range of timbres, harmonics, and percussive elements can make designing even the most simple of choir instruments a herculean task. I had a chance to test drive Phantom Voice and V Alto Choir from Bela D Media and I found two instruments that did a few things differently and were a pleasure to use.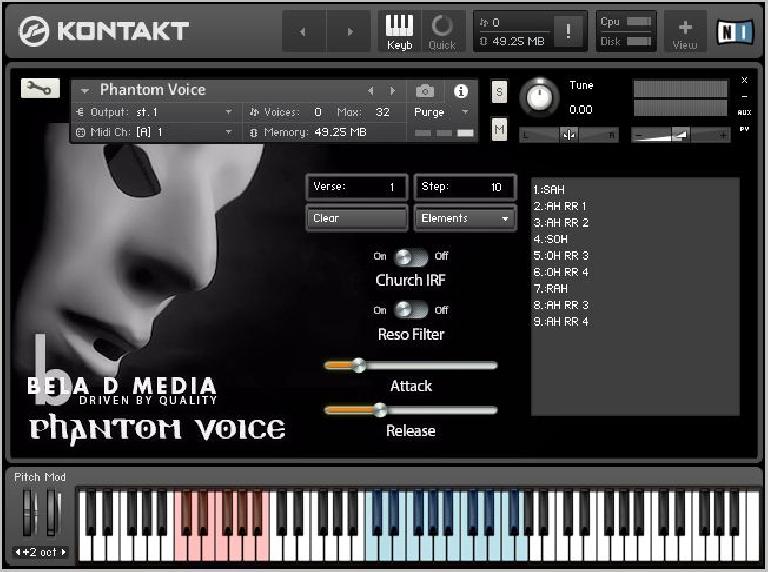 The Sound
When they call it 'Phantom Voice', the folks at Bela D aren't joking. There is an ethereal quality to Phantom Voices that you can hear immediately upon loading it up. Getting a good, polished vocal sound is almost immediate once you get some vocal elements selected and your key switches in order. I found that both choirs, Phantom Voice and V Alto Choir, sounded wonderfully realistic through their offered vocal range.
The vocal sounds themselves sounded a little high-endy when I first called them up, but it was when I put them into a mix that they really began to sing. (Sorry, I couldn't resist that one!) In all seriousness, one of the best qualities about Phantom Voice and V Alto Choir is that when put into a mix, I was able to really notice my choir parts without having to crank them up too loud and compete with other sonic frequencies of the mix.
The Scripting
The sustained choir elements are non looped, and they comprise of many usable syllables. The syllables of both Phantom Voice and V Alto Choir are able to be assembled in the V script window. This easily allows you to arrange the various vocal elements (like Ooh, Sah, Too, etc.) into the order you need which. You can switch between your plan of vocal elements by using keyswitches, and it's simple to do.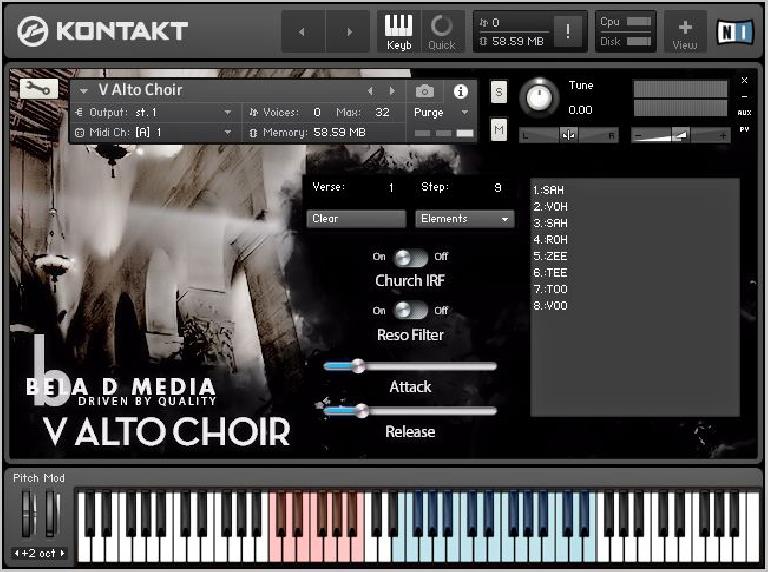 This simplicity, however, doesn't come at a cost to power and customization options. You can adjust the attack and release time of each element individually. Polyphonic legato allows for smooth transitions between notes, and you also have the ability to create and store up to 12 verses with immediate recall.
The Interface
Both offerings from Bela D Media are standard NKI files and sample collections that can be easily loaded up into Kontakt. They are not 'wrapped' libraries, so if you're used to your instruments showing up like other first party elements of Komplete, there will be a little loading and locating of NKI files for you to contend with. It's easy enough, and you can always bookmark the NKI files for easy access in the future.
Conclusion
The sound of Phantom Voice and V Alto Choir is clean and polished. I actually had a great experience combining the two of them together to really create a powerful and realistic vocal sound. The installation process was a bit complicated, with RAR files that were password protected and the initial setup of the libraries could be a little smoother. Once I got them up and running, however, the results were worth it for sure.
Price: $100 per library
Pros: Clean and polished sound, highly scriptable engine, easy to understand key switches and playable regions, haunting church reverb sound
Cons: Complex installation process