Chriss Ons, the driving force behind Lux Nox sample libraries has just released the full version of Perc+. This unique sampled instrument for Kontakt is a modular percussion library filled with just about every sound you can think of when postulating 'what happens if I hit this thing with a stick?' I tested it out for a week and here's what I found.
The Concept
Chriss's latest content update for Perc+ is going to include an instrument file titled 'Industrial_Coffeemaker.nki''"and that should tell you a lot about the instrument and concept behind Perc+. There are about 14 gigabytes of sounds ranging from traditional percussion instruments like cymbals and drums, but there are also prepared pianos and extremely wild ideas about '˜found sounds' and objects used as percussion instruments.
The other cool thing about Perc+ is that it is donationware. There's no set price, you just have to make a donation to the Mr. Holland's Opus foundation'"a very worthy charity whose mission is to support music in public schools. You go to the donation site, make a donation, send Lux Nox an email confirming your donation and you get access to the full library of some truly wild, (and yet lovingly sampled,) percussion sounds. You're buying something and helping the universe all at the same time, so that's pretty cool!
The Interface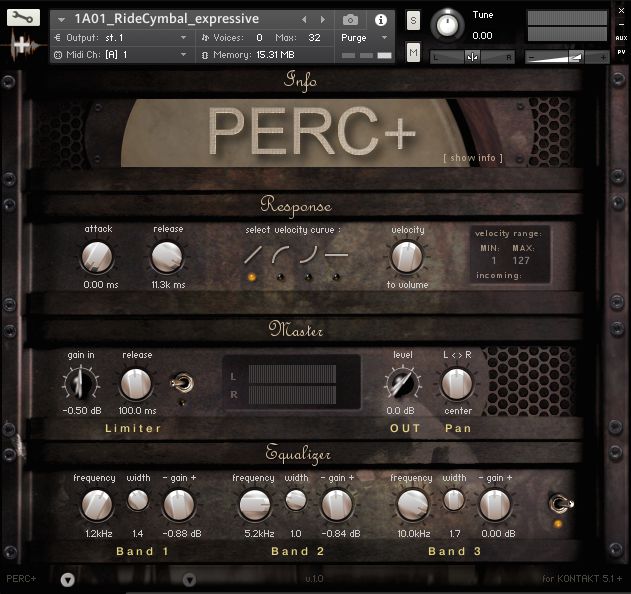 Perc+ is an '˜unwrapped' Kontakt instrument. This means it doesn't necessarily show up on the left side when browsing your libraries, you have to open the file browser and choose an nki file. Once you do, however, you are greeted with a very nicely designed user interface which gives you access to an adjustable velocity curve (very important for multi-layered percussion instruments), an attack/release section, and a 3-band adjustable master EQ.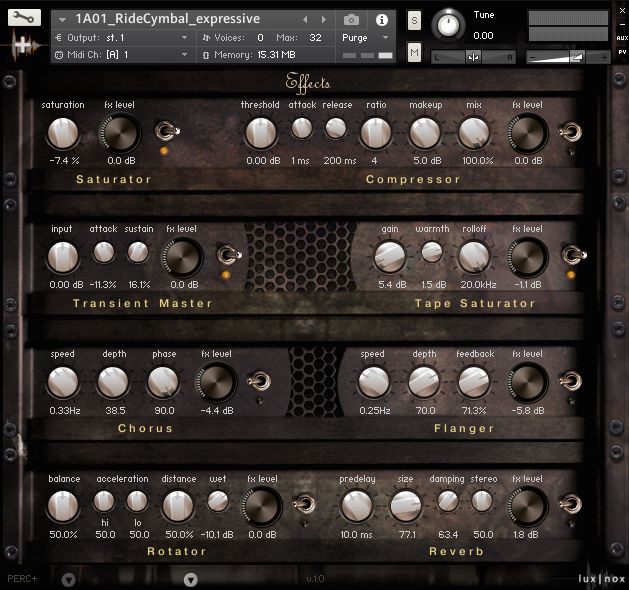 Perc+ has a second view which gives you access to some really nice Kontakt effects, and simplifies the process of warping these sounds to the max. I found it very easy to navigate and simple to load up a sound and get tweaking.
The Sound
The sound of Perc+ is crystal clear and extremely diverse. There is an extremely varied library of strikes, hits, rolls, and phrases. All of these are clearly marked with colored keyswitch/split regions on the Kontakt keyboard. There's a large emphasis on metallic objects, so this library is definitely heavy on the cymbals and all sorts of metal things you might find around the studio.
In particular, the prepared piano percussion instrument was very fun. This isn't simply a piano with some percussion sounds layered on, this is a bunch of phrases, strikes and sounds made with a prepared piano that will make any classical player wince in pain. I truly felt a bit sorry for whoever's piano was used to make this library.
Conclusion
As a big supporter of the Mr. Holland's Opus foundation, I don't think you can really go wrong here. You can make a donation to a very worthy cause and you get 14 GB of cool samples to add to your Kontakt library. What's not to like about that?
Price: A donation to Mr. Holland's Opus Foundation
Pros: A diverse collection of unique sounds, phrases and strikes. Crystal clear samples and creative instrument choices.
Cons: None