Review: Peopeo Voodoo Boombox
This striking, wearable wireless boombox from Peopeo has a bunch of tricks including USB power output, a 15-hour battery life and weather sealing. Hollin Jones hit the road with it...
Occasionally in this job you get to review something genuinely unique. And that's a description that certainly fits the Voodoo Boombox, a new release from French company Peopeo. It's a portable speaker but probably not like any portable speaker you have ever seen before. Its body is made of flax fibre, part of the whole design approach here which prioritises eco friendliness as well as sound. It's very tough and feels like it could withstand many a knock, which is just as well since the boombox is intended to be carried around in all kinds of conditions. It's IP44 sealed, meaning it should withstand moisture and dust.
Carry It Off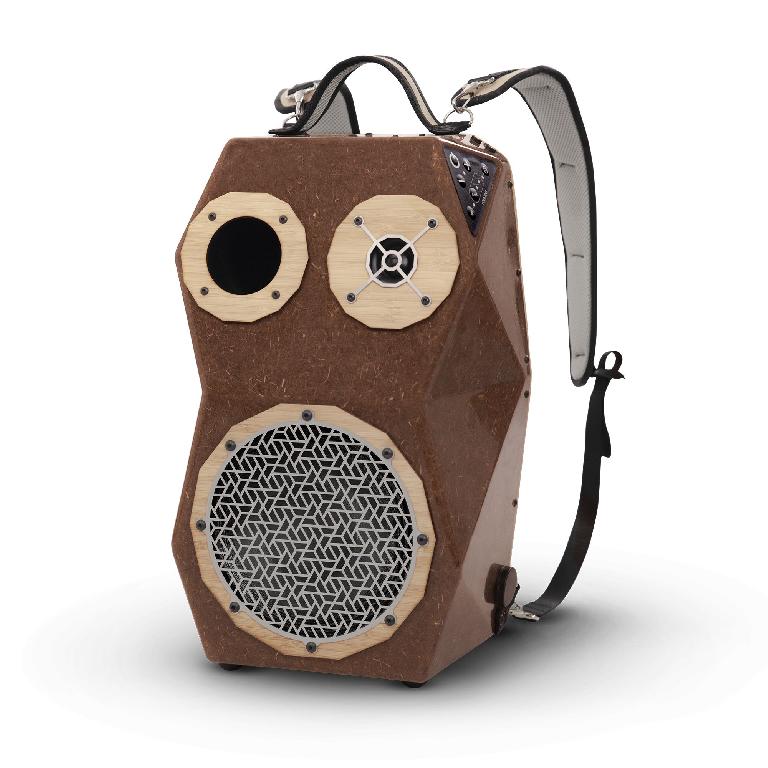 The reason the boombox is shaped like a backpack is that it can be carried on your back. The rear is padded for comfort and straps are supplied though they can be detached for convenience. A handle on the top is permanent, and fabric pockets on the sides can be used for storing cables and the charger when you're on the move. It weighs 7KG though felt a little heavier than I expected in the flesh - this is likely due to having a decent battery and the magnet to move a larger speaker cone inside its housing. It's a perfectly manageable weight for carrying however, and feels solid enough that you're not going to worry about it getting knocked over.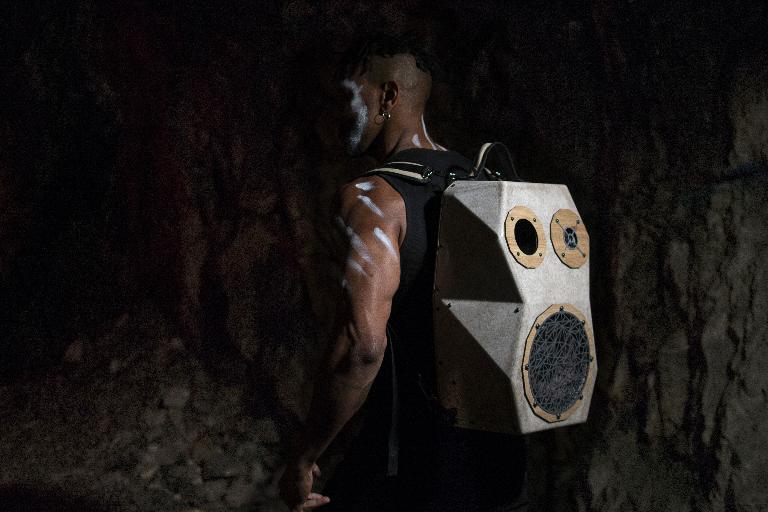 There's an internal battery that you charge using the bundled PSU and that the company claims gives 15 hours of playback. A USB port can also provide power out to charge your mobile device, even when it's being used for playback (wirelessly, if it's a device with no headphone output). These ports have sealed covers which should prevent any ingress of water - they also sell rain covers for the boombox, should things get particularly torrential.
Audio Options
In terms of getting audio in you have two options. The first is a regular 3.5mm audio jack, and a high quality cable is supplied (along with some other fun trinkets and stickers that aren't directly part of the system but are a nice touch). With more and more mobile devices getting rid of their headphone jacks you probably already own an adapter to convert Lightning or USB-C to 3.5mm, so this seems like a good compromise. It also means you can connect older devices like CD players if necessary. In order to get stereo sound (the unit itself is mono), you can add a second unit and the two will connect using True Wireless Stereo technology, or you can use the physical 3.5mm audio output (to send to any destination), though this mirrors the mono signal rather than achieving true stereo.
Go Wireless
The second input method is Bluetooth, and it uses version 4 of the standard with the APTX codec for more efficient, low-energy streaming. Pairing is very easy, and the control panel on the corner of the hardware lets you switch between the two input methods. Apart from that there's a power indicator (though no battery level meter) and volume up and down buttons. The case also has a space for a speaker pole on its underside, should you want to mount it for more PA-like duties.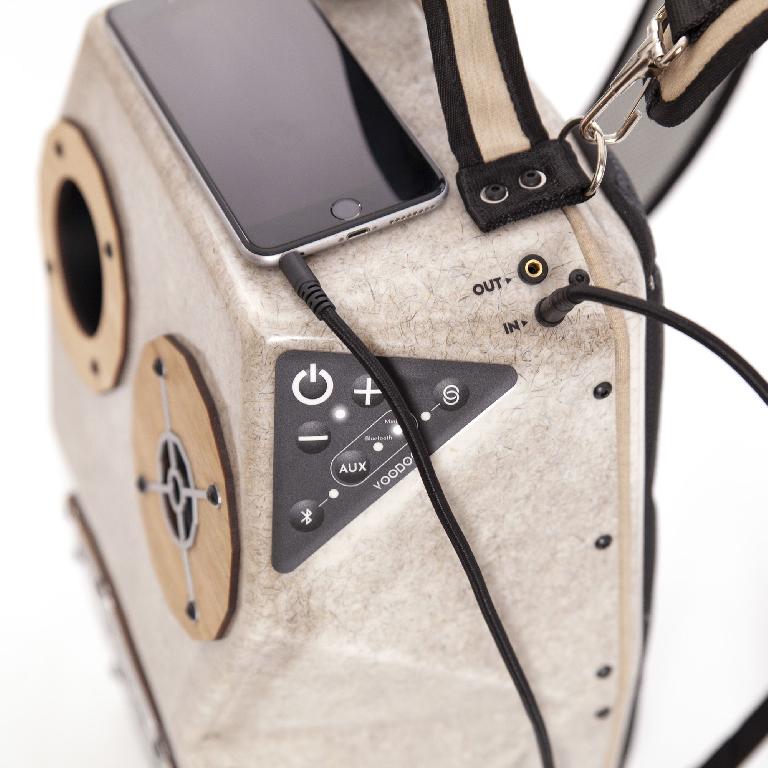 The front face of the boombox contains its speakers - an 8 inch low / mid woofer, and 1 inch silk dome tweeter, plus a front-facing bass port. The enclosure has been designed using what the company calls "Green Vibration Technology", hence its unusual looks. The specs are impressive - 200W RMS of power, 102dB sensitivity and a frequency response of 50Hz to 20kHz. It's also capable of going really loud - even outside, where you are likely to be using it, you won't struggle to hear it. The physical size of the enclosure means they have been able to use a powerful battery and amp, and a decent sized speaker.
How Does It Sound?
Sonically, the performance of the Voodoo Boombox is punchy and pleasing. Bass is solid and weighty and low / mid separation is accurate. Highs are crisp without being harsh or sibilant, and the 180 degree diffusion means they're not particularly directional in their operation. I did notice some differences between wired and wireless operation when playing the same track. The wired connection was a little tighter in its sound, and also felt like it was capable of being driven louder.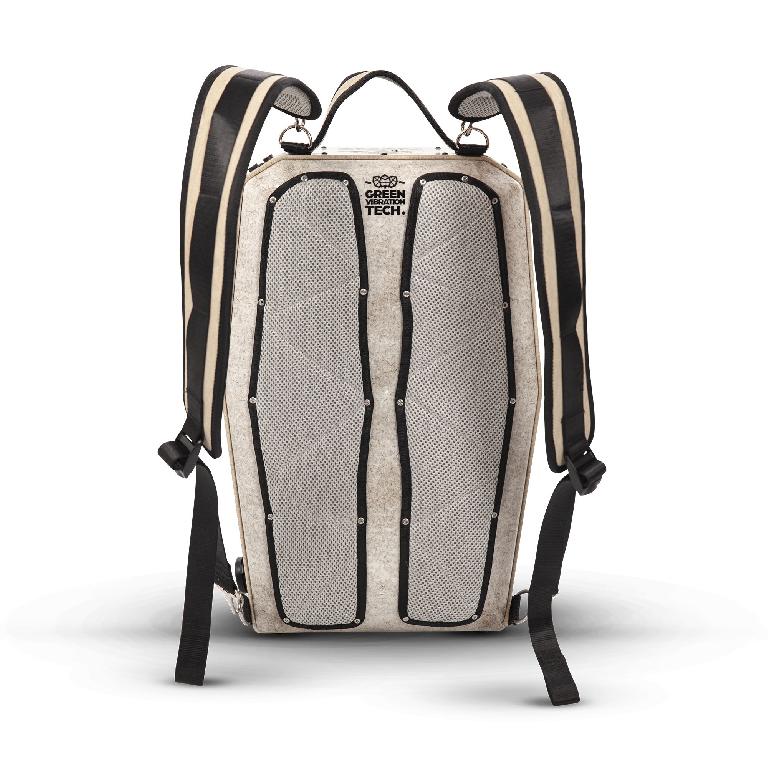 The Bluetooth signal of the same track was very good, though a little quieter. In fairness, this is true of every wireless audio device I have ever used, and more or less impossible for the speaker designer to compensate for. That said, the convenience of wireless playback (I even got it playing music from my Apple Watch) is such that this is a small trade off, and one that people are generally willing to make. The developers also point out that different devices will apply different Bluetooth compression levels when sending audio.

Finally we come to the issue of pricing. There's no way around this, it is quite expensive at 799 Euro, though this can be split into four payments of 199.75 with no interest or penalty. Interestingly there's also a 30-day trial period during which you can return it if for some reason you decide it's not for you.
Conclusion
The Voodoo Boombox is certainly a unique proposition, as I mentioned at the start. A weather-sealed, powerful boombox that can be worn on your back, carried by hand and used pretty much anywhere with its 15 hour battery life and power output for charging phones is not something you come across every day. Its eco credentials also exceed those of most tech products. Plus, it goes very loud and sounds punchy - if you want to get the party started halfway up a mountain, you won't find a better way to do it than this. Perhaps more realistically, it could be taken on any excursion - to the beach or the park - and more than do the job. I guarantee its looks will start some conversations, too.
Price:
799 Eur
Pros:
Very solid, weather sealed but highly portable. Excellent battery life. Use it basically anywhere. Carry on your back or by hand. Charge your phone or tablet. Wired or wireless operation. Audio out for connecting a second speaker.
Cons:
Quite expensive. Mono. Striking looks may not be for everyone.
Web:
https://www.peopeo.io/en/voodoo-boombox/