올림피아 소음 ìœ í•œ 난을 한게 ê³ ë°± 개발자
그곳에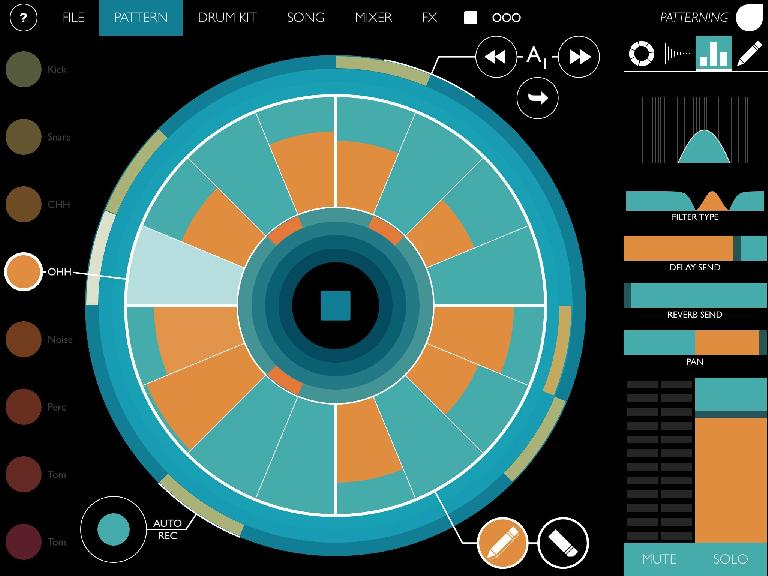 Tap away
이가 ì •ë§ ì§ê´€ì ì´ê³  사용하는 재미와 ì°½ì¡°ì  인 느낌이 있지만,
노트를 ìž…ë ¥í•˜ë©´ 간단하지만 ë‹¹ì‹ ì€ 또한 자동화를 얻을. 자동 REC 버튼과 다른 사람의 사이에 í•"í"°, 지연과 리버브 ì "송 및 튜닝 등의 관리자 패널의 매개 변수 중 일부는 자동화 ì'¬ìš©í•  수있게을 누릅니다. 이것은 현재 ì" 택된 파라미터 자동화 값을 나타 내기 위해 메인 바퀴 영역 내에 나타나는 다른 ê³ ë¦¬ 노트와 비슷한 방식으로 프로그램된다. ê·¸ 설명은 반드시 비트 건조하지만 사용 시스템은 ì •ë§ 자연 느낀다. 노트와 마찬가지로, 지우개는 모ë"  변경 사항을 ì·¨ì†Œí•˜ê³  ë‹¹ì‹ ì´ ë‹¹ì‹ ì˜ 비트에 더 많은 운동을 소개하는 ì‹œìž'í•  수있는 약간의 연습으로, 패턴 내에서 íŠ¹ì • 히트의 피치 또는 í•"í"° 스윕을 자동화하여 말을 ì'¬ìš©í•  수 있습니다. 그곳에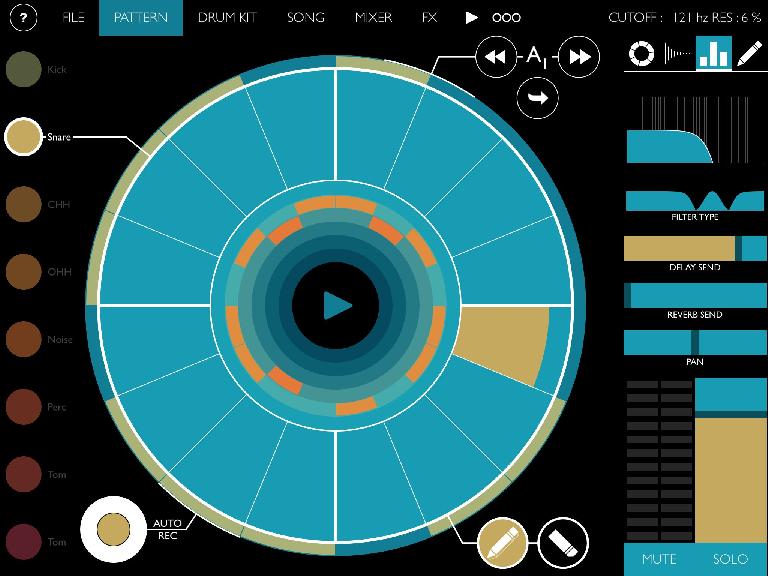 패턴은 1 ~ 64 단계에서 í•  수 있습니다 단계 기간뿐만 아니라 ì'¬ìš©í•  수있는 다양한 ì  ì°¸ê³  옵션, 1/32 노트에서 모ë"  방법 ì "ì²´ 노트까지 ì"¤ì •í•  수 있습니다. 다른 사운드 상이한 루프 모드를 ì'¬ìš©í•  수 ìžˆê³ , 그것 때문에 랜덤 및 진자 모드 거꾸로 실행
Play us a song
ë‹¹ì‹ 
ë‹¹ì‹ ì´ 당 트랙 MIDI ì"¤ì •ì´ì‹œí'¤ëŠ" ë‹¹ì‹  포트, 채널 및 피치를보다 ì œì–´ë¥¼ 얻을 ìƒìƒí•˜ê³  있습니다보다위한 미디 더 나은 음식을 장만입니다
Pattern of things to come?
패턴 화는 아이 패드 플랫폼을위한 완벽한 느낌이 놀라 울 ì •ë"ë¡œ 재미 ìžˆê³  ì°½ì¡°ì  인 응용 프로그램과 하나입니다. 모양, 느낌과 ë ˆì´ì•"웃은 모두 ì¼ê¸‰í•˜ê³  소리가 우수하다. 초보자도 멋진 소리가 뭔가를 만들 수있을 것입니다, ê·¸ë¦¬ê³  경험 많은 사용자가 함께 자동화를 갖춘 놀라운 비트를 넣어 수있을 것입니다 및 당 드럼 ì"¤ì •ì´ 좋아이있는 ë‹¹ì‹ ì´ 보통에 대한 ì "ì²´ DAW 설치가 필요합니다. 현재 ìœ ì¼í•œ ì œí•œì€ 내보내기 옵션을 것 같다. 그것은 그래서 ì¶œë ¥ 응용 프로그램의 다른 복사본을 ì—´ 수있는 í""ë¡œì íŠ¸ 파일을, 수
가격 :
ìž¥ì  :
ë‹¨ì  :