Olympia Noise Co. is a developer I confess I hadn't heard of before, but I'm glad I have now. They make a small number of iPad apps—for now at least—but seem to do it spectacularly well. Drum machines are plentiful on the iOS platform and work best of all on iPad thanks to its larger screen. Many of them however are a little hamstrung by their strategy of recreating a conventional drum machine, either graphically or in terms of workflow. Not so Patterning, which is more akin to Propellerhead's Figure, except rather more advanced.
There's quite a lot to explain here, so bear with me. The heart of the instrument is its Pattern section and this is where much of the action takes place. The first thing that strikes you is the unique interface, all translucent pastels and fluid animation. It's beautiful to look at and the color coding is both easy on the eye and helpful for navigation. Along the left-hand edge are eight different drum slots, one of which is selected at once. Tapping in one of the segments in the central wheel lets you place a note in, and adjusting the height of the note sets its velocity. Tap another drum either from the list or from its minimized display in the wheel and you can edit another part.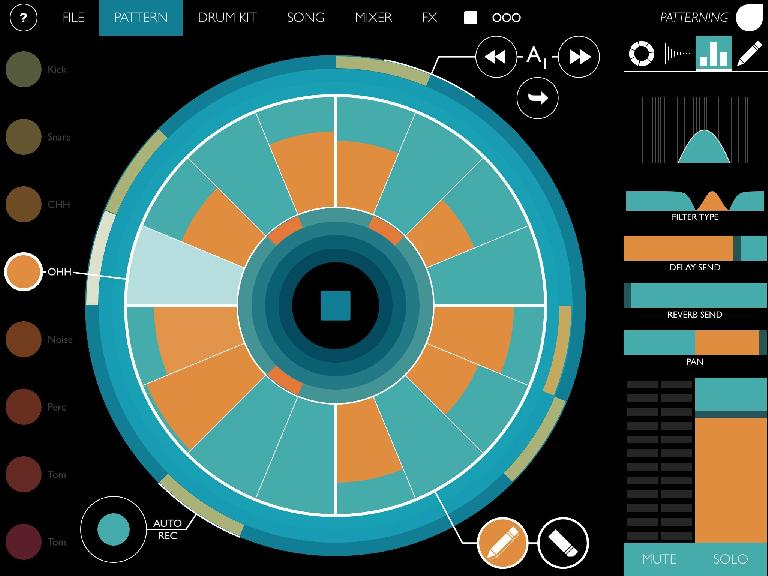 Tap away
This is really intuitive and feels fun and creative to use, but there's much more. For a start, you can swap out any sample at any time, choosing from the many bundled options or even using whole new kits (63 are included). More are made available via free in-app downloads and the selection is great, including not just a wealth of specially designed electronic kits but some weird stuff as well. You can bring your own samples in and edit existing ones for length, tuning and ADSR. It's also possible to export kits you have made, and load kits with or without associated effects setups.
Inputting notes is easy but you also get automation. Tap the Auto Rec button and some of the parameters from the inspector panel like filter, delay and reverb send and tuning amongst others become available for automating. This is programmed in a similar way to notes, with different rings appearing inside the main wheel area to denote automation values for the currently selected parameter. That description is necessarily a bit dry, but in use the system feels really natural. As with notes, an eraser is available to undo any changes and with a little practice you can start to introduce more movement into your beats, say by automating the pitch or filter sweep of certain hits within a pattern. There's a fair amount going on graphically inside the wheel so as you're learning you will probably need to stop and check occasionally what exactly you're about to change, but familiarity comes with time.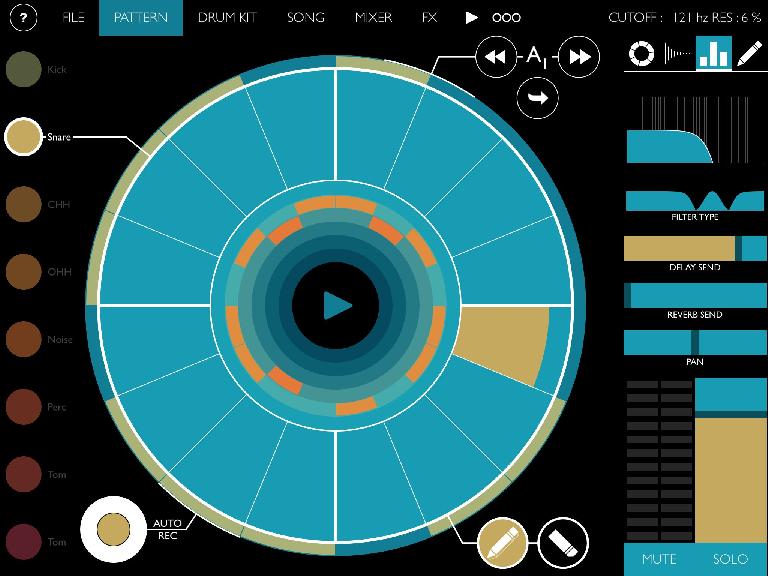 Patterns can have from 1 to 64 steps and step durations can be set from 1/32 note all the way up to a whole note, with various dotted note options available as well. Different sounds can use different loop modes and can run backwards, at random and in pendulum mode so it's possible to create some unusual beats. One of the other interesting automatable parameters is probability, which means that certain hits within a beat will be more or less likely to play on each pass depending on your settings. There's also a Pen Echo tool to quickly enter repeating patterns.
Play us a song
You'll probably spend a lot of time making patterns and you can of course store multiple patterns in the app, which can then be built into a song in the Song section. This is simply laid out with your available patterns along the top and the option to add patterns into the timeline. Moving on, there's a very cool-looking mixer with each of the eight channels together with pan, reverb and delay sends as well as master delay and reverb and a master fader. The final section is the FX area and here you can tweak the send effects, making settings for the delay and reverb plus a nice EQ and a bonus distortion stage. All of these are very well designed and feel very natural to use on the touch interface.
MIDI is better catered for than you might imagine, with per-track MIDI settings letting you get greater control over ports, channels and pitch, and there's MIDI clock sync via the sync engine. Audiobus and Inter-App Audio are also supported and it will be interesting to see if the app (like many others may) will take advantage of the new plug-in technology that Apple has released as part of iOS9. There's an onboard manual as well as contextual popup help that can be switched on or off, so if you run into anything it should be easy enough to sort out.
Pattern of things to come?
Patterning is an amazingly fun and creative app and one that feels perfect for the iPad platform. The look, feel and layout are all first rate and the sounds are excellent. Even beginners will be able to create something that sounds cool, and more experienced users will be able to put together some amazing beats complete with automation and per-drum settings the likes of which you usually need a full DAW setup for. The only limitation at present seems to be the export options. It can output a project file which can be opened by other copies of the app, so that's fine for sharing with other users. But there isn't yet an option to output patterns as audio loops, or songs as full length audio files. You could connect to something else using Inter App Audio to do this, but given the level of innovation on show throughout this app you really shouldn't have to. The developer states that audio export is coming soon in an update so it will be added—though it's an odd thing to have left out while the rest of the app is so advanced. Nevertheless, when added it will just add to the sense that this is a really powerful and fun beat-making app.
Price: $9.99 / £7.99
Pros: Gorgeous look and feel. Excellent samples. Ever-updating pool of kits available. Clever and powerful programming system. Automation of individual drum sounds. Sensibly priced. Gentle learning curve. Good MIDI options.
Cons: Export options need to be expanded—though this is apparently coming soon.