Review: Patch Blocks PBMIX3
Small, portable music devices are becoming more and more popular. But when tiny and affordable come into play, corners sometimes get cut. Not in the case of the Patch Blocks PBMIX3 though.
Patchblocks recently released the PBMix3 portable, a rechargeable mixer that looks amazing and is barely bigger than a pack of smokes. The only big question is: does it sound as good as it looks?
Small Parcel Delivery
I'm always amazed at the package sized from Patchblocks. You go so many years getting devices in the mail that tend to cause UPS delivery guys to give you irritable looks. Then, suddenly, all your gear suddenly fits under the doormat… Well, not quite that small. Situated in a small, well designed package, the likes of which would look wonderful on any store shelf, the PBMix 3 really does almost look like a jewel, as I slide the box open. And, thankfully, that's not all that came. Placed in another small, zip-lock bag, the guys at Patchblocks threw in some sick patch cables to make the experience that much more awesome.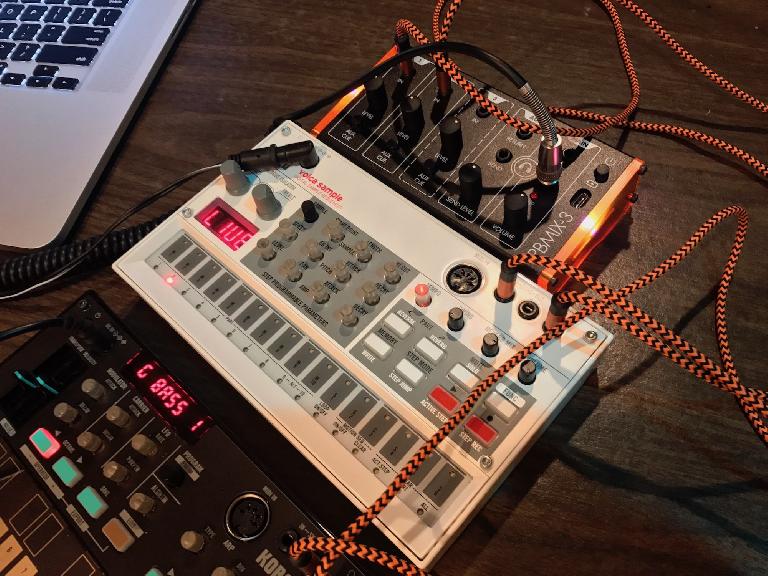 Exterior
The unit itself can take more than the optional 1/8" cables. There's also a USB-C port that, when connected to a not included USB wall wart, the likes of which you'd use for your iPhone, iPad, and so on, will recharge or even give regular power to the PBMix3.
When initially connected to the wall, I actually got a little bit of hum from the PBMix3. However, when I plugged in to a power conditioner, the PBMix 3 was as quiet as a mouse. I don't fault Patchblocks on this. I have really bad electricity at my place, so I'll take the ding here.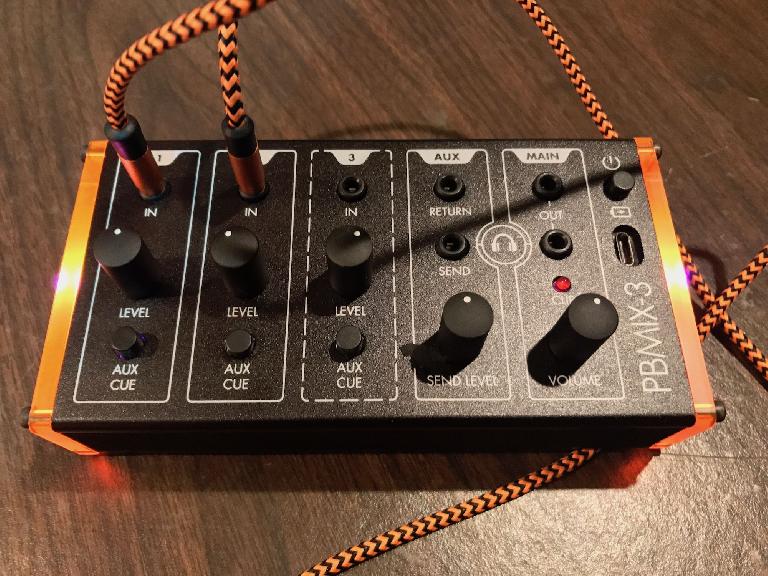 The knobs, by the way, feel beautiful, the way you'd expect of a German designed mixer. And the buttons feel sturdy and recess nicely when pushed, with small hints of backlighting that occurs when the unit is powered. And doubly lit, when PBMix3 is plugged in to a power source other than it's own. Lots of bling here!
Sound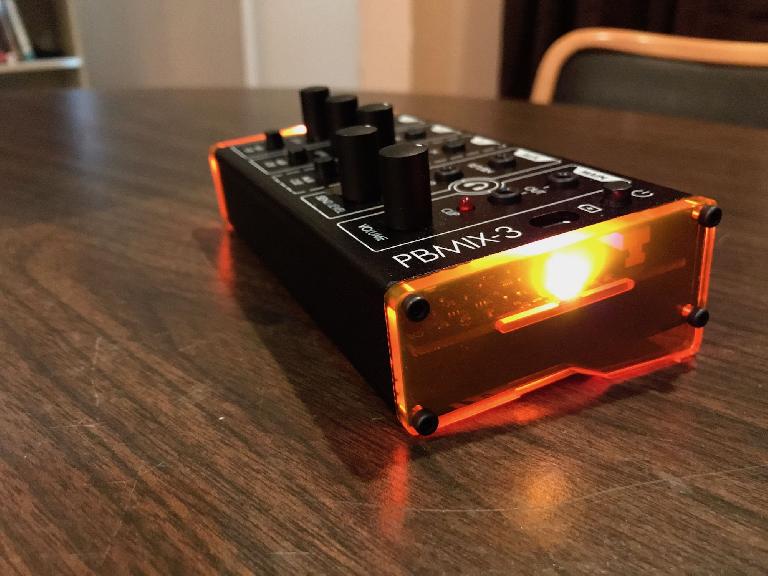 As I mentioned earlier, the sound is clean. As things heat up from either your volcas or a Patchblock or your Pocket Operator, the clip light lets you know when the crunch sound cometh. DJs, as well as musicians will be particularly pleased with the Send/Return channel. You can use the Auxiliary switches on the three regular input channels to allow monitoring of a channel, via the return out, to dial things in, before the cued source hits the main output. But while it's cool to have some forward monitoring, I really enjoyed loading up a regular Patchblocks, or two with a couple of effects patches, and distributing my sonic madness across the volca horizon of channels.
Conclusion
PBMix3 is a device I am proud to add to my backpack synth studio. It's sturdy, beautiful and really sounds like what you would think a small German mixer would sound like. I will say the PB label cables to do make a big difference in the experience. So, if you're planning on picking one of these up, do yourself a favor and pick up some extra patch cables from Patchblocks, along with your PBMix3 too. You won't regret it, and your portable synths with the 1/8" outputs will thank you too!
Price: $129.99
Pros: A solid, great sounding mini-mixer that feels and sounds like quality. Great knobs and buttons.
Cons: Might get some noise when plugged in to a wall, in houses with crappy electricity. Otherwise, it's RF Shielded, and I can attest, cell phones don't cause any problems!