Saída não é estranho para expansões únicas para a biblioteca amostra Kontakt. Os fabricantes de REV estão de volta com uma nova visão sobre o conceito do synth pulsar chamado Signal . É uma biblioteca de som focado na criação de tons que tornou a espinha dorsal de sua produção. Eu tive o prazer de trabalhar com a versão de pré-lançamento e Im pronto para compartilhar o que eu encontrei.
The Look and Feel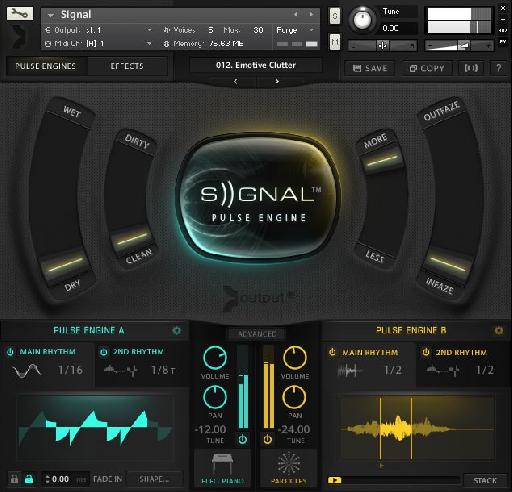 Eu sei que você deve estar se perguntando, por que você está falando sobre o olhar e sentir antes mesmo de chegar aos sons? Bem, no caso de sinal, a interface do usuário e aparência do instrumento é totalmente integrado nos sons que você vai sair dela. Output nos diz que uma equipe de mais de 70 designers gráficos, produtores e desenvolvedores trabalharam neste instrumento e sua muito fácil de acreditar. Este instrumento está lindo, mas ao mesmo tempo é incrivelmente bem projetado. É absolutamente olha e sente como uma oferta de first-party da Native Instruments, e ele se encaixa muito bem em sua biblioteca Kontakt.
Designers de som, tecladistas e produtores tanto apreciarão Saídas paradigma de desenvolvimento aqui. Há controles macro cuidadosamente trabalhada em fácil acesso. Cada um dos controles permite ajustar o equilíbrio ou a nível do que de saída considera ser o aspecto mais importante de todo o remendo particular. Eu não gostam de abrir mão do controle de ânimo leve, mas neste caso eu tenho que entregá-lo a saída. I foi duramente pressionado para encontrar um patch onde eu não concordar com sua escolha do que precisava ser controlada em um determinado som.
Control Freak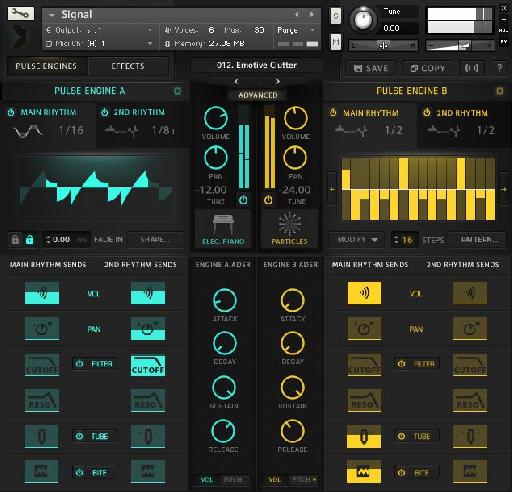 O sistema de macro não significa que você não tem o controle completo de qualquer aspecto de seu som que você poderia possivelmente wantit apenas coloca-lo um pouco mais ao seu alcance. Tudo que você pode querer ajustar está disponível. Há 4 impulsos diferentes que podem oscilar em diferentes velocidades e ser activado / desactivado, conforme necessário. Há loopers, arpeggiators, LFOs e passo sequenciadores que toda bloquear a Tempo. Um motor de efeito robusto rodadas fora as maneiras que você pode manipular os sons de instrumentos pulsante.
Os sons são fáceis de encontrar, devido a um menu pré-definido de marcação inteligente, apesar de eu coçar a cabeça um pouco sobre por que a maioria de terceiros desenvolvedores Kontakt tendem a incluir os seus próprios menus predefinidos em vez de fornecer uma variedade de arquivos NKI como o first-party instrumentos Kontakt fazer. Talvez pessoas preferem navegador paradigma os metadados / tagging, e que inclui um navegador dentro do instrumento é realmente a única maneira de implementar isso.
The Sound
Por fim, chegamos ao som. Eu posso dizer com confiança que você não vai encontrar facilmente os sons que você pode criar no Signal sem fazer programação maciça e mergulhando em seu próprio país. As opções predefinidas e eu era capaz de navegar através eram bastante inspirador, e os pulsos sentiu enorme. Eu definitivamente entendido como você pode realmente quebrar uma música inteira em torno de um único som com Signal. Eu tinha uma tonelada de diversão adicionar, remover e manipular a velocidade dos vários motores de pulso. Geralmente, eu me vi pensando Uau, isso deve ter levado muito tempo para fazer todas as vezes eu chamei uma nova predefinição. Signal é verdadeiramente um instrumento concebido para o moderno compositor / produtor para usar como uma espinha dorsal para suas produções.
Preço:
Prós:
Contras:
Web: