Uscita non è estranea a espansioni unici al libreria di campioni Kontakt. I creatori di REV sono tornati con una riflessione diversa sul concetto di synth pulsante chiamato Signal . La sua una libreria di suoni focalizzata sulla creazione di toni che diventano la spina dorsale della vostra produzione. Ho avuto il piacere di lavorare con la versione pre-release e Im pronto a condividere quello che ho trovato.
Il look and feel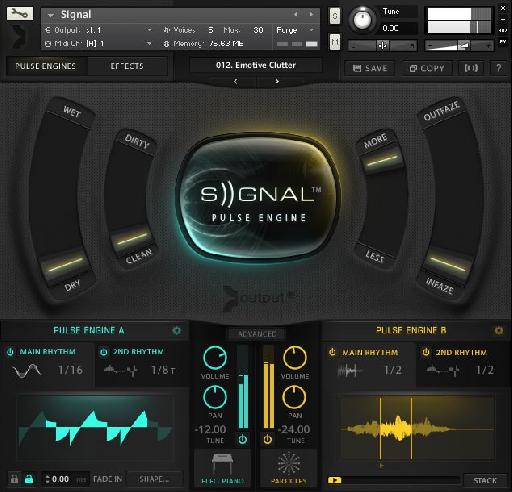 So che potrebbe chiedere se stessi, perché stai parlando l'aspetto grafico prima ancora di arrivare ai suoni? Ebbene, nel caso di segnale, l'interfaccia utente e l'aspetto dello strumento è strettamente integrato nei suoni si ottengono fuori di esso. Uscita ci dice che un team di oltre 70 graphic designer, produttori e sviluppatori ha lavorato su questo strumento e la sua abbastanza facile da credere. Questo strumento sembra bello, ma allo stesso tempo è incredibilmente ben progettato. Sembra assolutamente e si sente come un'offerta first-party di Native Instruments, e si adatta bene nella libreria Kontakt.
Sound designer, tastieristi e produttori apprezzeranno Uscite paradigma di sviluppo qui. Ci sono controlli macro cura artigianale a portata di mano. Ciascuno dei controlli consente di regolare l'equilibrio o il livello di quello di uscita considera l'aspetto più importante di qualsiasi patch particolare. Io non l'amore per cedere il controllo alla leggera, ma in questo caso devo consegnarla a uscita. Mi è stato molto difficile riuscire a trovare una patch in cui non ho d'accordo con la loro scelta di quello che doveva essere controllato in un dato suono.
Controllo Freak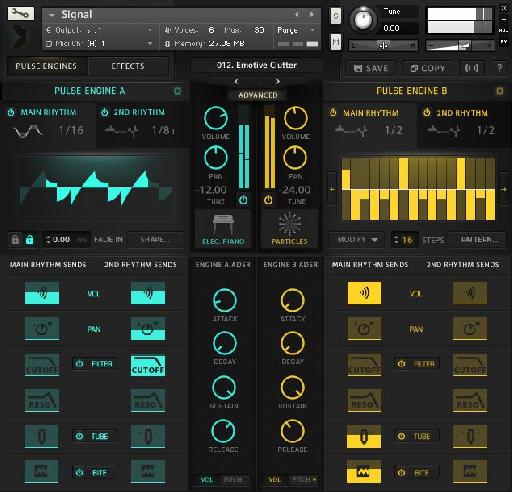 Il sistema di macro doesnt significa che non avete il controllo completo di ogni aspetto del vostro suono si potrebbe forse wantit solo mette un po 'più a portata di mano. Tutto ciò che si può desiderare di modificare è disponibile. Esistono 4 impulsi diversi che possono oscillare a velocità diverse e da attivare / disattivare secondo necessità. Ci sono crochet, arpeggiatori, LFO, e step sequencer che tutti bloccare al tempo. Un motore robusto effetto arrotonda fuori i modi in cui si possono manipolare i suoni di strumenti pulsare.
I suoni sono facili da trovare grazie a un menu intelligente etichettatura preset, anche se mi grattarmi la testa un po 'perché la maggior parte sviluppatori Kontakt di terze parti tendono ad includere i propri menu predefiniti invece di fornire una varietà di file NKI come il primo partito strumenti Kontakt fanno. Forse la gente preferisce il browser paradigma metadata / tagging, e comprendente un browser all'interno dello strumento è davvero l'unico modo per attuare tale.
The Sound
Infine, arriviamo al suono. Posso dire con certezza che è solito facilmente trovare i suoni che si possono creare in Signal senza fare programmazione massiccia e stratificazione da soli. I preset di fabbrica sono stato in grado di navigare attraverso erano abbastanza stimolante, e gli impulsi sentivano enorme. Io sicuramente capito come si potrebbe davvero avvolgere un'intera canzone intorno ad un singolo suono con Signal. Ho avuto un sacco di divertimento aggiungere, rimuovere, e manipolare la velocità dei vari motori di impulsi. In generale, mi sono trovato a pensare wow, che deve aver preso molto tempo per fare ogni volta che ho chiamato un nuovo preset. Il segnale è davvero uno strumento progettato per il moderno compositore / produttore da utilizzare come spina dorsale per le loro produzioni.
Prezzo:
Pro:
Contro:
Web: