Output ist kein Fremder in einzigartige Erweiterungen des Kontakt Sample-Library. Die Macher von REV sind zurück mit einem frisch auf dem Konzept der pulsierenden Synthie genannte Signal . Es ist ein Sound-Bibliothek auf die Schaffung Töne, die das Rückgrat Ihrer Produktion zu werden. Ich hatte das Vergnügen, mit der Vorabversion und ich bin bereit zu teilen, was ich gefunden habe.
Das Look and Feel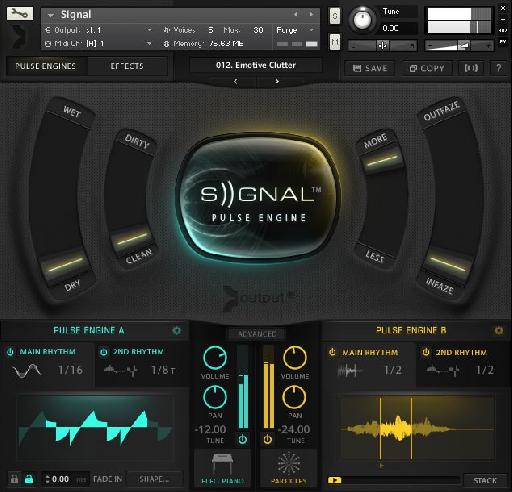 Ich weiß, Sie könnte sich fragen, warum sind Sie über das Aussehen und das Gefühl sprechen, bevor wir sogar zu den Klängen zu bekommen? Nun, im Falle von Signal, die Benutzeroberfläche und das Aussehen des Gerätes fest in den Klängen werden Sie aus ihm heraus integriert. Ausgabe sagt uns, dass ein Team von mehr als 70 Grafikdesigner, Hersteller und Entwickler arbeiteten an diesem Instrument und seine recht einfach zu glauben. Dieses Instrument sieht schön aus, aber zur gleichen Zeit ist unglaublich gut entwickelt. Es ist absolut aussieht und sich anfühlt wie ein First-Party-Angebot von Native Instruments, und es gut in der Kontakt-Bibliothek passt.
Sound Designer, Keyboarder und Produzenten gleichermaßen Ausgänge Paradigma der Entwicklung hier zu schätzen wissen. Es gibt sorgfältig gearbeitete Makro Kontrollen an Reichweite. Jede der Steuerungen können Sie Gleichgewicht oder das Niveau, was Output Ansicht nach der wichtigste Aspekt eines bestimmten Patch sein anpassen. Ich weiß nicht lieben, leicht die Kontrolle aufzugeben, aber in diesem Fall muss ich es auf Ausgang übergeben. Ich war schwer, einen Patch, wo ich nicht mit ihrer Wahl von dem, was benötigt wird, um an einem bestimmten Sound gesteuert werden zustimmen finden.
Control Freak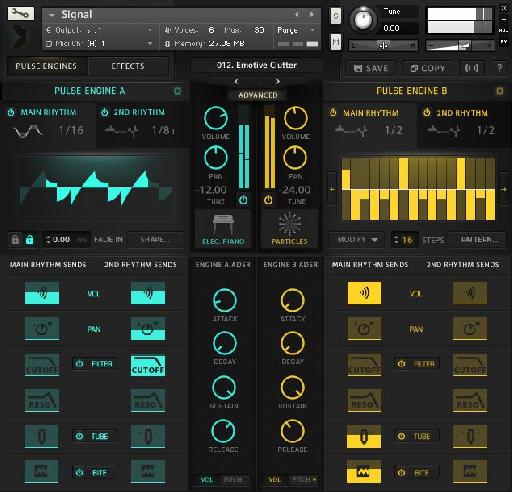 Das Makrosystem bedeutet nicht, dass Sie nicht über die vollständige Kontrolle über jeden Aspekt Ihrer Sound Sie möglicherweise wantit sagt nur ein wenig mehr an Ihren Fingerspitzen. Alles, was Sie zu zwicken möchten zur Verfügung. Es gibt 4 verschiedene Impulse, die mit unterschiedlichen Geschwindigkeiten schwingen und aktiviert / deaktiviert werden kann wie benötigt. Es gibt Greifer, Arpeggiator, LFOs und Step-Sequenzer, der alle Sperren zum Tempo. Eine robuste Wirkung Motor rundet die Möglichkeiten, wie Sie die pulsierende Instrument Töne zu manipulieren.
Die Geräusche sind leicht zu finden durch eine intelligente Tagging Preset-Menü, obwohl ich kratze mich am Kopf ein wenig darüber, warum die meisten Drittanbieter Kontakt Entwickler neigen dazu, ihre eigenen voreingestellten Menüs anstatt das Bereitstellen einer Vielzahl von NKI-Dateien wie die First-Party- Kontakt Instrumente zu tun. Vielleicht Leute bevorzugen den Metadaten / Tagging Paradigma-Browser, und mit einem Browser innerhalb des Gerätes ist wirklich der einzige Weg, um zu implementieren, dass.
The Sound
Endlich kommen wir zum Sound. Ich kann sicher sagen, dass Sie nicht einfach die Töne können Sie in Signal erzeugen zu finden, ohne dabei massiv Programmierung und Schichtung auf eigene Faust. Die werksseitigen Voreinstellungen Ich konnte zu durchsuchen waren ziemlich inspirierend, und die Impulse fühlte riesig. Ich auf jeden Fall verstanden, wie man wirklich einen ganzen Song Verpackung um einen einzelnen Ton mit Signal. Ich hatte eine Menge Spaß Hinzufügen, Entfernen und Bearbeiten der Geschwindigkeit der verschiedenen Pulsmotoren. Im Allgemeinen fand ich mich bei dem Gedanken Wow, das ist eine lange Zeit, um jedes Mal rief ich eine neue Vorgabe zu machen genommen. Signal ist wirklich ein Instrument für die moderne Komponisten / Produzenten als Rückgrat für ihre Produktionen zu nutzen.
Preis:
Vorteile:
Nachteile:
Web: