Output is no stranger to unique expansions to the Kontakt sample library. The makers of REV are back with a fresh take on the concept of the pulsing synth called Signal. It's a sound library focused on creating tones that become the backbone of your production. I had the pleasure of working with the pre-release version and I'm ready to share what I found.
The Look and Feel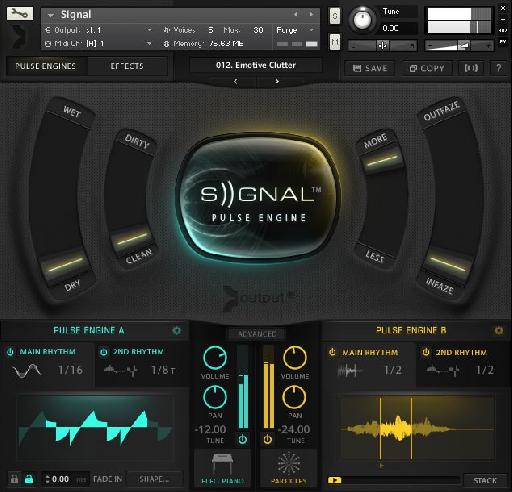 I know you might be asking yourself, 'why are you talking about the look and feel before we even get to the sounds?' Well, in the case of Signal, the user interface and look of the instrument is tightly integrated into the sounds you will get out of it. Output tells us that a team of over 70 graphic designers, producers, and developers worked on this instrument and it's pretty easy to believe. This instrument looks beautiful, but at the same time is incredibly well designed. It absolutely looks and feels like a first-party offering from Native Instruments, and it fits nicely into your Kontakt library.
Sound designers, keyboard players, and producers alike will appreciate Output's paradigm of development here. There are carefully crafted macro controls at easy reach. Each of the controls allows you to adjust balance or level of what Output considers to be the most important aspect of any particular patch. I don't love to give up control lightly, but in this case I have to hand it to Output. I was hard pressed to find a patch where I didn't agree with their choice of what needed to be controlled on any given sound.
Control Freak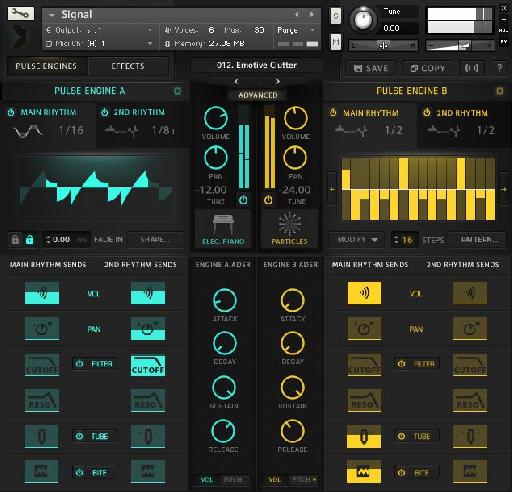 The macro system doesn't mean that you don't have complete control of any aspect of your sound you could possibly want—it just puts it a little more at your fingertips. Everything you could want to tweak is available. There are 4 different pulses that can oscillate at different speeds and be activated/deactivated as needed. There are loopers, arpeggiators, LFOs, and step sequencers that all lock to tempo. A robust effect engine rounds out the ways that you can manipulate the pulsing instrument sounds.
The sounds are easy to find due to a smart tagging preset menu, although I do scratch my head a bit about why most third-party Kontakt developers tend to include their own preset menus instead of providing a variety of NKI files like the first-party Kontakt instruments do. Perhaps folks prefer the metadata/tagging paradigm browser, and including a browser inside of the instrument is really the only way to implement that.
The Sound
At last, we get to the sound. I can confidently say that you won't easily find the sounds you can create in Signal without doing massive programming and layering on your own. The factory presets I was able to browse through were pretty inspiring, and the pulses felt huge. I definitely understood how you could really wrap an entire song around a single sound with Signal. I had a ton of fun adding, removing, and manipulating the speed of the various pulse engines. Generally, I found myself thinking 'wow, THAT must have taken a long time to make' every time I called up a new preset. Signal is truly an instrument designed for the modern composer/producer to use as a backbone for their productions.
Price: $199 USD (special $179 for REV owners purchasing before April 3).
Pros: A fresh take on pulse sounds, unique sound samples, beautiful and simple aesthetic, meticulously mapped macro controls, a truly 'huge' sound.
Cons: I would have loved full integration with Komplete Kontrol and automap, but they can always add that (here's hoping!)
Web: http://output.com