Well, the cool kids are finally starting to jump in on the monthly subscription model for virtual instruments and effects! Output, the developer of critically acclaimed Movement and Exhale are offering up a sample manipulation synthesizer with a library that is being updated daily with new secret ingredients. In this review, let's take a look at both the synth and the libraries and see if this really is worth $10 a month! (To be completely fair, Arcade is FREE for the first 100 days, and then $10 a month thereafter.
Jumping In The Cloud
As usual, the installation and setup go perfectly. Shortly after, going back into Ableton, a UI appears that looks at first more like a web browser than a synthesizer. But quick study shows that all that's initially appearing are the libraries, or product lines that from the moment of launch are going to be continually expanded with new kits and new loops. And there are many lines, which ultimately explains the name 'Arcade'. A simple but powerful instrument that features several universes of sound to choose from that are evolving even while Arcade is off.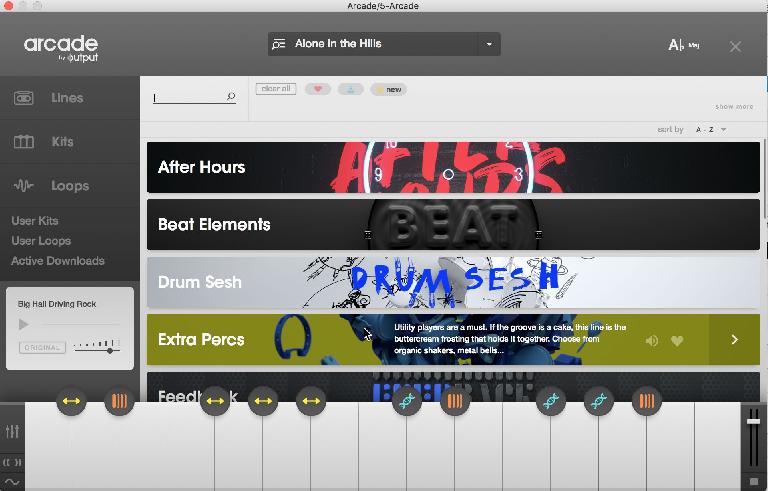 Evolving?
That's right! Output is growing the library every night, in the cloud, as you go to sleep… actually, 15 libraries. And these are Output-designed libraries - more award winning loops available every time you log in. Libraries like Drum Sesh, for example, feature several 'Kits' made up of several loops. Within these kits are loops mapped to the white keys on either virtual or physical controller keys. The black keys are all mapped to triggerable 'Modifiers' such as Repeater, a step sequencer that when triggered plays back snippets of your audio in clever, pattern based ways, as well as spitting fills out intensely when you raise the resolution of the sequencer speed to a 64th note!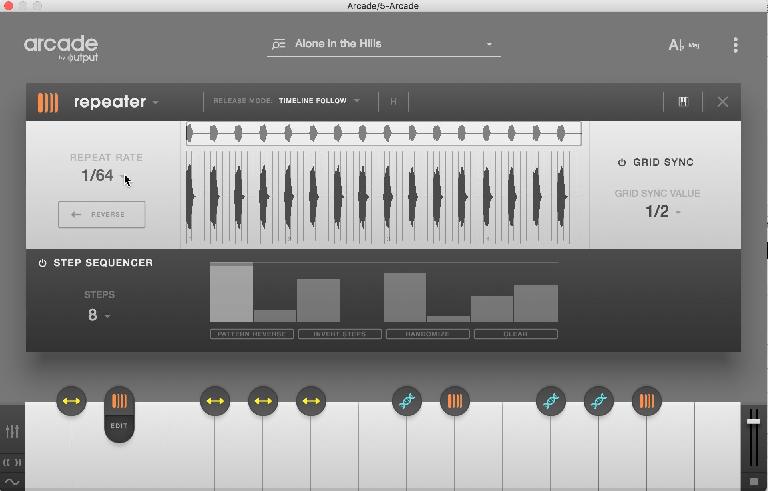 Personally, I had a little bit of trouble with the product lines within the browser. With my Sierra laptop, I kept getting an error message about Arcade's content folder being missing, every time I would try to preview a Kit. After resetting this location a few times, I tried another machine running El Capitan and things were fine.
Arcade As An Instrument
This is the part that hurts - I am already relying on Arcade. I do not want to want a subscription but Arcade as a basic, virtual sampler is crazy helpful and powerful! Press and hold a key in any of the Output created Kits and begin adjusting a macro as you play and you'll see what I mean. Loops are arranged across the keyboard so that you can stack loops, by holding multiple, white keys in one hand and in the other hand operate the four Macros that drastically alter the loops as you play along in cool, clever ways.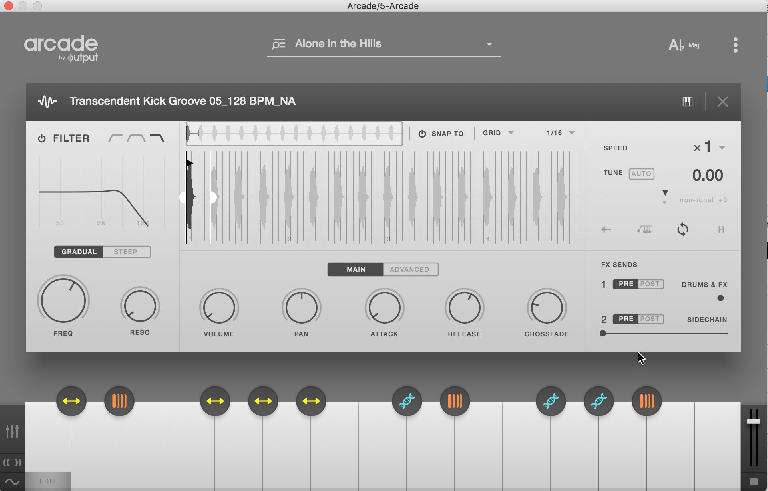 All the while the tempo for each loop automatically adjusted to the host tempo of your clock, time-stretching Arcade's loops so that they are in perfect sync. And to further help all level of users, they added a MIDI Input Quantize so that you can ensure Arcade's loops start in time with other loops and percussion in your performance, when triggered from a MIDI keyboard in realtime. A lot of thought has gone in to this instrument!
Roll Your Own?
Here's where things get interesting: You usually expect the 'kits' to sound perfect, because the developer put them together, fully understanding the limitations and strengths of the sound engine. But what about self-created audio imported into Arcade, does it sound just as cool? This is where I had a lot of fun! I found Arcade to be a wonderful sound design tool that I used a lot during the production of one of my tracks. It was easy to drag in vocals, then highly manipulate them, and sprinkle them throughout my song. I have a lot of plug-ins that do a wonderful job of manipulating sound but Arcade is one of the few that I can trigger the samples and the effects that affect the samples, all at once, all on one keyboard.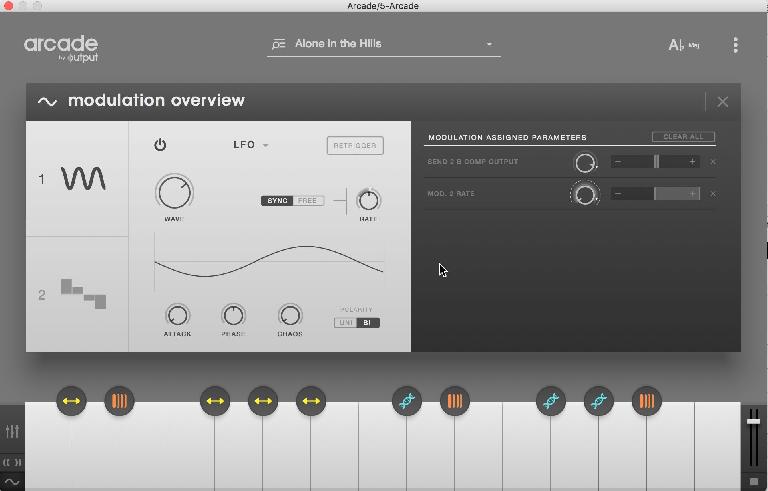 I should also mention that the time stretching sounds really, really good. Playhead - one of the Modifiers - does a wonderful job demonstrating this, as when triggered it can change your loop to a faster or slower speed. When slowed, voices especially are sustained with eerie clarity. It doesn't sound grainy or destroyed like other time-stretching algorithms, it keeps things sounding strangely organic. I know how I'm going to be making my drones from now on! Check out how I mangled up my voice at the end of a song I'm working on.


FX
If you've ever worked with Output-designed effects, you'll probably note that they are usually very dialed in. Arcade was no exception, I can tell you with a lot of confidence. 11 effects, including the classics like reverb, phaser, chorus, compressor, etc, come with Arcade and the internal mixer gives you plenty of opportunities to use the include them. The two internal Send channels can be stacked with two effects each to run simultaneously along with another four insert slots on the master, giving you a total of 8 simultaneous effects at once, per kit! It makes you feel like a kid in a candy store, as you layer up the amazingly cool phaser, with the gritty distortion box, while one of the included LFOs (one of two) modulates the cutoff of the filter on the master out.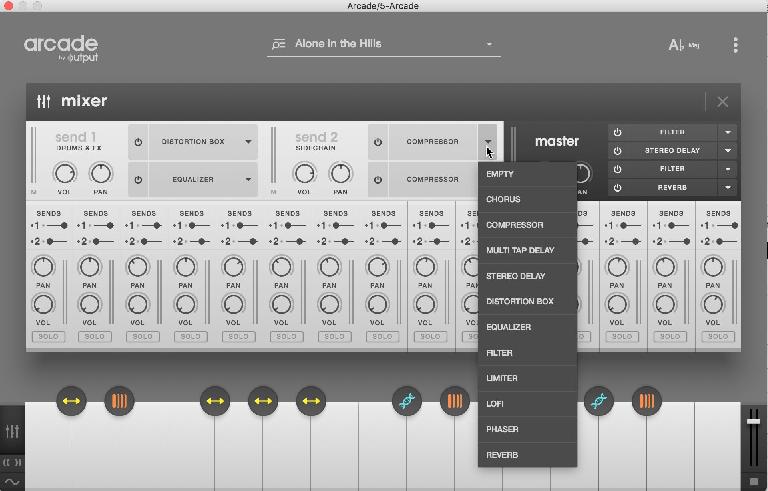 Room For Growth?
Because Arcade is cloud based, there is always a very real possibility that the next time you log in to it, you're going to be showing up to new features, sounds and internal devices. I personally hope to see a few things that I think are definitely missing. First and biggest on my list: you can't assign separate outputs from the mixer. What if I want to route a loop on one key to an external audio channel in Ableton? And a second big feature I would love to see would be the ability to realtime capture, or sample audio from within your DAW, giving you a second option for import to compliment the sometimes tedious drag and drop to a key. And finally, I would love to see an input for Arcade so that you can use the effects outboard. Arcade has beautiful effects I'd love to use with other VSTs, right?
Conclusion
I had a tiny bit of mixed feelings about Arcade. Sure, it sounds great. But considering the preview problems within the internal browser, I am kind of wondering if the release might have been a little rushed. Regardless, it's in the cloud, and Output is a company that I have no doubt will have us gushing in awe again in a few more months after even more updates and announcements of new, cool things added. Regardless, what we have right now, even without all the content, is at its core a very cool, very powerful sample playback synth that I believe is going to continue to grow into something even more powerful. The foundation is solid. Am I getting a subscription? For as long as I can, baby!
Price: FREE for 100 days then $10 a month
Pros: Powerful sample playback instrument loaded with quality effects, and an unbelievable time-stretching capabilities. Cloud based with regular updates in sound and functionality!
Cons: Browser preview is troubled, no secondary assignable outputs, subscription based.
Web: https://output.com/arcade
Learn more about sampling and synthesis in the Ask.Audio Academy: https://ask.audio/academy?nleloc=new-releases