You may be aware that modular synthesis rigs are all the rage nowadays—but not everyone can afford a bespoke collection of handcrafted analog gadgetry. Meanwhile, Christian Kleine has been building a name for himself as a designer of top-flight Max for Live devices via his Max for Cats enterprise. With his latest offering, he's set the bar incredibly high for his future projects by creating a polyphonic virtual modular environment including 100 modules and counting—easily accessible and editable for anyone using Live 9 Suite with Max for Live.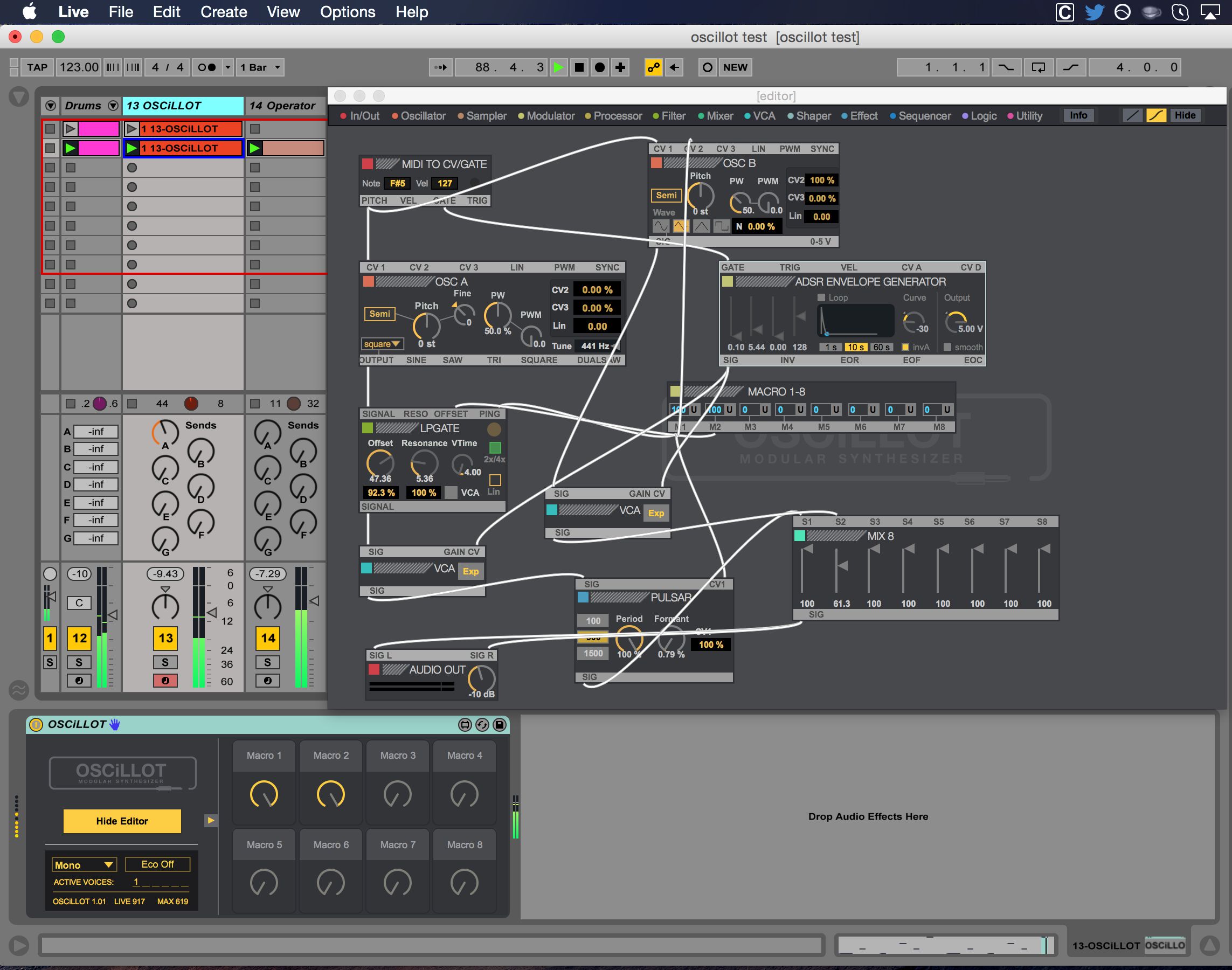 OSCiLLOT in action.
Adding OSCiLLOT to a MIDI track in Live loads a svelte device panel with eight revealable Macro dials and an enticing button labeled "Open Editor", along with selectable polyphony—up to six voices—and an Eco mode toggle to go easier on your CPU. Opening the Editor launches the modular patching area in a floating window: a blank slate with 13 module category menus along the top.
To the right of these menus are an Info button to display details on the selected module, patch cable style (straight or dangly), and an option to hide the virtual cables for when the inevitable plethora of cabling begins to obscure your view of the modules themselves. In the event your modules begin to spill beyond the edges of the visible area, zoom in and zoom out round out the basic controls.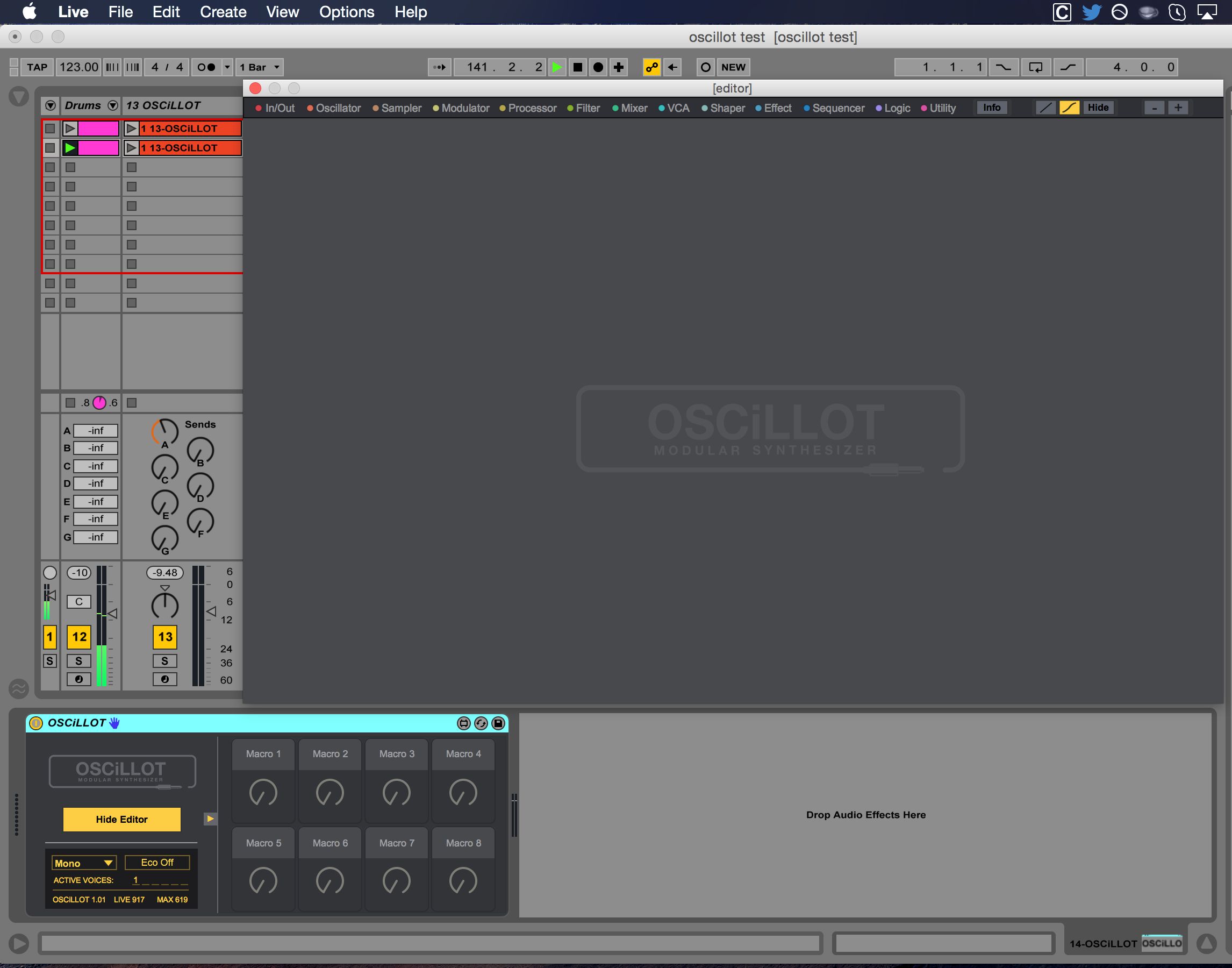 A clean slate.
Sound Palette
A blank canvas is great and all, but where to start? Each module category menu is color coded with a dot to the left of its title; each module used in your patch has an activation toggle box in the upper left corner colored to correspond to its category. To the right of this a diagonal hash area used for easily selecting and dragging the module.
Each module has its inputs along the top, and outputs along the bottom. Every module is freely patchable, meaning that each output can send to unlimited inputs—however, each input can only receive a single signal.
To get signal flowing into OSCiLLOT, you'll need to select a module from the In/Out menu; using it as a virtual instrument triggered by a MIDI clip in Ableton, you'll want to start with a MIDI to CV/Gate converter. From here on, much of OSCiLLOT's signal flow is patched via standard control voltage, or CV for short, along with the Gate and Trigger signals familiar to users of traditional modular systems.
Next you'll want to grab a few other essentials to make sure sound is flowing: an Oscillator or Sampler to generate sound; an AD or ADSR envelope from the Modulator menu to define the note shape; a VCA to convert the signal to audible volume; and an Audio Out to send the audio signal back into Live.
It may take awhile to get the hang of essential signal flow, but in this regard OSCiLLOT is a powerful learning tool. When exploring modules you're uncertain about, just click the Info button to call up a dialog that displays the pertinent details of whichever module is currently selected—along with a link back to the Max for Cats website, which promises tutorial video content coming soon that will be accessible directly through the OSCiLLOT interface. The many included presets also provide a handy starting point for reverse engineering or just curious tinkering.
Patch Atoms
Once you've got a basic rig routed up, there's no limit to the amount of modules you can weave into your audio patchwork. Twelve Oscillator types—including two FM modules, a morphing Oscillator, and a wave-drawn Phasebasher—provide some key starting points, while a JukeBox or Looper provide sampler options if you're looking for a pre-recorded audio sound source.
The modulator menu provides access to four LFO modules with extreme ranges, two envelopes, and a voltage signal generator. It's also where you'll find the Macro 1-8 module, which connects each Macro via patch cable to as many parameters as necessary, and automatically wires them to the automation-enabled Macro controls on OSCiLLOT's main device panel back in Live.
Nine processor modules deliver signal mashing capabilities such as Feedback, Jitter, Quantization, Offset, and more. The eight filter modules provide traditional signal filtration with the Diode, Ladder, and SVF units, while the Comb, Formant, and Spectral filters allow for highly creative sonic transformations.
A selection of nine Mixer modules allow for signals to be woven in a number of patterns, while the two VCA types allow for mono or stereo output. A compressor, distortion unit, waveshaper, and peak limiter—which comes in especially handy with some of the extreme signals that result from experimental combinations—can be found in the Shaper menu.
Eighteen effect units include a Frequency Shifter, Grain Delay, Pulsar, Resonator, Ring Modulator, Rungler, and Vocoder, along with more traditional chorus, phaser, delay, and reverb. Two of the effect units even allow for VST effects and instruments to be inserted within the patching area as well, exponentially expanding OSCiLLOT's potential.
Ten Logic modules and ten Sequencers allow for incredible manipulation of musical and rhythmic data, while the Utility category is where you'll find a handy BPM/delay-time/Hz Calculator, a Notation unit, and several realtime displays and analyzers.
Nearly 100 modules in all, there's no danger of going hungry for new ways to process your signal. Going one further, they've even made an SDK available for developers to build their own module units for use within the OSCiLLOT interface, promising an ongoing expansion of the instrument.
OSCiLLOT can even be used as an audio effect; with the Audio Input as your starting point, insane sound mangling is just around the corner. Furthering its emphasis on flexibility, the OSCiLLOT MIDI Receiver allows for MIDI from an OSCiLLOT sequencer to be routed directly to a separate MIDI track in Live.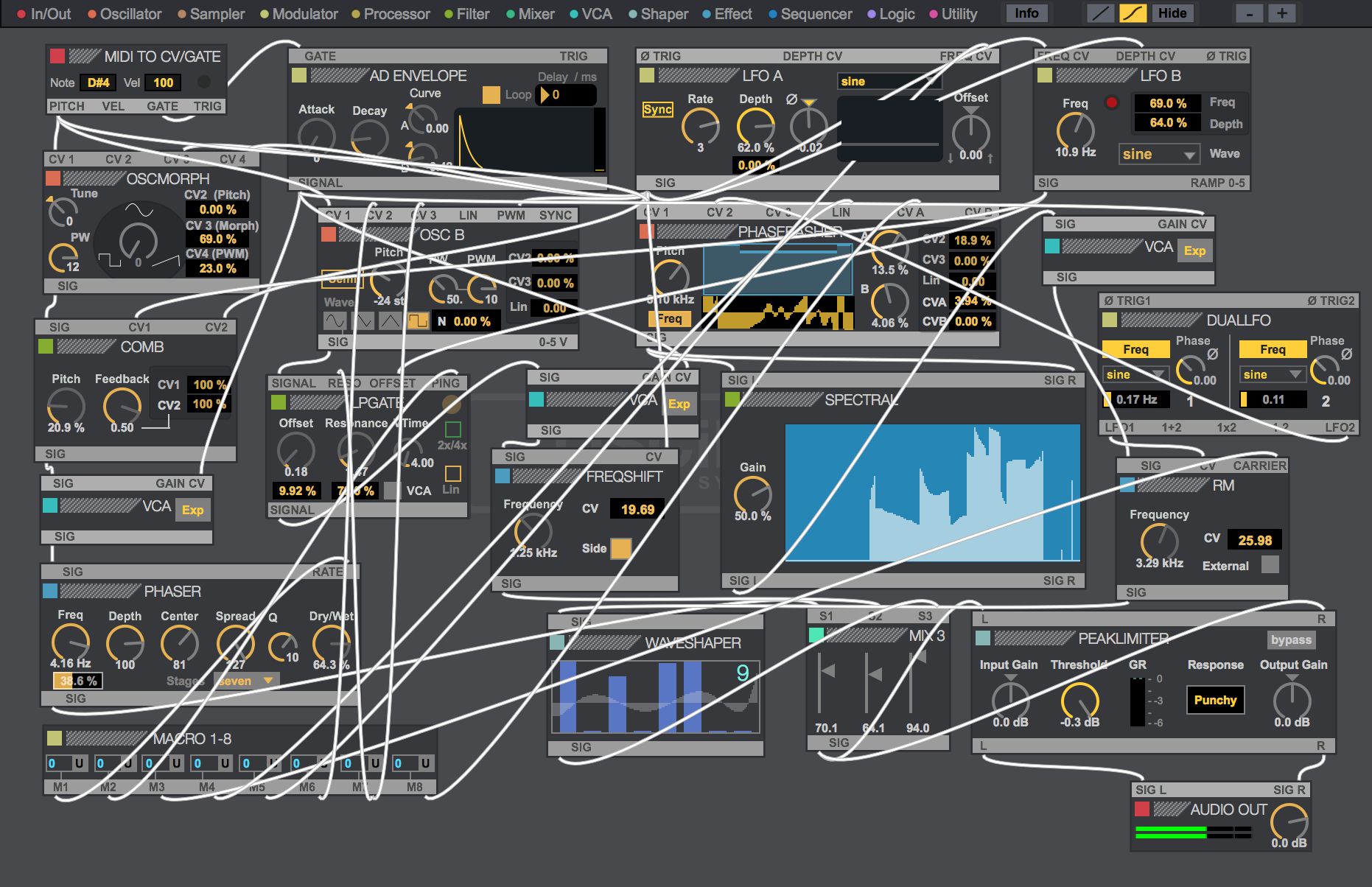 There's a certain pride in building your very own synthesis architecture.
A Lot to Oscillate
While there is a bit of a learning curve—to be expected with this many component modules on offer—OSCiLLOT is a sound designer's wet dream. As someone who never had the time to properly learn Max/MSP well enough to build my own devices from scratch, OSCiLLOT seems like a perfect middle-ground: an intuitive object-oriented interface with a large array of modules that mimics the hands-on patching of a real-world modular rack.
Great sounding and highly addictive, OSCiLLOT lets you easily create sounds you never knew were possible before. While it might not be a replacement for an analog rig of your own, it makes a strong case in terms of flexibility and value—and with CV output ready to send to modular hardware, it's built to integrate with standard modular systems right out of the gates. Anyone looking to build their own unique synths and effects within Ableton Live should immediately give OSCiLLOT a try.

Price: $99 USD
Pros: Extremely flexible, highly expandable, looks great, sounds good, and creatively inspiring at a fantastic price.
Cons: Potentially CPU intensive; automation is somewhat restricted; adding new patches in realtime pauses audio playback; some learning curve for novices.