Olympus is perhaps best known for its cameras, but the company also makes an impressive range of portable audio recording devices. One of its latest is the LS-12, a compact but powerful device suitable for a range of recording applications. Sitting easily in the palm of your hand, it is lightweight yet sturdy and has a good build quality. At the top are two high-sensitivity microphones which provide stereo pickup with low noise and an SPL of 130 dB—perfect for recording gigs and other loud events. Internally, the audio and system circuitry are separated to minimize sound degradation, and there's a switchable low cut filter to reduce unwanted background noise. As a nice touch, the unit has a screw thread so it can be attached to mic stands and boom poles with the appropriate adaptor.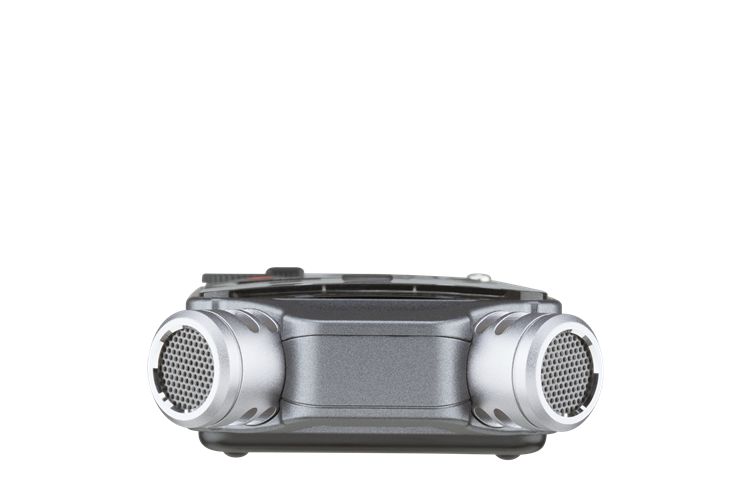 Two mics angled at 90 degrees provide stereo pickup.
Number Crunching
The LS-12 has 2 GB of internal storage and an SD card slot that can take a card with capacity up to 32 GB. Since these are inexpensive, you shouldn't be running out of space any time soon even when recording at the unit's maximum 96 kHz/24-bit quality. Other lower sample rates are available in PCM WAV mode, and it also does MP3 recording from 320 kbps down to 64 kbps.
There are a range of ports for you to work with, including headphone out and a rear-ported speaker for onboard playback. A remote input lets you connect an optional recording trigger, and there's a mini USB port to connect to your Mac or PC. On the other side are separate mic in and line in mini jacks to let you connect a different kind of mic or a line level source such as a CD player or a feed from a mixing desk—perfect for recording a live gig from the desk.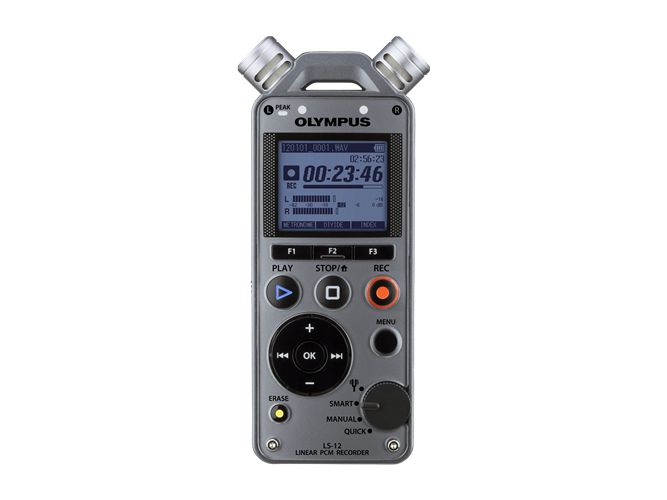 A dial lets you quickly jump to the right mode without messing about in menus.
The LS-12 has been designed to be accessible and feedback is via a large and friendly LCD screen which makes it clear what's going on. There are several modes, accessed via a handy dial on the front panel. Quick mode lets you record instantly when time is a factor, and Smart mode does something similar, giving you a countdown and automatically setting the record level during countdown to recording. Manual mode provides more hands-on control over recording levels, and the fourth dial notch activates a built-in tuner which is handy for tuning up an instrument. There's even a metronome with flashing LED to help you out.
Results
Recording is as straightforward and high quality as you'd expect and the menu system for navigating captured material is clear and easy to use. There's an Overdub mode that lets you re-record while monitoring a previous take, variable speed playback options and a pre-record buffer. Three "F" buttons and a handy joypad provide easy navigation around the menu system.
The LS-12 is an excellent portable recorder with sound quality and features that go beyond its relatively entry-level price. If you're after an easy-to-use, well-build recorder capable of excellent onboard recording and capturing from external sources, this is a very solid performer.
Price: $149.99
From: http://www.getolympus.com/us/en/audio/pcm-recorders/ls-12.html
Pros: Well built and lightweight. Excellent sound quality. Easy for beginners. Smart Mode. Expandable. High-quality mics.
Cons: Nothing!