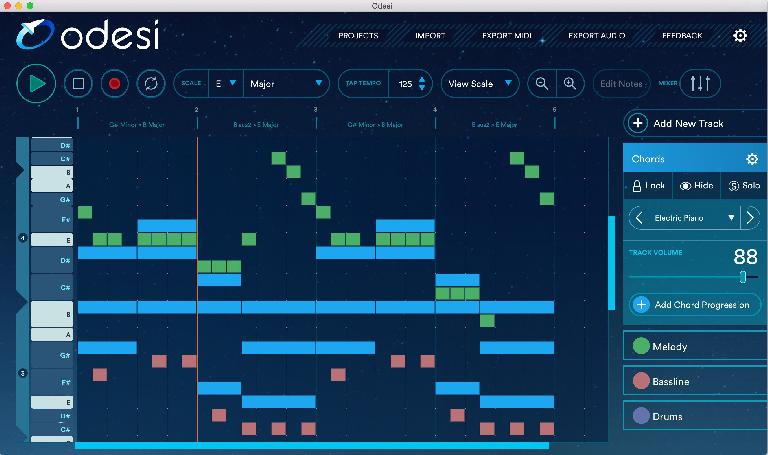 Are you a producer or aspiring songwriter who wants to create songs quickly? Odesi is an exciting new music production software from Mixed in Key that's built for speed and helps music producers to write songs quickly and easily. While it's not meant to replace a DAW, it's a software program that's designed to be the first step of the creative process. Once compositions have been written in Odesi, MIDI and audio files can be exported and imported into a DAW of your choice for production. Made by the creators of Mixed in Key, Odesi has a high standard to live up to. Would this software really be able to assist creators to write songs quickly? I decided to test it out...
A Sonic Sketchpad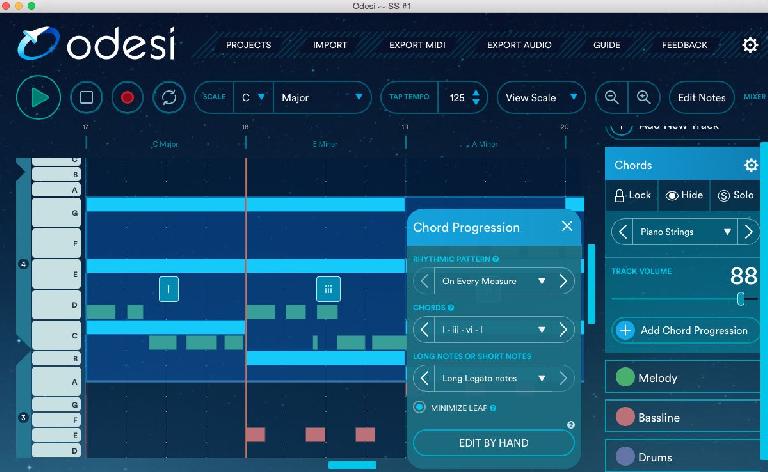 Thanks to a helpful video on the Odesi website, it was easy to learn how to create a song in the software. To begin, click on Chords on the right-hand side and then 'Add Chord Progression'. The OS X companion app includes a library of over 117 preset sounds and gives users the ability to use Audio Units on your computer, making it possible to use plug-ins inside Odesi. To program chords, select from one of the 138 popular chord progressions (e.g., I-I-IV-V) and select the rhythmic pattern they are played in. The track volume can also be adjusted. I was impressed with the sound library's current sounding presets, and the ease that I could program chords to begin the track.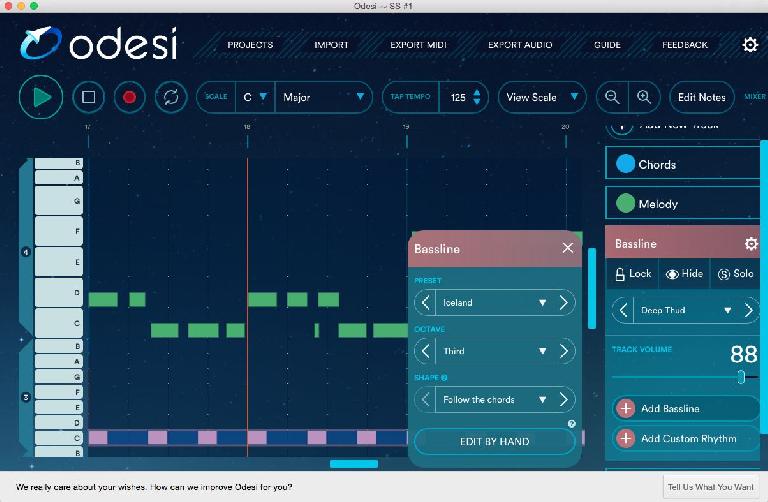 Next up is the bass line. Start by selecting a sound and choose the 'shape' of the bass line. All of the presets sound pretty good and have fun names like Ibiza, Los Angeles and Hit Maker. Odesi gives four options for the bass line shape, all of which are in key with the chord progression. Within a couple seconds a decent-sounding bass line will be programed into the track. The secret is to customize your bass lines, using the Odesi editor which lets users make adjustments to parameters like complexity, funkiness and loop type. Writers can also edit the bass lines by hand, the good 'ol fashioned way.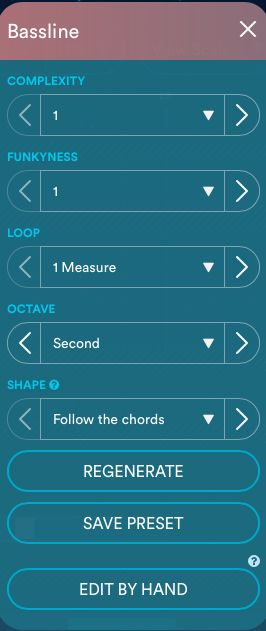 Drums can be programed in a similar fashion; drum kits can be individually selected (there's quite a few kits which sound pretty decent) and users can choose from a loop type. I personally liked the sound banks for the chords and bass lines better than the drum sounds and loops. Odesi was designed to be used as a sonic sketchpad, and that's what it really shines as.
The melody is the only area where users will have to solely rely on their imagination and do the majority of the work on their own. Melodies can be programed in using either a MIDI controller or the keyboard. There's an automatic 'Snap to Key and Scale' in the main view, which shows the notes that are allowed in a specific key and scale. This feature makes it impossible to go off-key in the composition, and it's a tell-tale sign that Odesi was made by Mixed in Key.
Perks for Composers
Odesi is designed for both in-studio and on the road composition. The OS X application features a thoughtful QWERTY keyboard layout where letters ASDFGHJ can be used to program in melodies that are perfectly in key with the track, and the rows of keys that are above and below are one octave higher and lower. The numbered rows (1–9) can be used to program in the drum beats. Another useful feature of Odesi is the Scale button, which can be used to transpose the entire song up or down into a different key and type. This can be especially useful if you discover you've written a tune for a vocalist who's not comfortable singing in the chosen key, and needs the song to be quickly transposed.
Built for the Future
Odesi runs in a web browser, and is accessible from anywhere. (The Mac app version is a standalone version). This will make co-writes with other songwriters and producers easier than ever, and allow musicians to share sessions with their teams all over the world. When the session is done, Odesi can automatically send MIDI files to your email for backup and safekeeping.
The Aftermath
After a song has been sketched out, both the MIDI and audio files can be exported out of the session. MIDI files can be exported as selected notes or the whole track; audio files can be exported as individual files or the full track in AAC, AIFF, Apple Lossless, MP3 or WAV files. Either type of files can be imported into a session in a DAW for final production, or sent out as demos to artists, singers, labels, and co-producers.
Overall Odesi is an excellent songwriting/music production tool that makes the songwriting process easier, faster and more fun. I haven't come across another music software app that allows me to write songs quite as easily. It's a fun and intuitive way to start writing songs, and I like the fact that both MIDI and audio can be exported and brought into another session for further production. To top it all off, it's available for $49 USD, which makes it an affordable option for every producer to own. Built for speed and priced for the budget-conscious musician, Odesi is a gem!
Price: $49
Pros: Write chord progressions, bass lines, melodies and rhythms quickly, The OS X version comes with 117 good quality sounds, Use the computer's keyboard to write melodies that are automatically in key with the song, Export files as MIDI or Audio, Very reasonable price.
Cons: I wish the app offered key commands so I could more easily navigate the main view window. There are zoom in/out buttons, but it would be easier to scroll through the song using key commands. I also wish that there were more drum loops choices available, to give producers an abundance of good ideas to get themselves going!
Note: Odesi is available as a web-based app. There is an OS companion app which requires OS X 10.10 or newer.