One of the hardest things about doing reviews of different products is the one thing that makes doing reviews so fun... Touching, and playing with the equipment. Well, there's nothing hard about that at all! But, when you have to return the equipment, especially when you really grow attached to that piece of gear... Well, it's a sad moment in a reviewer's life.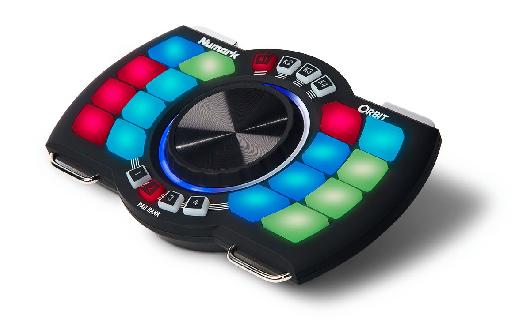 Numark's Orbit - hard to put down or return after the review was done.
This recently happened to me with the Numark Orbit, a new MIDI controller that is both familiar and completely different, all at once. And, what was so impressive about it? Read on, and find out!
What is the Numark Orbit?
If you play video games, like me, you'll immediately feel some love for the Orbit, as it is a handheld device that greatly resembles the sturdiness and feel of an Xbox 360 controller. But, instead of having joysticks, it's adorned almost entirely with LED, backlit buttons. And, there are also bumper type buttons on the back of the controller that are very similar to the bumper buttons on a video game controller. In the middle, there's also a circular, rotary type, big knob as well.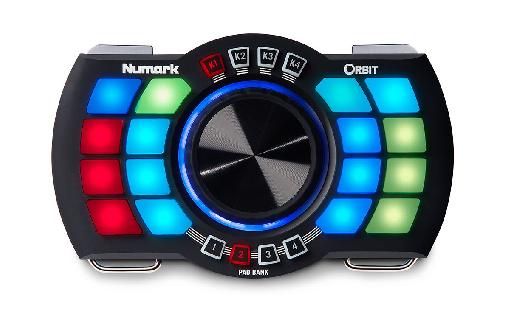 The Orbit - follow the lights.
There are also some hidden controls, too. Like the iPhone, the Orbit is motion sensitive, as well. Tilting it forward/backward and side to side can both be assigned to MIDI parameters, and so on.
The end result is a controller that really gives you the feeling of being relaxed in front of a screen playing a DAW, or DJ application, instead of a video game. And, while this notion may not appeal to everyone right off the bat, don't be too quick to write off the Orbit, yet.
Functionality
The LEDs are a big factor in adding to the coolness of the Orbit. Each front panel button is capable of several different colors. And, you can actually change the colors from the controller, itself. This is a big feature, as most hardware manufacturers will require you to use software to change color schemes and so on. Not so with the Orbit.
There are also several banks of assignability as well. Run out of buttons on one bank? Then move over to another.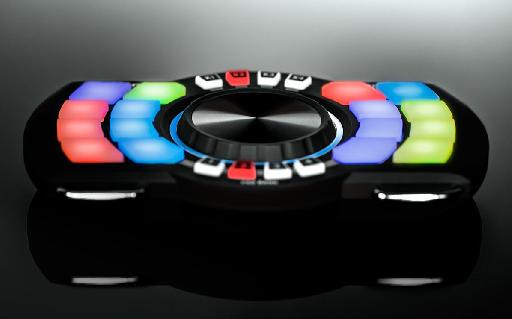 It may look stationary in this photo, but the Numark Orbit is something you'll want to twist and turn with.
One thing that also really adds to the light-hearted fun of the Orbit is the fact that it's wireless. Included with the Orbit is a small dongle that allows the Orbit to wirelessly transmit to your computer. It was one of the first things I tried, to be honest. I was amazed to discover that it worked right out of the box without any software installation, at all. In fact, I went straight to Reason, set it up as an "Other" MIDI controller (there's no Remote template for Reason, yet), and it worked flawlessly. The built-in accelerometer actually really added to the coolness factor when doing filter sweeps, modulation, etc. The Orbit does come with a full featured MIDI editor. So, if the default button mapping configuration within your DAW isn't to your liking, you can adjust it. And, remember, this is from Numark. So, that means this controller, though great for DAWs, is also ready for DJing. The Orbit comes with it's own DJ software, and has some really cool Traktor Pro mappings to boot.
Conclusion
In my humble opinion, the Orbit could become a cult classic if it falls into the right hands. Even when you first turn it on, this thing is disco. Lights are all over the place. And, because it is wearable through straps, or belts, around your neck, I could see it becoming a big part of someone's live DJ act, or musical performance.
And, at a $99 USD, it's not a gamble... It's a huge amount of fun. If you're looking for something to spice up your musical performances give it a shot!