Recently, I got a chance to take a look at the new, flagship DJ controller and mixer from Numark, known as the NS7II, an astounding device that promises to be a one-stop shop for even the most fickle of performers. How did they do? Let's find out!
Size Matters, Here...
As I pulled the box carefully up the small, narrow staircase that I call an entrance to my apartment, I couldn't help but wonder what I got myself into. And, why the box, in the first place, was so heavy. After carefully unwrapping a container that could've easily been used for a small coffin, I began to see what all the fuss was about.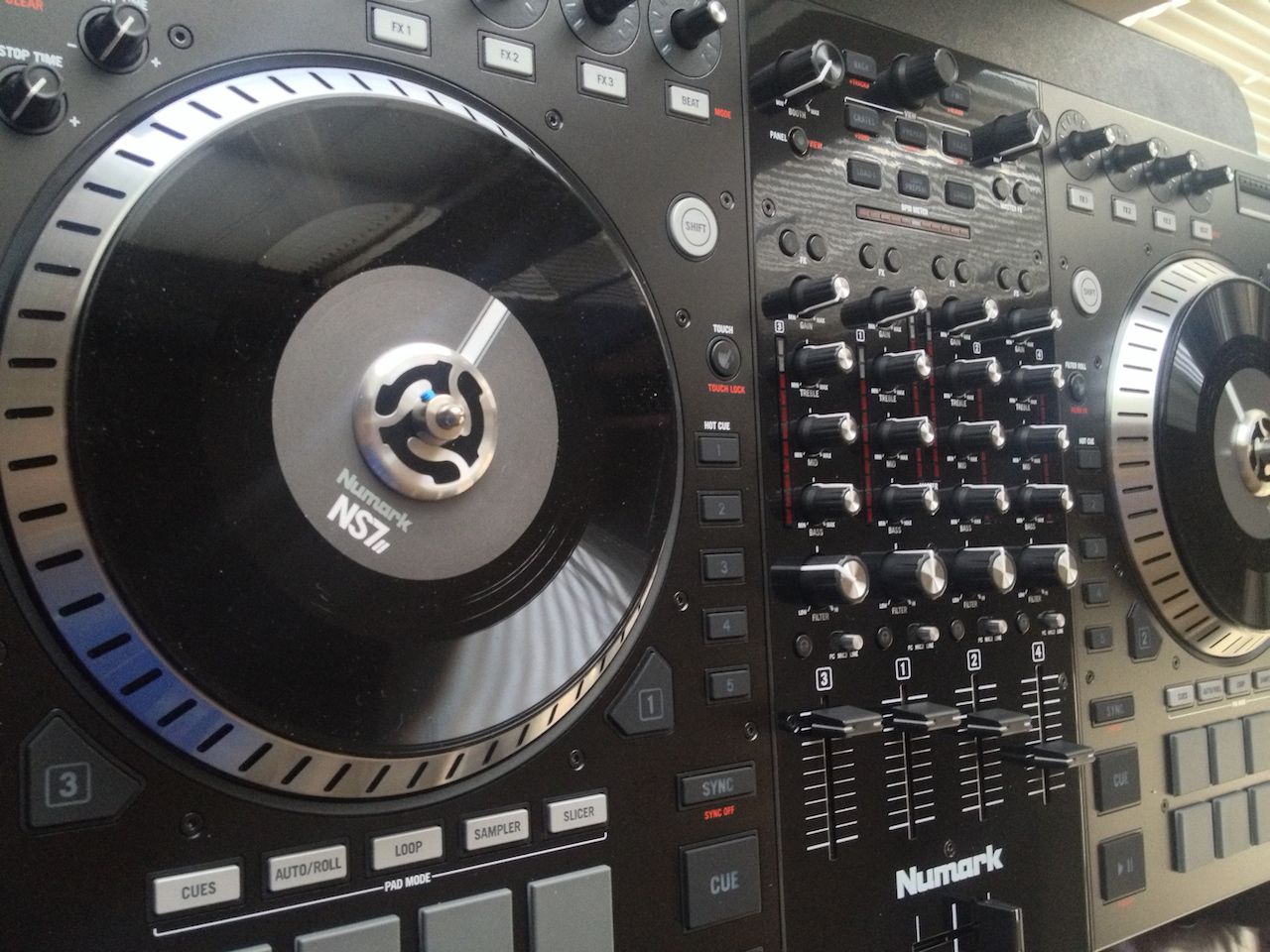 As I unwrapped the last layer of paper and plastic, carefully taped around the unit, I laid my eyes upon a piece of gear carefully tailored for people who were looking for quality, and really believe that they don't make them like they used to. The NS7II, in terms of build quality, feels like the DJ equipment of old. The action on the knobs, sliders, faders, and turntables feel like you stepped back in time to an old disco tech. You can tell that whoever designed and saw this project through to the end was not willing to compromise the quality and the 'feel'.
At the same time, it is huge, and heavy. I can't help but think that the guys that will really gravitate towards this might want to consider having at least a partner, or paid sound guy to help you carry this around.
Light, Pads, Action!
Once plugged in, the dark, dimly lit red lights came to life. Unlike some of the DJ controllers I've worked with, the lights make the knobs, buttons and pads quite visible. But, they aren't overt. The NS7II does a wonderful job of 'staying classy' in this regard. It's not to say that the lights aren't there, they just aren't blinding and outrageous, which seems to be the fad, according to some companies.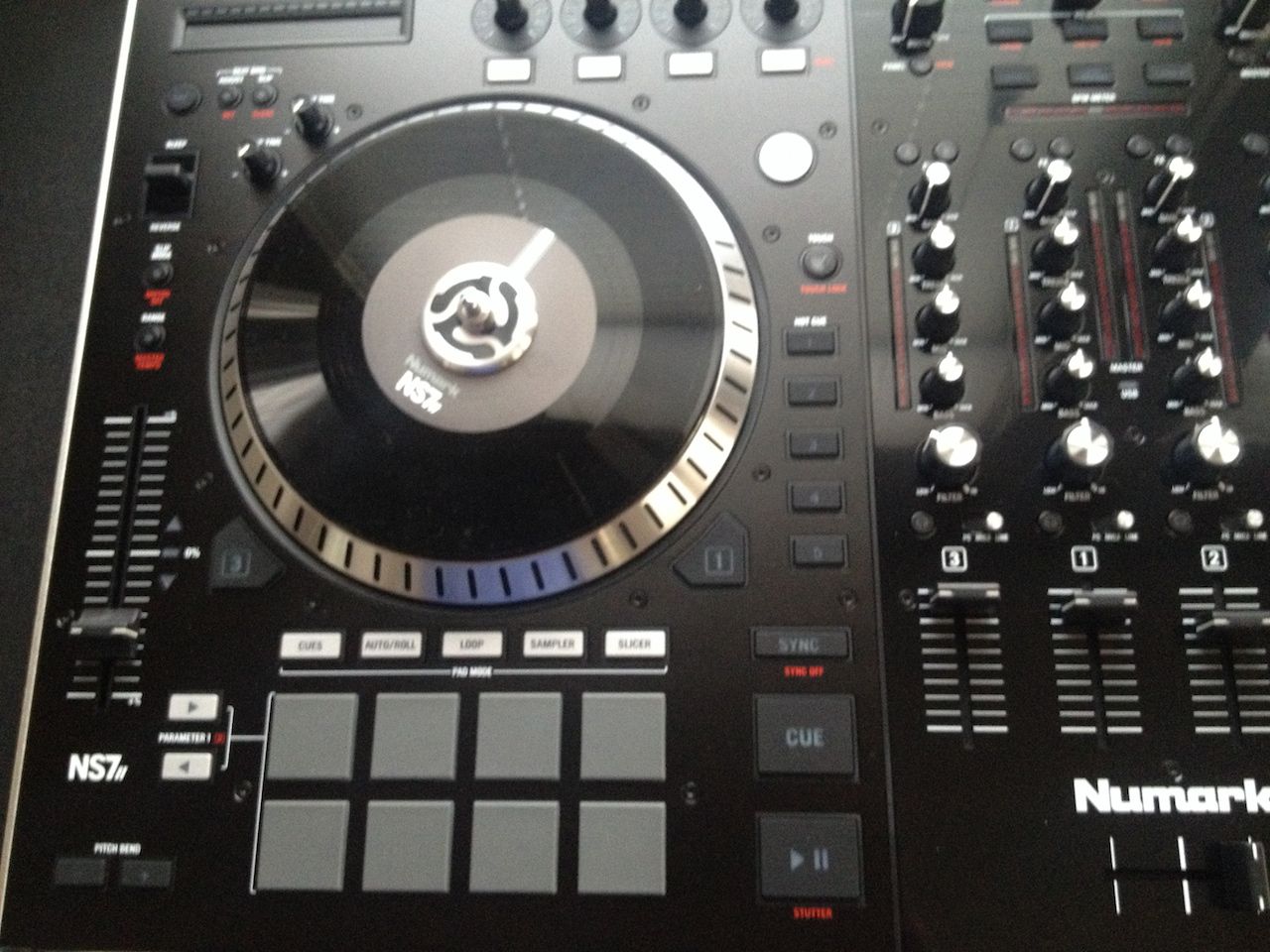 I was particularly impressed with the turntables that come carefully wrapped, and do include actual vinyl records to place at the top, should you need that 'feel' to perform. Don't worry, the assembly was extremely easy. And, the small boxes Numark made for packing just the discs appear to be sturdy enough for reuse.
The pads, which are actually Akai Professional pads feel and look amazing. Capable of multiple colors, these pads are firmly entrenched and are wonderfully expressive.
Sound
The NS7II is rocking an extremely clean, built-in audio interface to accompany the full featured DJ mixer. Stereo XLR outs for your powered speakers, RCA ins and outs are all accounted for. There's even a 1/8" headphone jack, in addition to the 1/4" jack. So, if you forget your headphones, you can always use your buds... Literally. Beyond the supplied connections, the sound is quite nice. And, definitely holds up to many of the audio interfaces I've heard, as of late.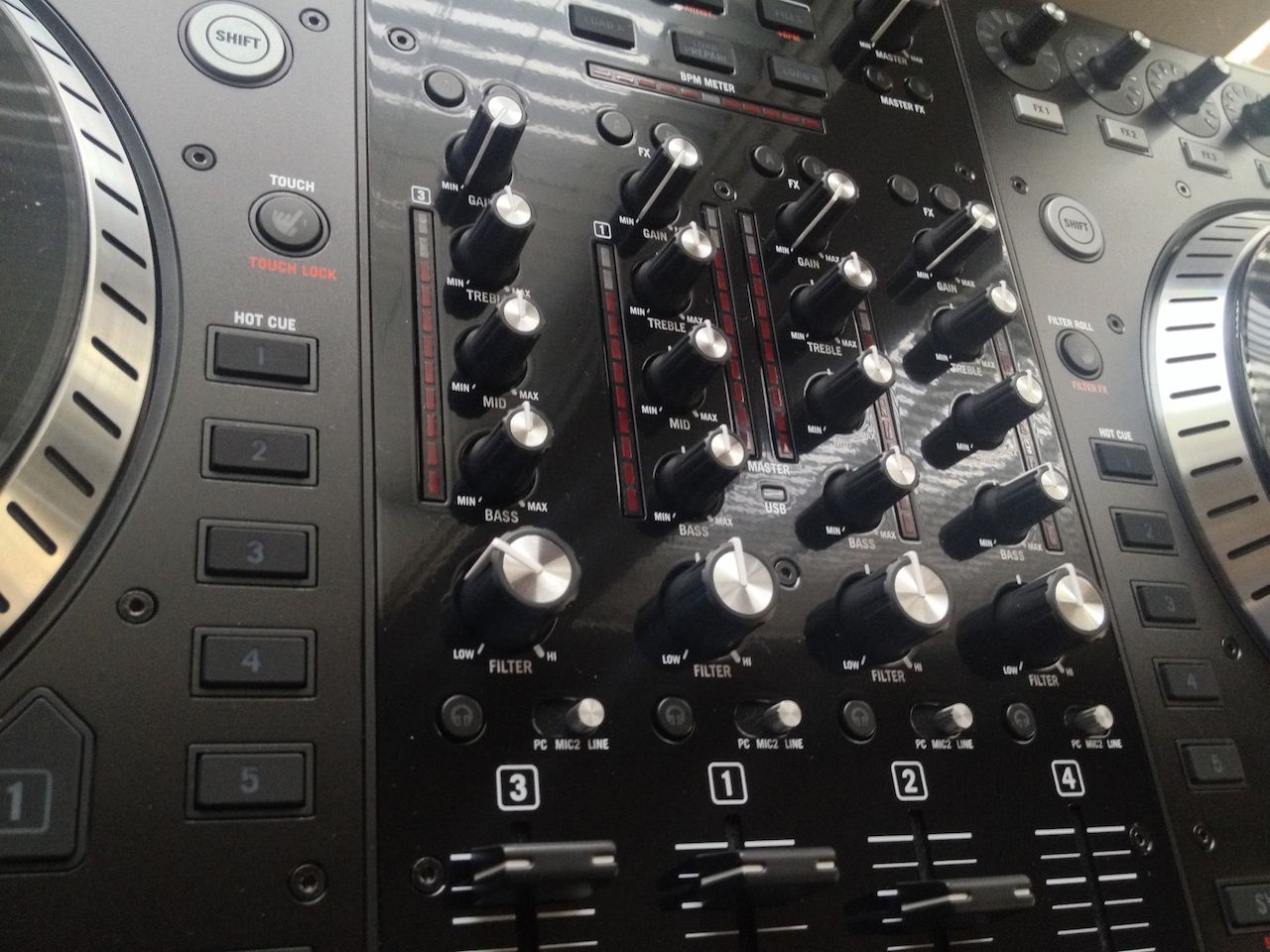 Conclusion
The NS7II is amazing, solid, and huge. However, if you're equipped to move and care for such a device, you'd be hard pressed to discover another console that can in any way diminish the love and care that has gone into this amazing package. I really wasn't prepared for the quality that is clearly heard and seen. And, keep in mind, even though the size and price tag appears prohibitive from a distance. It actually fulfills the role of several devices that you'd eventually need, or want, if professional DJ is an aspiration of yours. No corners were cut, here. They made a solid device. If you're looking for the best, have space, and can afford it... You want it!
Pros: Amazing craftsmanship, design, Serato DJ, and wonderful audio quality.
Cons: Seriously huge and heavy (though actually weighs less than the traditional 2 turntables and a mixer setup).
Price: $1499