With an ever-growing selection of Traktor based controllers coming onto the market, it certainly pays to be up to date with what's available. I've actually got around four Traktor controllers in the studio right now, so I thought it was time to review some of them.
Numark were kind enough to send me one of their 4Track controllers to test so in this review we'll be looking at this device in depth and checking out how well it competes with other Traktor oriented products.
First Impressions
From the second the 4Trak turned up, I knew it was going to be different from the numerous DJ controllers I'd used over the years. The main thing that gave it away was that four delivery guys had to carry it in, and it was in a box the size of a small country. OK, I may be exaggerating slightly but this thing is large and heavy.
I knew that the 4Trak would be substantial just from the pictures I had already seen. I was expecting metal casing and the solid construction we all expect from Numark but nothing quite prepared me for the tank like device that came out of the box.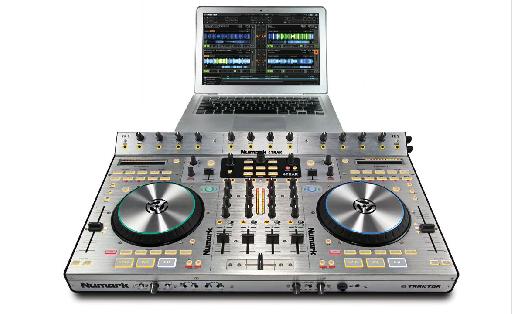 (Pic 1) The stock pictures prepared me for a device with solid build quality.
For those of you looking for a compact controller, this is not the product for you. The 4Trak will take up the majority of most desks and is around the size of two CDJ decks and a small club mixer. Of course the seasoned pro will be really happy with the expansive feel of the 4Trak, and I was certainly encouraged by it.
To give you an idea of the 4Traks size I've taken a quick shot of it stacked up against NI's S2 and S4 units. I always thought the S4 was pretty big, until now that is!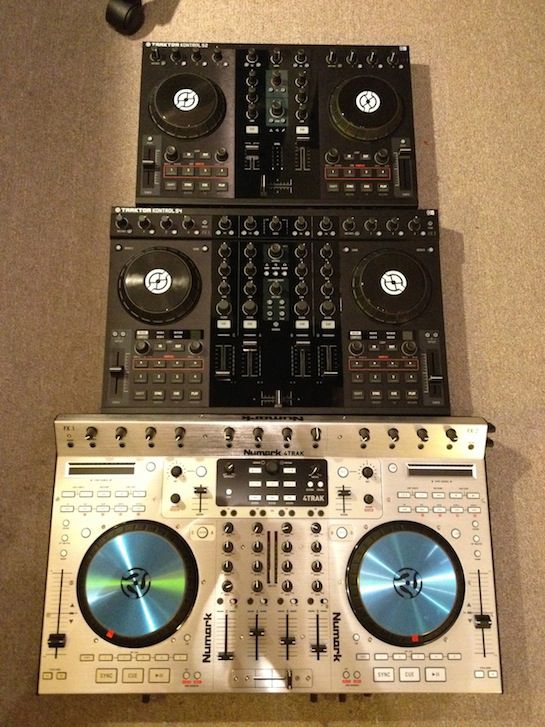 (Pic 1b) The 4Trak shot alongside the S2 and S4.
Build, Interface And Controls
As you've probably guessed by my first impressions, the build quality of the 4Trak is really second to none. This thing looks and feels like a piece of pro mixing hardware, certainly not a cheap MIDI controller.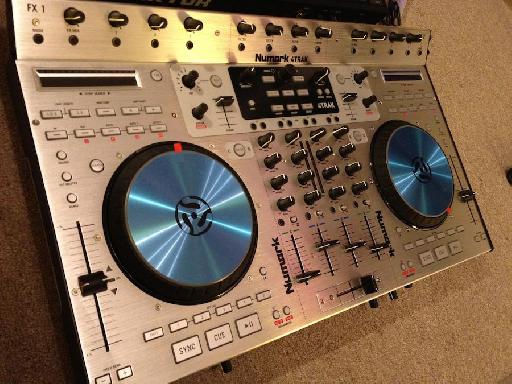 (Pic 2) Everything about this bad boy oozes quality workmanship.
Every knob is solid, the faders feel like those on high-end Numark mixers and the platters are simply the most solid I have ever used on a controller. Put all this together with features like a replaceable crossfader, full metal housing and oversized, brightly lit buttons and you've got yourself one serious bit of kit.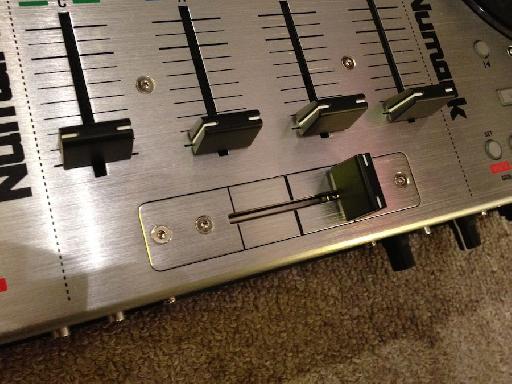 (Pic 2b) The replaceable fader is a nice touch for the pro DJ.
If you were to flight case the 4Trak and transport it between gigs, I've got no doubt that it would hold up to the rigors of the road without missing a beat. I could also see this being a really sound investment for club owners as it would be ideal for a permanently installed house mixer.
Numark really have gone to town with the interface and controls here as well. All the standard level controls and metering are here but then there are some awesome '