O chumbo Nord A1 era um superstar na NAMM 2014, e entusiastas de sintetizadores em todos os lugares não poderíamos esperar para colocar as mãos em grandes tintos mais recente oferta. Em um mercado em evolução, onde synths de software estão se tornando mais prevalente a cada dia, Nord nos mostra o synth hardware ainda pode ser onde sua.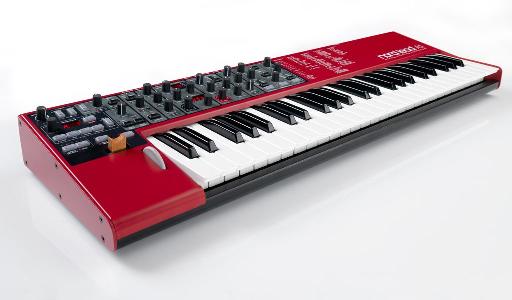 O Nord A1 é um belo teclado olhando.
Um novo olhar sobre Modelagem Synth
O A1 ostenta uma seção do oscilador muito original. Você tem uma escolha de 47 diferentes formas de onda que vão desde as formas analógicas comuns para as ondas harmônicas e inarmônicos digitais menos típicos. O modo uníssono foi dado alguns esteróides e uma apropriadamente chamado Fat-como-fat-pode-ser configuração ajuda a A1 destruir até mesmo o mais alto dos guitarristas.
O modificador e randomizer permitem gerar rapidamente modificações aleatórias de seu patch atual, ou gerar um completamente aleatório a partir do zero. The 4-peça do motor multi-timbral permite fazer sons incrivelmente complexos aproveitando o poder de todo o synth quatro vezes. A polifonia se estende a um colossal 26 vozes para que você possa tocar os acordes mais gordos ou os padrões de arpejo mais complexos sem se preocupar em bater naquela parede voz com muita freqüência.
O Nord Paradigm

Há um controlador de hardware para praticamente todos os parâmetros que você pode pensar.
O estilo de Nord de engenharia synth / teclado encoraja os usuários a gastar menos tempo em menus e mais tempo jogando / controlar o synth com as mãos. Há controles de hardware para praticamente qualquer coisa que você pode imaginar. Muito pouco está enterrado para baixo dentro de um menu de configurações, e você realmente sente que tem uma enorme quantidade de controle sobre o seu som enquanto você está jogando.
Uma das coisas que eu sempre amei particularmente sobre design Nords é que você pode muito rapidamente mapear uma série de controles para a roda de modulação ou depois toque. O A1 realmente brilha aqui. Basta segurar o botão mod roda, toque um parâmetro / codificador e agora a roda mod controla esse parâmetro. É tão simples como isso. Você pode ter instantaneamente a roda mod ajustar o corte do filtro, ressonância no joelho, drive, atrasar misturar tudo o que quiser! Coisas que você levaria uma hora vadear através de menus de parâmetros em alguns outros teclados são realizadas em segundos com o A1.
The Sound
Simplificando, o A1 parece enorme. É um som verdadeiramente incrível como tão grande sai de um chassis tão despretensioso. Passei algum tempo a criação de um enorme bloco de som apenas para chegar à conclusão de que tão grande como era, eu estava usando apenas 1/4 do poder da A1, porque eu estava programando uma só voz. Eu rapidamente acendeu as outras três vozes e tinha uma almofada arrebatadora que literalmente abalou os recheios de meus vizinhos dentes.
Com uma biblioteca de diversos osciladores para escolher, o som do A1 é bastante variada antes mesmo de começar a manipular a seção de filtro extensa. Este teclado é tão divertido de jogar, pois é para programar, e embora o coração da A1 é um mecanismo digital, ele se sente nada. Esta coisa é um monstro sonoridade analógica.
Preço:
Prós:
Contras:
Web: