The Nord Lead A1 was a superstar at NAMM 2014 and synth enthusiasts everywhere couldn't wait to get their hands on big red's latest offering. In an evolving marketplace where software synths are becoming more prevalent by the day, Nord shows us the hardware synth can still be where it's at.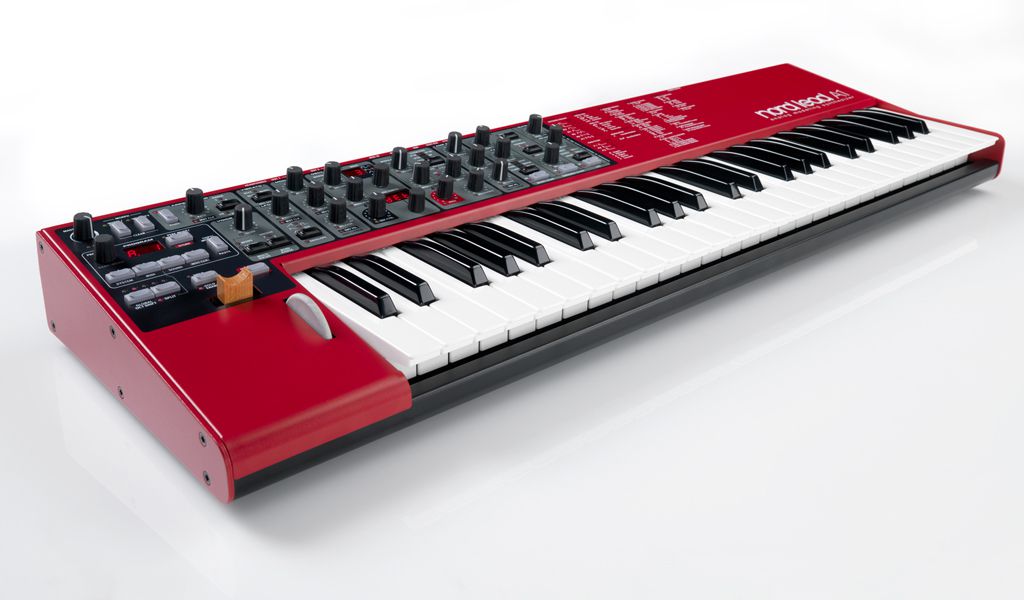 The Nord A1 is a beautiful looking keyboard.
A Fresh Look at Synth Modeling
The A1 sports a very unique oscillator section. You have a choice of 47 different waveforms that range from the typical analog shapes to the less typical digital harmonic and inharmonic waves. The unison mode has been given some steroids and an appropriately named "Fat-as-fat-can-be" setting helps the A1 obliterate even the loudest of guitar players.
The mutator and randomizer allow you to quickly generate randomized modifications of your current patch, or generate a completely random one from scratch. The 4-part multi-timbral engine allows you to make incredibly complex sounds harnessing the power of the entire synth four times over. The polyphony extends to a whopping 26 voices so you can play the fattest chords or the most complex arpeggio patterns without worrying about hitting that voice wall too often.
The Nord Paradigm

There is a hardware controller for just about every parameter you can think of.
The Nord style of synth/keyboard engineering encourages users to spend less time in menus and more time playing/controlling the synth with your hands. There are hardware controls for just about anything you can imagine. Very little is 'buried' down inside a settings menu, and you really feel like you have an enormous amount of control over your sound while you're playing it.
One of the things I've always particularly loved about Nord's design is that you can very quickly 'map' a number of controls to the mod wheel or aftertouch. The A1 really shines here. Simply hold down the 'mod wheel' button, touch a parameter/encoder and now the mod wheel controls that parameter. It's as simple as that. You can instantly have your mod wheel adjusting the filter cutoff, resonance knee, drive, delay mix… anything you want! Things that would take you an hour wading through parameter menus in some other keyboards are accomplished in seconds with the A1.
The Sound
Simply put, the A1 sounds enormous. It's truly amazing how such a big sound comes out of such an unassuming chassis. I spent some time creating a huge pad sound only to come to the realization that as big as it was, I was only using 1/4 the power of the A1 because I was programming a single voice. I quickly flipped on the other three voices and had a sweeping pad that literally rocked the fillings out of my neighbor's teeth.
With a library of diverse oscillators to choose from, the sound of the A1 is pretty varied before you even begin to manipulate the extensive filter section. This keyboard is as fun to play as it is to program, and although the heart of the A1 is a digital engine, it 'feels' anything but. This thing is an analog sounding monster.
Price: $1799 for the keyboard / $1499 for the rack module
Pros: Wonderfully responsive Fatar keybed. A TON of oscillators to pick from for sound sources. Everything is controlled with your hands—very little diving into menus. 4-part multi-timbral engine lets you leverage the power of the keyboard four times over.
Cons: Only a single LFO, but countless other ways to modulate just about anything on the keyboard you can think of.