It was over a year ago that I first played with the then beta version of NI's S8 standalone mixer and controller. After being shocked at how massive it was and that it didn't have platters or pitch sliders, I quickly started to see the potential of how its four small faders aligned with controlling the four audio channels of Remix decks and the creative opportunities it could create. Since then the Stem format has been released which also works with four channels except these are all relevant to the same original song, e.g., drums, bass, synths and vocals. As mentioned the S8 is big and personally I'm more interested in the portable side of controllers so the new S5 is very exciting.
The S5 sports the same impressive hi-res displays as I first saw on the S8 which is a blessing for DJs and the audience alike. It's becoming a 'thing' for laptop DJs to have a sideways glance through their sets these days due to where their laptop is positioned and it's not a great look. The DJ can't keep the same amount of audience reading going as those who work on say CDJs of vinyl and the remedy of positioning the laptop on a stand in front just means the audience get to see less DJ and more glowing fruit logo for their money. The S5, S8 and D2 can all be used without any reference to the laptop's display and better still, the display is concise and compact, so easier to read and navigate.
Watch Liam O'Mullane tear it up on Traktor Kontrol S5:
Immediate simplicity
Although I've had my S5 for over a week now, I had a good 20–30 minutes play with it on a stand at this year's BPM show. In all fairness, although I've learned more of its features, my comfort level hasn't changed since my first few mixes on it. This unit is so intuitive to use, to the point that I can't imagine anyone drawing a complete blank with it after having a mix or two. Who knows, I m-ay be out of a job as a DJ tutor sometime soon as well!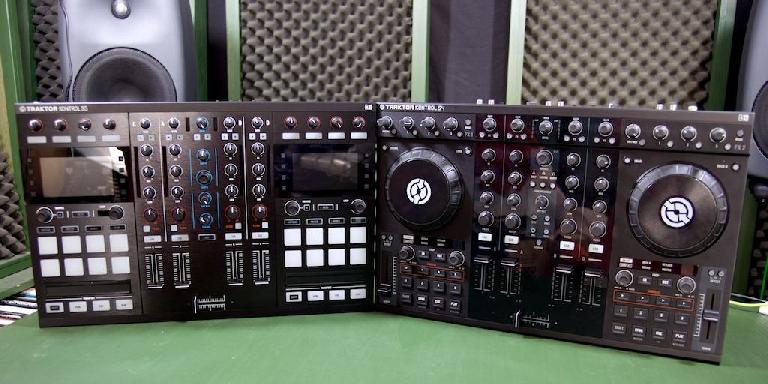 The S5 has the same footprint as the S4 which means it can realistically fit into a large carrier bag and be checked in as carry on luggage. Just make sure you keep it safe from being scratched!
Though there are a lot of features on the unit, highlights for me are the on/off buttons for each channel's bi-polar filters like the S8 and D2 feature as well. These are great for creating builds and drops by alternating your filter increase/decrease in-between punching the filter in and out. It's also useful to immediately and therefore cleanly revert back to an unprocessed channel at the start of a new song section, regardless of the current filter position.
Like filtering, the Performance controls of Freeze and Remix also offer 'music production' like controls that can be used to musically control your material and express yourself. If you don't already know, Freeze allows you to split a portion of a playing track and then trigger slices via the eight pads per deck. There are also different behaviours for normal, looped and flux mode playback which when mastered, can offer a lot of creative potential. Below the eight pads is a touch strip ribbon controller which is designed to allow nudging, track seeking and scratching. The nudge function works great and of course without pitch sliders it may seem redundant, but anyone who used to beat-match manually will know that there's a phase sweet-spot between two songs when mixing which isn't always achieved when you're mathematically 'in sync'. Nudging one track forwards or backwards with the ribbon allows you to find this sweet spot making it a useful tool.
Track seeking works as you've expect, but I wasn't impressed by the scratching aspect. Though variables can be changed in preferences, a big problem with static surfaces and scratching is the sensors tend to slip, so a baby scratch slowly looses its position after a good few bars of action which is very impractical for any serious cutting-sessions. Also the horizontal alignment doesn't lend itself to being ergonomic for scratch positioning, so although basic push-push and let go scratching could work, don't expect this to be the new turntable. This isn't something I'd expect from a unit like this though, but the manual does claim it can be used for scratching so it's important to make my experience clear on this point.
Stems
For Stem control, Remix mode is where you can enable/disable each stem channel, change volume, filter and apply effects. There aren't faders here, the browse and loop encoders per deck are adaptively used instead which work fine for slower, progressive manipulation of volume and filtering, but it's a bit clunky for anything rapid and articulate as they need to be enabled and also are stepped rather than smooth. For me, the workaround is to just load the same song onto two or more decks so there's immediate access to FX assignment (without a shift+ command) and the better controls for filters and volume via faders are accessible. You could even assign a stem per deck, but this is where there's potentially too many elements to feel comfortable with, at least personally.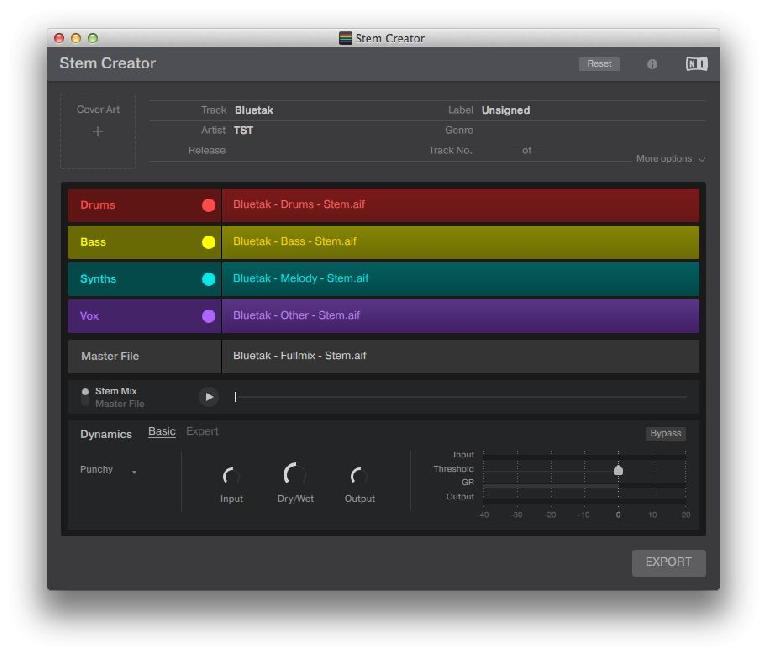 Though there are a few variables to get the best results, NI's Stems Creator is very easy to use and create your own Stems files which is a great boon for those who like to create their own performances from scratch.
The Future Sucks?
A debate I watch but hardly ever get involved in is the 'hey that new things crap, you'll never beat the old stuff' or 'there's no skill in this anymore as the thing I learned is now automated'. The reason I choose to not get involved is that I prefer to judge the performance on its merit rather than the choice of 'in' or 'out' tools.
Music on computers was seen as a cheat back in the early days of dance music as sequencing involved no traditional performance skills, and sampling often involved taking reasonably large chunks of music already written by someone else and using them as the basis of your own work. Luckily we've moved on since then and embraced the positives of the electronic music movement while being aware to its drawbacks. I feel the trends in DJ technology and the need for the art form to progress are in a similar situation right now as well and the Stem format is a clean way to move forward with the techniques many of us implemented with EQs, etc. to swap basslines between two songs and so on. This level of control within a song's content and the simplicity of onboard displays really feels like the controllerism scene can move forward and I find this very exciting. I am watching the new Stem scene with great interest and if you want to get involved using a unit that has a good balance of features versus portability, I recommend the S5.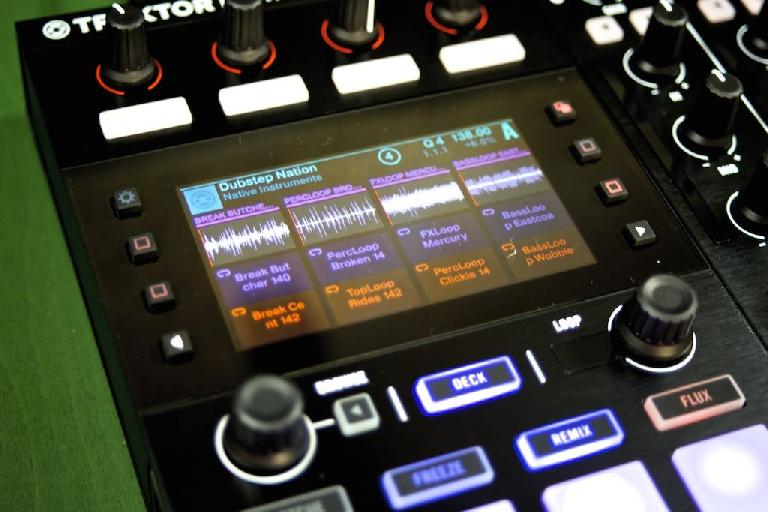 Although Stems is definitely my main focus, an advantage for Remix Deck users with the S5's hi-res displays is that you can read the name of samples before playing them which makes navigation a lot easier and quicker to carry out.
Price: £579 GBP / $XXX USD
Pros:
- Incredibly easy to navigate and control
- Touch-sensitive knobs
- Great build quality
- Bi-polar filter on/off switches
- Performance modes have vast creative potential
Cons:
- No integrated USB hub like S8 and D2 units
- Less immediate control of volume for Remix and Stem decks
- No fold out legs to raise units to standard DJ gear height like S8 and D2 units
- I experienced a few bugs with self made Stems like incorrect track overview graphics, but I'm sure these bugs will be quickly ironed out
Web: http://www.native-instruments.com/en/products/traktor/dj-controllers/traktor-kontrol-s5/