Native Instruments recently released the second installment of their Symphony Series for Kontakt 5. Hot on the heels of Brass Ensemble comes Symphony Series String Ensemble which is a collaboration with Audiobro, a company that knows all about producing quality string libraries. They are, of course, famous for their LA Scoring Strings (known as LASS) and SSSE brings many of the cool features that LASS is known for.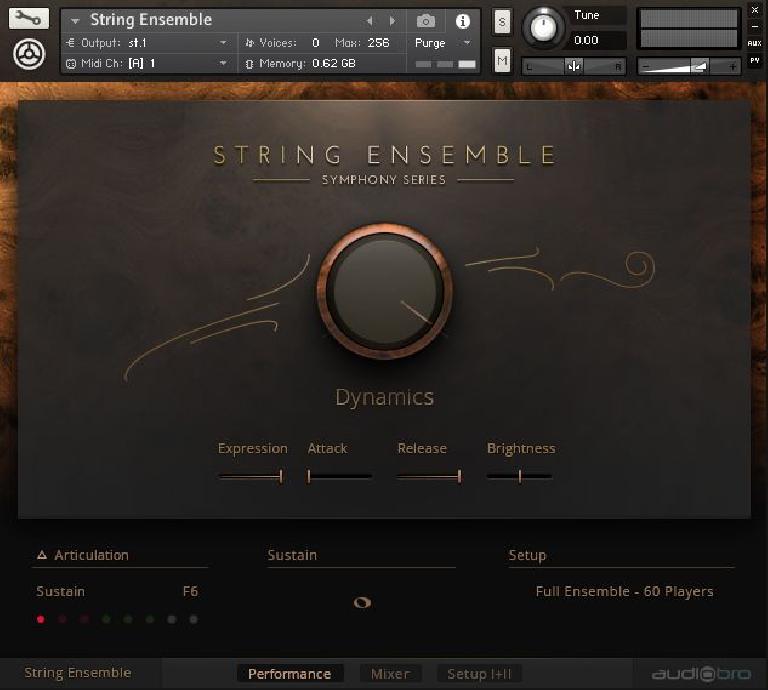 After installing the library and playing it for a bit, I was unsure as to whether this wasn't just a repackage of LA Scoring Strings as it is sonically 'very' similar. These are however new samples recorded in Budapest that capture the full onslaught of a 60-piece string section.
The interface follows the same UI concept as Brass Ensemble, so if you own that you'll be up and running in no time at all. There are five instruments included Violins, Violas, Cello and Basses. There is also a combined Ensemble patch which is where we'll start.
Ensemble Strings
This is a single patch that combines all the sections into one place. This is mapped with the lion's share of the range going to the violins (octave each for CB, VC and Va). You'll find the Mixer that gives you Close, Decca Tree, Far (Surround) and a Stereo Mix of all three. These can be routed to individual outs in Kontakt for more control in your DAW.
There's also EQ, Comp and Reverb with a selection of different convolution types to choose from which go from standard Halls and Rooms to a nice range of FX impulses.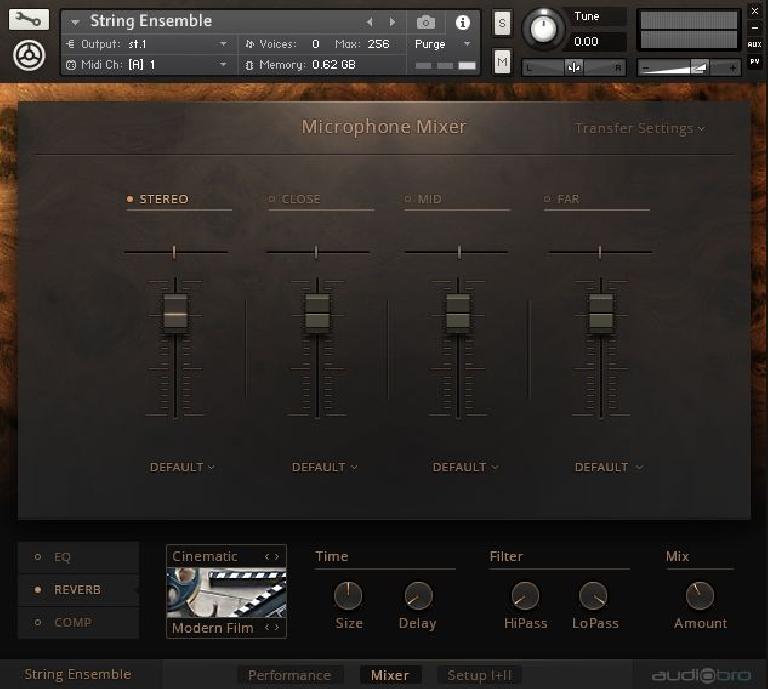 The last tab deals with the Divisi feature which I'll talk about in more detail in a bit. In the Ensemble patch it essentially allows you to shrink the size of the ensemble by only using one Divisi group in all sections (basically half the players). This can also save some CPU on voice count.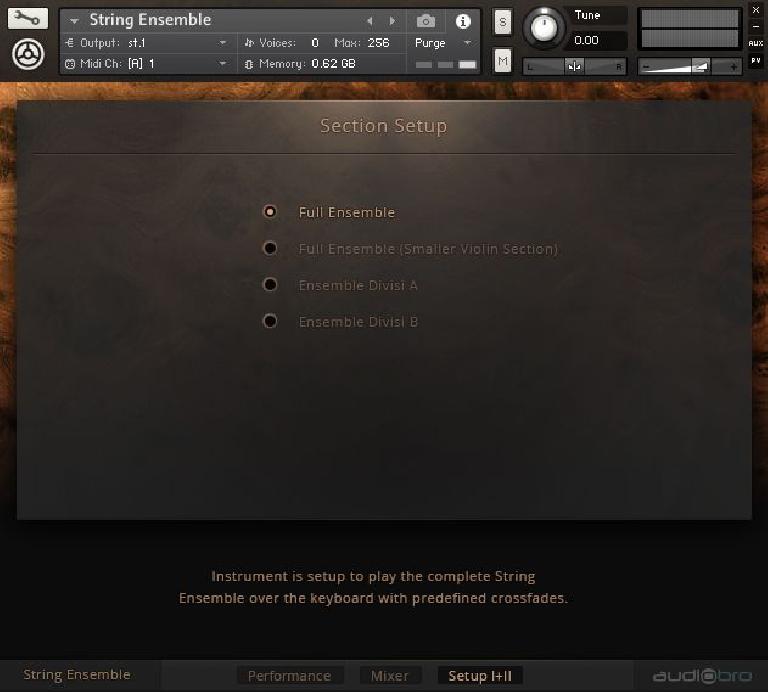 As far as articulations go you have all the bread and butter sounds for a patch of this type.
Sustains, Sordino (muted), Tremolo, Staccato, Spiccato, Pizz and some really cool Octave Runs (Major and Minor). You can map these to any key switch in the Articulations edit page.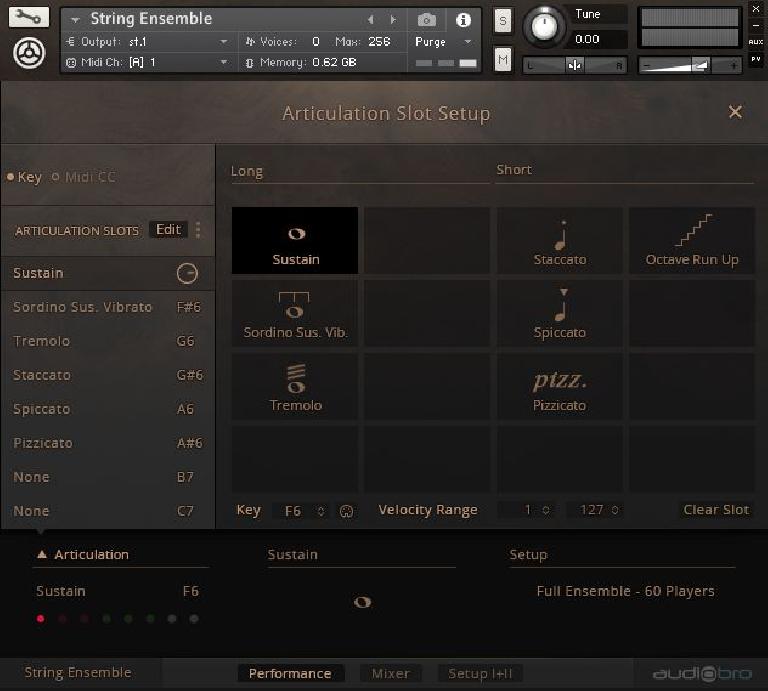 The Ensemble patch is very good for simple string parts that don't need a bunch of detail from the separate sections.
When using this instrument, I'd recommend using an expression pedal (CC11) remapped to Modulation (CC1) for the dynamics as it allows you to play with two hands. Great for huge string pads! The velocity crossfading on the sounds is very expressive and a big part of the experience.
The Sordino articulation is great for softer passages. Would be great if both the Sustain and Sordino had Vibrato crossfades but that's just me.
Section Patches
The remaining four instruments are dedicated to the individual sections. These all have a wider range and provide more control and in some cases additional articulations.
The main feature of the sections is the Divisi scripting taken from LASS and simplified into a single instrument. Each section is essentially divided into two halves, Divisi A and B. If you play one note, it's played by the full section (A and B). If you play two notes, those notes are split between A and B. This allows you to keep the same number of players at all times within a section. The idea is to prevent sample buildup where you end up with what sounds like hundreds of players.
The sections are built like this:
Basses - 8 Players Divisi A (4 Players) Divisi B (4 Players)
Cellos - 10 Players Divisi A (5 Players) Divisi B (5 Players)
Violas - 12 Players Divisi A (6 Players) Divisi B (6 Players)
The Violins instrument includes 30 players in one instrument and can be divided into four Divisi groups (or notes). These are divided as follows.
Violins 1 - 16 Players Divisi A (8 Players) Divisi B (8 Players)
Violins 2 - 14 Players Divisi A (7 Players) Divisi B (7 Players)
You can choose how big you want each section to be in the Setup tab. Again this allows you to set the overall number of players in each patch. It also means you can split the instruments up into smaller sections for more detail and control over articulations inside a section by having a different instance for each Divisi group. Every Divisi section is a unique recording so you're not just triggering the same samples.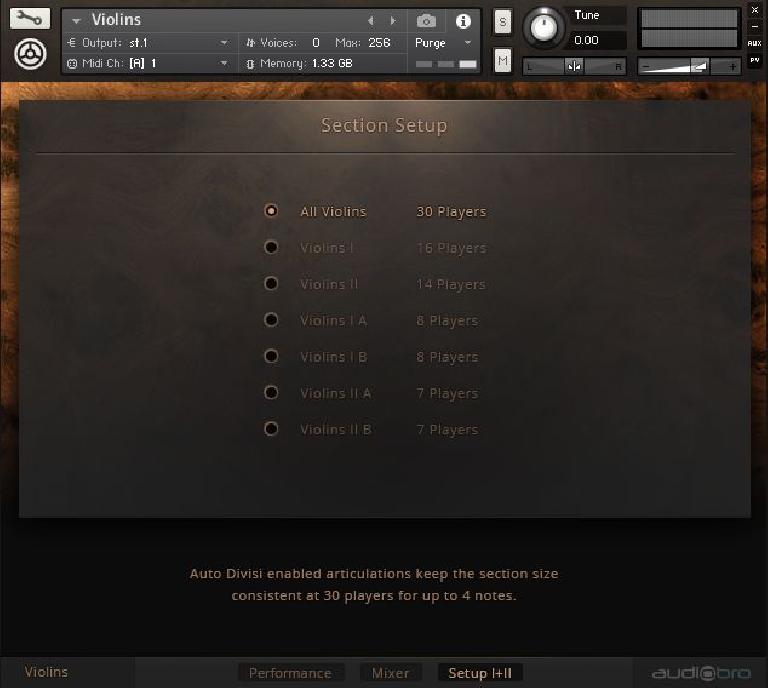 Auto Divisi is on by default but you can switch this on and off via MIDI CC which is useful if you want a whole section to play one line, say in the Violins.
The Divisi function works inside all the Legato articulations (usually associated with single lines). If you play two simultaneous notes, each split Divisi group has its own smart individual Legato control over Fingered and Portamento transitions which is cool although it can take some time to get used to. These transitions are determined by velocity (which can be set using the threshold slider control). Velocities below the threshold trigger the Portamento.
There is an optional choice of a 'NoVib to Vib' Legato articulation on all sections bar the Basses which you should probably save as the default as it gives you a more realistic result. Starting a note with no vibrato and fading it in is very common. You can add a lot of expression this way in conjunction with velocity fades.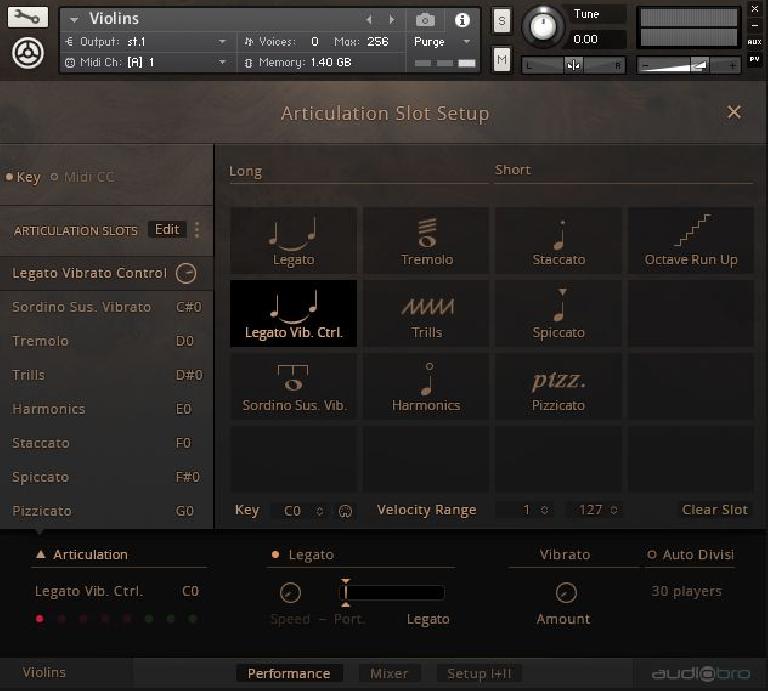 All the sections have some great breathy harmonic articulations. Violas and Violins get additional Trills (with varying intervals) while the Basses get Marcato and Bartók Pizz.
All shorts have Round Robins (Continuos or Random), Repetitions with Accent control and the Divisi functions. There is also a Slam control to add some 'oompf' to the shorts on all patches.
In Use
The section patches are again very playable indeed. The upper velocities have the required bite to produce some powerful passages. Again I'd use an expression pedal for velocity crossfading so you can control Vibrato or Divisi On/Off with a spare hand.
The Divisi can take a bit of getting used to as there is a certain time frame for it to recognize chords (about 40 ms) but on the whole works really well and makes a big difference to the overall sound. There are also enough articulations to handle most if not all string duties and the runs are a welcome addition.
Being able to build an instrument with just the articulations you need and the actual number of players you want make for a very versatile library. Add this to the sound quality of the samples and you've got yourself a winner.
Conclusion
I'd say if you've considered LASS in the past but found it a bit steep price-wise then this would make a really great alternative. Whilst it's not as detailed as LASS, it's in the same ballpark and the sounds here are top notch and the instruments themselves very playable. I guess the next question is where are the Woods and Percussion coming from?
Price: $499 / 499 € / ¥ 62,800 / £429 / $AU699 (Komplete/Komplete Ultimate owners can crossgrade for less)
Pros: A really excellent and playable string library. The Divisi aspect lets you scale the size of the players covering a wide range of applications. Sits well with Brass Ensemble.
Cons: Would be nice to have a Non-Vib to Vib versions of the 'String Ensemble' Sustains and Sordino articulations.
Web: www.native-instruments.com/symphonyseriesstringensemble