Brass instruments have always been among the hardest to recreate believably in software form, though NI made one of the best virtual brass instruments on the market with Session Horns. The Pro version which has just been released in association with e-instruments adds a considerable amount of new stuff in the pursuit of the ultimate brass sound. But can it deliver?

Heavy horns
Session Horns Pro is ten times bigger than its predecessor and weighs in at 30GB, requiring a minimum of 6GB RAM for full operation. As usual its library can be placed on an external hard drive so it's perfectly possible to run it on a higher end laptop, and it uses Kontakt 5, either the full or free Player version. It's beautifully designed too, with the dark gold colours mirroring the expensive look of the horns themselves.
You get ten instruments, available either in solo versions or more interestingly as ensembles with up to six assignable slots so you can mix and match from three saxophones, two trombones, three trumpets, a tube and a flugelhorn. Each instrument has its own configurable compression and EQ effects and can be sent to the dual-slot send effect stage which has configurable delay and reverb effects. There's also a global master effect section with compression, EQ, tape, twang and LP2 filter effects, so there's plenty onboard to help shape and add depth and interest to the sounds.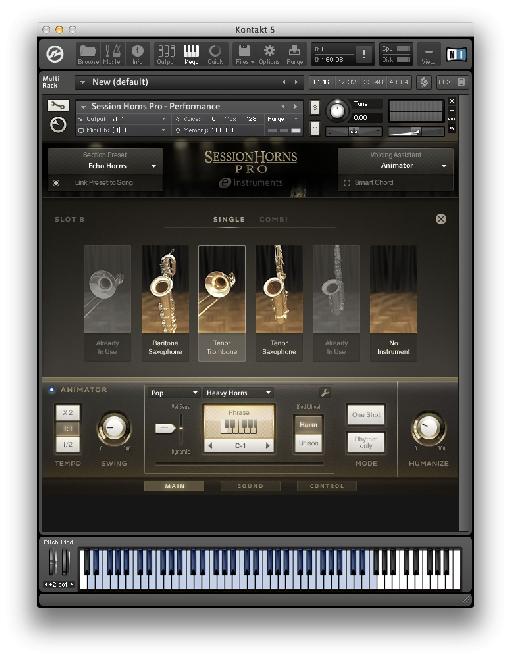 Play it like you mean it
None of this is much use without articulations of course '" the nuances and playing techniques that make real instruments sound real and not just like they have been played by a computer. Luckily you get a boatload of these, which accounts for the large library size. There are 34 articulations covering all manner of playing styles and four round robins, four velocity layers and a humanize dial as well as configurable dynamic control and pitch wheel behaviour.

The real genius of Session Horns Pro lies in its Voicing Assistant feature where you can control how the instrument interprets your playing. There's Smart Chord, which creates chords based on your input, and Polyphonic which lets you play more naturally. Smart Voice Split is brilliant and automatically assigns the different instruments to different notes as you play, based on their ranges. This is incredibly useful as it is a bit like actually playing a horn section where the trombones play low and the trumpets high, automatically. The way the instruments harmonise is excellent and takes much of the work out of building believable horn parts.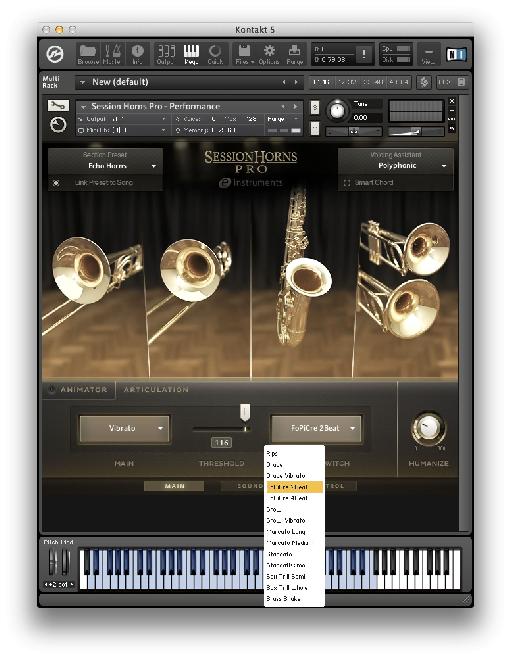 Legato mode is again more natural, and there's an Animator feature. This gives you a bunch of pre-programmed melodies and sequences in different styles that you can customize and assign to MIDI keys, syncing perfectly of course with your project. These are really useful, especially for those who might not be familiar with playing brass melodies using a keyboard.

Final thoughts
Session Horns Pro gives you all the tools you need to use pro-sounding horn parts in your productions. As ever there's a little learning to do because you're translating one kind of instrument into the playback medium '" the keyboard '" of a completely different one. The way NI has implemented the control of articulations, voicing and harmonizing is incredibly clever though and short of hiring a real horn section you're not likely to find a better playable brass instrument than this.

Price: Full version £249, Upgrades from £169
Pros: Beautifully sampled horn sounds. Highly flexible approach to building ensembles. Tons of articulations. Clever harmonization and Smart Voice features. Good selection of effects.
Cons: Relatively high system requirements.