With the impressive range of hardware that NI produces, it's important to remember that they started off as a software company and still do a lot in this area. The Berlin-based company has for the first time delegated the task of re-engineering one of its iOS applications to the expanding LA team, so this release has a truly international flavor. iMaschine was one of the first major iOS releases for NI, designed to work on its own but also able to export projects to the desktop version of the Maschine software for further programming and editing.
This new version has so much added stuff in it that it's not being billed as an update but a whole new app. As such you'll have to buy it even if you already own V1, but pricing is eminently reasonable considering what you get. As we'll see, features developed for the Komplete Kontrol system have trickled down to iMaschine and it really has been expanded a lot.
What's new?
Starting with recording, you can still set your project tempo and use the click to program a beat or a pattern. There are four instrument slots and each one can be set to use pads, keys or a recorder module into which you can sample your own sounds. There's now a new Step mode so if you prefer you can enter patterns manually rather than in real time, which some people prefer. Edit tools like setting pattern length and clearing or doubling up patterns are still present. Pads and groups can now have their colors customized, just like in the Maschine hardware, for easier recognition.
It's one of the first music apps to embrace the 3D Touch technology found in Apple's new iPhone 6S and this has been implemented not just in shortcuts to major features but also pressure sensitivity when playing pads. It works really nicely and as iPads eventually get 3D Touch as well, more people will be able to take advantage of it.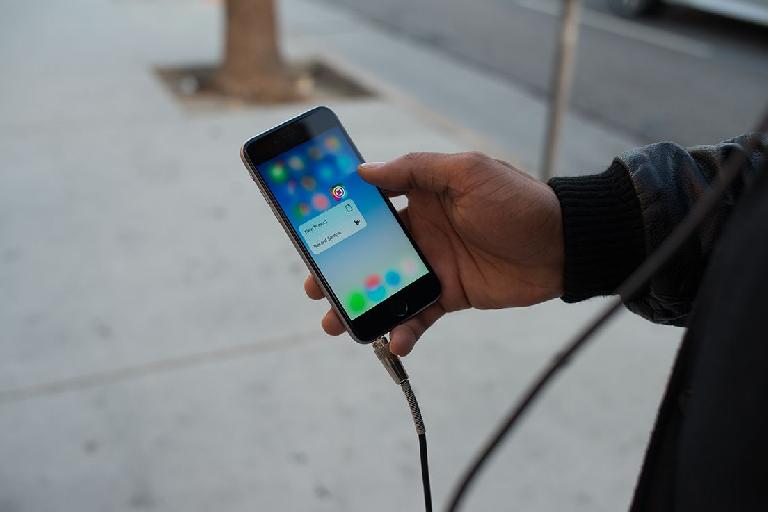 More scope to program
A group can now contain up to four patterns for added variation, and there's a new Scene mode where patterns can be combined into scenes which then appear along the top of the app. It's nice having this available in the perform view so you can see where you're up to, and scenes can be added, lengthened, reordered and deleted as you build your project. This is much more flexible than before, where building longer passages of music was quite limited. There's still a good selection of drum, synth and bass sounds supplied, and you can expand this with add-on packs from inside the app. For a limited time NI is offering all of its expansion packs for the price of one, which is insanely good value.
Maschine music
iMaschine 2 has inherited some of the clever performance features from Komplete Kontrol so as well as the Live Play section from before, keyboard instruments now get Scale, Chord and Light Guide. This means performing on the screen is now much more powerful, with easy setup of one-finger chords and arpeggiation with different modes including octaves, up/down and so on. 3D Touch brings extra shortcuts too. There's also a resolution control for the speed of the arpeggiator and all MIDI parts are auto quantized. There's still no direct access to a piano roll to edit MIDI which is a shame, though the mixer still works well and there are two FX slots with X/Y pads that can be applied to any of the four channels. Finished projects can still be exported to SoundCloud or back to your Mac or PC as raw project data.
Price: $4.99 (Special offer until Dec 1 2015); $9.99 (Regular price).
From: www.native-instruments.com
Pros: Great new performance tools like scales, chords and arpeggiator. New Step input mode. 3D Touch support. Expandable. Four pattern slots per Group. Record and edit your own samples or import from iTunes. Sensibly priced. Fun and intuitive to use.
Cons: No direct access to MIDI parts via a piano roll. Can't automate effects.