Truth be known, I'm an amateur apiarist, more commonly known as a bee keeper. So it made sense that I fell in love with the Neat line of microphones at first sight. But I reminded myself to maintain my objectivity as a thoughtful critic prior to putting these mics through their paces.
Unboxing
It's been a long time since I've seen a company so focused, playful, and effective with their packaging. In fact, I repacked the boxes so that my daughter, also an apiarist, could unbox them while I watched her reaction. ("Shut…UP!" and, "No way!" are direct quotes.) The boxes look like frames of honeycomb, and even the manual (Neat calls it a 'field guide') is shaped like a hexagon. They even include little icons of bees that look oh-so-cute sitting on your studio monitors.
Both microphones come with a custom shock mount (Bee Keeper), pop filter (Honeycomb), the aforementioned icon and manual, and a velvety storage bag to keep the dust off. The mics are striking to look at with black and yellow-striped square abdomens… I mean, bodies, and similarly colored heads with chrome shafts and bezels. Neat mics offer the fringe benefit of not being mistaken by your studio intern on his/her first day as any other microphone in your locker.
Pedigree and Design
Neat Microphones is the brainchild of the co-founders of Blue Microphones, Skipper Wise and Martins Saulespurens. Microphones like the Blue Bottle and the Woodpecker are staples in many professional and project studios. The shapes of the Blue and Neat mics have obvious similarities. But where a Blue might cost well over $1,000, the Worker Bee and King Bee are a mere $199.00 and $349.00, respectively. The cost differential can be attributed both to Neat streamlining the design aspects, as well as the mics being manufactured in China. Neat also have the advantage of the marketing muscle offered by the Gibson family of brands.
One of the first things I noticed about the mics was a lack of pad switches and high pass filters. Leaving these seemingly requisite items out of the Class A discrete circuitry certainly reduces the cost, but I was so perplexed by the omission that I called to ask Skipper Wise. He said the decision was to allow the output of their microphones to be as unfettered as possible, and that most audio interfaces and mic preamps have their own phase-linear pads and HPFs. Putting those items in microphones tend to color the sound, and can adversely affect the phase. So they designed the mics to have very high SPL handling, thereby making the need for any pad less likely. (Note: Spending time on the phone with Skipper was a great fun. I highly recommend checking out his website: www.skipperwise.com to learn more about his philosophies of sound and microphone design.)
Though their heads are of equal size and shape, the King Bee has a 1.34" (34 mm) capsule, while the Worker Bee is smaller at 0.94" (22 mm). The body of the King Bee is much taller due to the custom-wound output transformer that increases output, maintains a low noise floor, and tailors the sound of the electronics to the capsule. Both mics screw securely into their Beekeeper shock mounts allowing them to be mounted in any position, including inverted.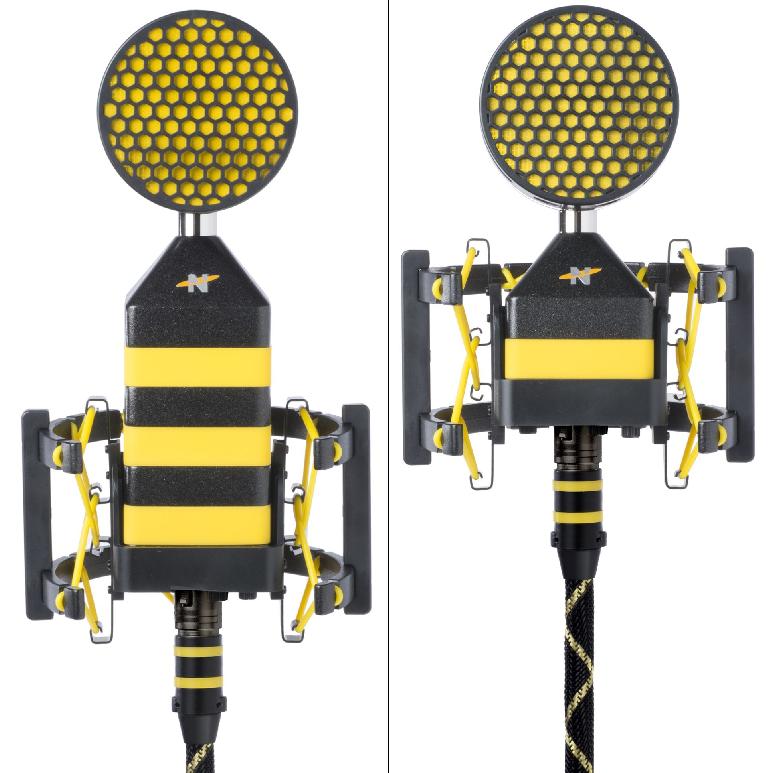 Figure 2. The King Bee (left) and Worker Bee (right), side-by-side, in Beekeeper shock mounts and Honeycomb pop filters attached.
Another unique and useful feature is the power indicator. It lights up when phantom power is applied, and is located on the back of the mic so that engineers can see if the mic is powered. (The shock mount kind of blocks the indicator on the Worker Bee, so you may not be able to see it from the control room.)
One note about phantom power: Just like any condenser mic, Neat mics work best when a full +48V is applied. They'll work with as little as +35V, but it's best to make sure your preamp—especially USB-powered audio interfaces and handheld battery-operated recorders—offer a full +48V, regardless of the condenser mic(s) you're using.
Sound Character and Applications
If you're looking for your first studio condenser microphones, you can't go wrong with the King Bee and/or Worker Bee. Both cardioid mics sound open and natural, and are extremely forgiving in terms of placement. Plus, there's a generous amount of information in the manual regarding the recording of various sources including vocals, electric and acoustic guitars, strings, drums and percussion, and woodwinds. If I were to overly generalize these mics, I'd say the King Bee is a 'vocal' mic, and the Worker Bee is the 'instrument' mic, but that would detract from how well each mic sounds on practically ANY source, but with slightly different flavors.
The King Bee is a very sensitive microphone (26.0 mV/Pa at 1 kHz), and the larger diaphragm extends the frequency response all the way down to 16 Hz. It can handle up to 140 dB (0.5% THD), so it can record loud sources without overloading. I probably wouldn't put it in a kick drum, but it sounds great on the front head and on toms. I tried recording an upright bass with it, and it provided a very rich result when placed either by the bridge or around the F-hole. But on some sources like acoustic guitar, the mic tended to get a little boomy, especially if the performer did any body knocks. (Again, enabling the HPF on your interface will quickly cure any boomy situation.) The King Bee sounds great on vocals, and did sonically wonderful things on dynamic female vocals, made possible by the outstanding 89 dB signal-to-noise ratio, and noise of only 6.5 dB A-weighted. Regardless of the source, nuance was captured with ease, and the King Bee has a big, big sound.
The Worker Bee is physically smaller, so it can be maneuvered into tighter places, if necessary. It's not quite as sensitive (19.0 mV/Pa at 1 kHz), but can handle up to 145 dB SPL (0.5% THD). Because the capsule is smaller, the mic naturally provides a more punchy response on percussive instrumentation. Acoustic guitars sound extremely natural, and male rock vocals cut easily through a mix. The Worker Bee is also very quiet with noise measured at 9.5 dB A-weighted, but the signal-to-noise is 10 dB more narrow (79 dB) than the King Bee (89 dB). Still, it did a great job capturing nuance-rich instrumentation and vocals. While not as big-sounding as the King Bee, the Worker Bee also performed like a mic that cost hundreds more.
To hear an audio comparison of the Neat mics, watch this video and/or listen to the recordings on your system.
Aston Origin Mic:
Audio Technica AT4050:
Neat King Bee:
Neat Worker Bee:
Adding a Beeline
Neat also make a 20-foot (6-meter) XLR cable aptly named the Beeline. It's a four-conductor cable with pairs of spiraled 16-conductor strands and a braided shield. The thick black outer cover is also braided and adorned with yellow hexagons. The connectors are gold-plated and the black sockets even have yellow bands running around them. While the Beeline can be used on any microphone, it makes an audible and pleasing difference when connected to the transformer-equipped King Bee. Whether or not you add a Beeline ($89.00) to your purchase, be aware you'll need an exceptional cable if you want to realize the sonic potential of the King Bee.
Conclusions
Part of the Neat philosophy is to make products that sound great, are easy to use, and provide total solutions for beginners and seasoned users alike. They've outdone themselves with the King Bee and the Worker Bee. Each microphone offers a complete studio microphone package, right down to the Honeycomb pop filter that new users may have neglected—or purposefully declined to purchase in an attempt to save some money—to add to their order. When listening to the mics, I had to repeatedly remind myself of their low prices. They really do sound like you spent hundreds more on your mics.
The only possible negative is the bold styling. I showed them to several friends and clients and most people had a positive reaction to the unique esthetics. But a couple of them asked, "Do they come in all black?" I guess some folks might be put off by the whole bee thing. Not me. I think they look really cool, and they give me another opportunity to get on my soapbox and tell even more people about the plight of the honeybee. Neat cares about the bees, too, and they request you to visit sos-bees.org for more information about how we can help and get involved in helping these beautiful creatures upon which humanity is dependent for our very survival.
As with any studio transducer, it's impossible to find one microphone that sounds perfect on all sources. But the King Bee or Worker Bee sound great on many, many sources, and they're so affordable that you'll be tempted to get one of each. Whether you've been saving up for your first studio mic, or you want to add another mic to your locker, there's every likelihood you already have enough for a pair of Bees. But either mic by itself will provide you with high-quality sound, as well as something your clients will 'buzz' about when they see it in your studio.
Price: Worker Bee: $199.00 / King Bee: $349.00
Pros: Fantastic sound, low price, complete package, and unique styling.
Cons: The styling may be off-putting to some people, and the Beekeeper nut does require a fair amount of torque to fully tighten.
Note: As an apiarist, I was initially critical of the name King Bee. In a bee colony, there's no such thing as a king bee. Bees are a matriarchal society, and the queen has the highest rank. The majority of the other bees (workers, guards, foragers, etc.) are also female. The only males in the colony are known as drones and they have a very cushy gig: Their entire life is spent getting fed by the feeder bees, and a lucky few will get to mate with the queen. They don't collect nectar or pollen, and they don't even have a stinger with which to defend the hive. Sounds like a great life, right? Well, it is, until the end of the season when the drones are deported out of the hive to ration the stores of honey for the winter. Not a single drone will survive the season. Instead, the queen makes new drones every spring when she'll need to be fertilized in order to make more worker brood. Be that as it may, Neat's decision to use the name King Bee was to illustrate that it's the biggest mic in the hive, bee biology notwithstanding.
Also, since I had the mics near my beehive for photographic purposes, here's a stereo recording of my bees, Worker Bee on the left, and King Bee on the right: