The Native Instruments Woodwind Ensemble is the newest member of their Symphony Series, created for NI by the Soundiron folks along with their solo woodwinds, which have similar qualities, so I will focus on the ensembles, as they are more unique.
What is it?
This collection is a Kontakt 5 Player library, so a full version of Kontakt 5 is not required. It has six recorded sections: 6 flutes; 6 oboes; 6 B♭ clarinets; 6 bassoons; 6 tenor saxophones; and 6 "bass winds," which include 3 contrabassoons, 1 bass clarinet, and 2 contrabass clarinets.
Now if you're like me, perhaps your first reaction to this library maybe will be, "who the hell writes music for sections of 6 of each of these woodwinds?" Historically, there is no one that I could think of, off the top of my head. ☺
But… (you knew there was a "but" coming, right?) then again I thought:


Sampled instruments cumulative weight bears little to no relationship to the 'real thing'.
There is a lot of demand for big sounding 'epic' music where the woodwinds get overlooked, so maybe this would give them a better seat at the table.
The demos sounded good to my ears.
Friends told me that they blended well with other libraries.
In the end, I like this library quite a bit.
What You Get
The Woodwind Ensemble was recorded with three mic positions (close, mid, and far) all recorded with Neumann mics and quite well recorded to my ear, in a church in Oakland, California. So even with the close mics, it is a fairly ambient sound. For each section, there are true legato and expression instruments that use Kontakt's time stretching capabilities, and separate patches for staccatos, sustains, arpeggios, and effects, as well as an "all-in-one" instrument that includes most of the articulations and allows you to add additional ones, with the exception of the true legato. See Pic 1.
The staccatos include single, double and triple tongue staccatos with up to 8 round robin variations. The Effects instrument includes aleatoric, clusters, discords, flourishes, stabs, and sweeps, and more.
There is also a woodwind ensemble patch that allows you to compose all the woodwinds in one patch with the patch mapped to appropriate ranges for each of the instruments sections. It is not something I would likely use but for some people it could be very helpful for sketching.
What You Don't Get
I do find it surprising that there are no piccolos or English horns. Personally, I would have preferred having those to the tenor saxophones.
The Interface
In Pic 2, notice that I have loaded up the Flutes instrument patch. It is a really elegant GUI in my opinion, very clean, and the other pages are easily accessible. You have a sort of global ADSR, here ARTM (attack, release, tightness, and "motion", which is essentially vibrato) in the default Performance page.
Clicking on the word Articulation brings up a list of the keyswitches assigned to the articulations that you see in Pic 3.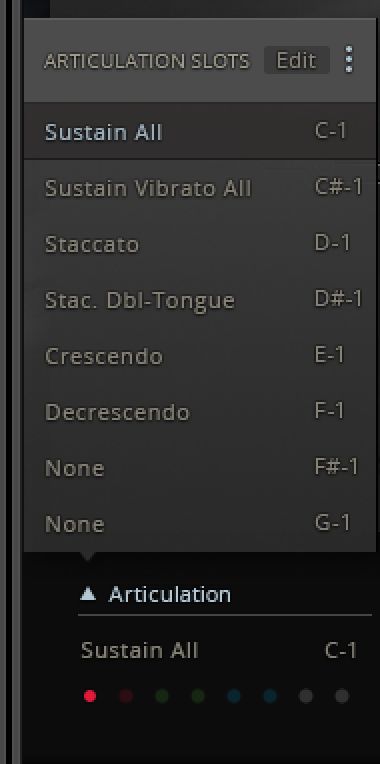 Pic 3
Notice there is an edit button. Clicking on it opens a deeper level of editing where you can easily change the keyswitch note assignments. See Pic 4.
Clicking on the word Mixer brings up the page you see in Pic 5. You can choose and mix your mic positions, and alter EQ, reverb, compressor and filter settings.
By default it loads the stereo setting, a blend of all the mic positions, with the FX bypassed. Even without the reverb, this is really ambient sounding. It is a nice sound, for sure, but if you want to blend it with drier libraries, like I do, you might opt for turning off the stereo mic and using the close or mid mic.
As someone who always prefers to use my own arsenal of FX rather than those included with the library, I will say that the included ones sound just fine and are very simple to use.
A great feature that you see in Pic 6 is the ability to take a snapshot of your settings and load it into other patches. Very cool IMHO.

Pic 6
Playing the Instruments
The Modwheel CC1 controls volume by default but you can change to another MIDI CC very easily. You can also assign MIDI CCs to control attacks, releases, tightness, and motion for greater real automated control.
It is really easy to turn on/off a quite believable simulated legato, round robins, and created terrific arpeggiated parts right in the Performance page. I see myself using this feature a lot, creating instruments set to different chord arpeggios. In Pics 7–10, look at all your choices.

Pic 7

Pic 8

Pic 9

Pic 10
Also, the aleatoric effects will come in handy when I need to create music that is a little unconventional. This is a pretty darned useful set of articulations.
So How Does It Sound?
As I said, personally I prefer the close mics, or maybe mids, to the stereo. And I might want to EQ the oboes a little for nasality diminishment. But other than that, I think this is a very good sounding library indeed. I don't personally care for the tenor saxophones, because with that many, they sound synthetic to my ears, but that is very subjective.
Most of what I have written largely applies to the Solo library as well. It might not be my "go to" but it is a worthy addition to anyone's first choice.