So, if you're going to sample a piano you might as well make it a big one! In this case NI have done just that and created a new Kontakt library based on the Klavins Piano Model 370i. Sampled by Uli Baronowsky of Galaxy Instruments, the Klavins Piano Model 370i is three meters high and weighs a whopping two tons with a sound board twice that of a regular Grand piano!! I'd like to see Laurel and Hardy move that down a flight of stairs!
The library comes in two flavors, The Giant and The Giant - Cinematic. Let's check it out.
The Giant
The first instrument is The Giant which is the conventional sample set.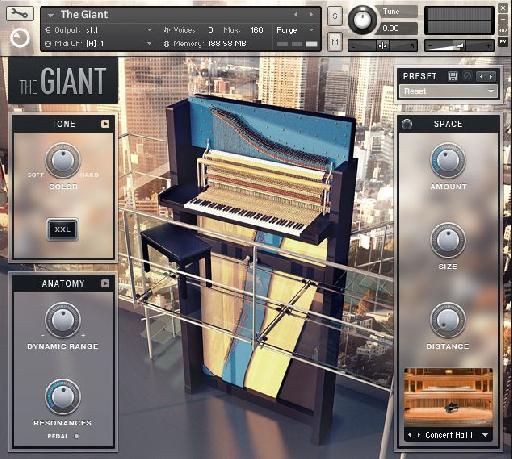 On first appearances it would seem to be pretty simple to work with only a few parameters. The first and probably most profound is the Tone knob. Turning this can have a radical effect on the sound of The Giant. Set to '