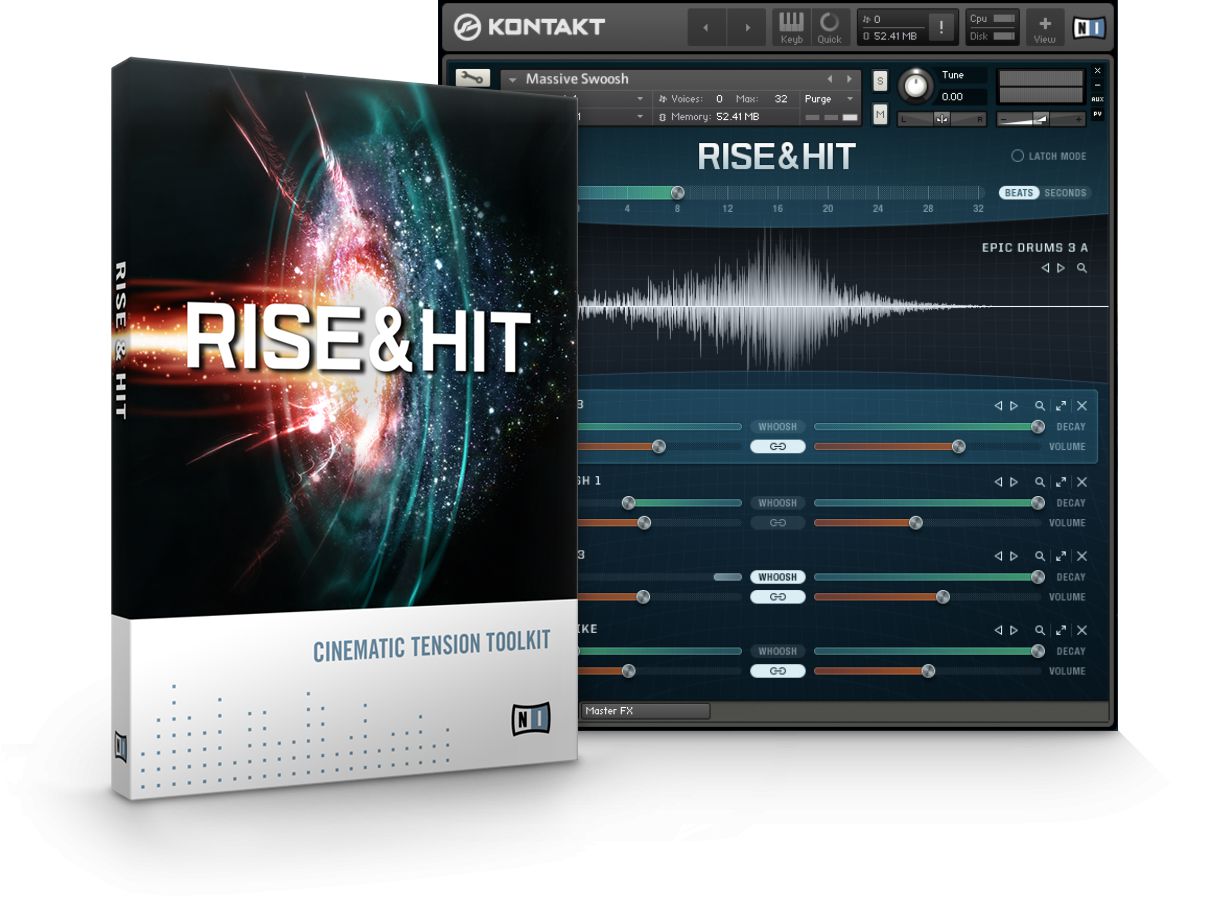 Cinematic composers and producers everywhere, strap in for a new kind of instrument that could potentially save you a considerable amount of time! Rise & Hit from Native Instruments is a unique instrument library for Kontakt that will make the process of creating sweeping crescendos quick and painless.
The Concept
With Rise & Hit, you get 8 GB of exclusively sampled instruments and sound effects. It's tough to even quantify exactly what type of instrument Rise & Hit is, and that's a good thing. Rise & Hit is unlike any library I've used before, and the best way to describe it is to simply look at the name. With Rise and Hit, you get a compliment of instruments and sonic events that give you a timed crescendo, a 'hit', and then some sort of release.
I think it's safe to say that Rise & Hit is an incredibly convenient way to create tempo sync'd crescendos in an incredibly short amount of time. The layers Native Instruments provides are extensive and run the gamut from completely orchestral to a hybrid of some really wild synths and effects.
If you're a film composer looking for a crescendo that 'sucks you in' to the next intense cue or if you work in EDM and you're looking to create a sonic landscape that evolves over 8 beats and explodes into your next dance break, then Rise & Hit is going to be your new secret weapon. I found that even though I don't do a lot of EDM work, Rise and Hit made me want to discover my inner dubstep demon.
Working With Rise and Hit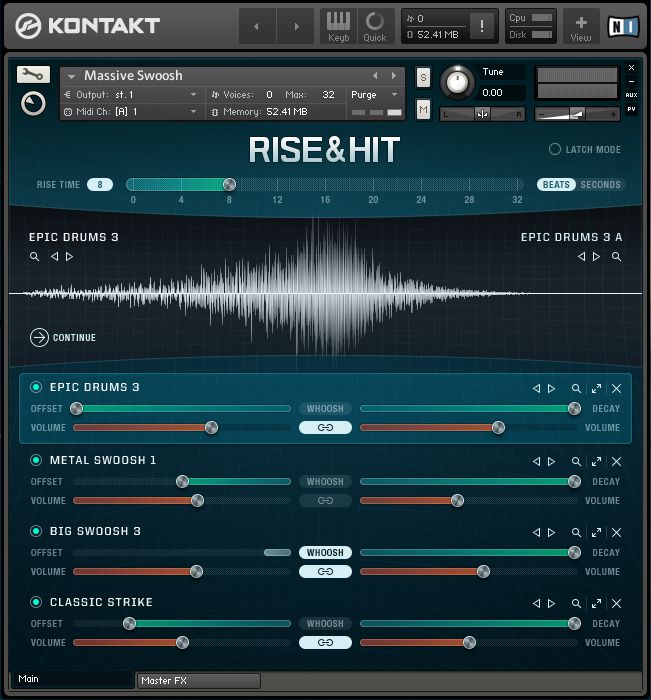 The Rise and Hit interface is fairly intuitive and easy to follow once you understand the general concept of the instrument.
There are over 4000 samples, 950 presets, 26 custom filters and 29 effects included with Rise & Hit. There is plenty of inspiration to be found just by skimming through the presets. Tweaking the presets to customize the layers involved in each patch was intuitive and easy to do.
A preset can be divided into two halves. There's a rise section, and… wait for it… a hit (sorry, had to!). Within each half of the sound you can activate multiple layers. A rise might consist of orchestral strings playing an ascending riff layered with a powerful synth shifting up in pitch. A hit might be an explosion sound with a decay of swarming locusts slowly fading away.
It sounds maddeningly chaotic, but it works. I spent quite a bit of time sifting through the presets and found myself pleasantly surprised (and at times, terrified) at some of the combinations that Native Instruments came up with for the presets. They are helpfully divided into categories, so you can stay completely acoustic with the orchestral presets, go fully electronic with the synth presets, or utilize 'hybrid' presets which are a combination of both.
Conclusion
I had a wonderfully fun time playing with Rise & Hit. The acoustic patches fell in the category of 'things that would take quite a long time to create in my DAW'. The synth patches ranged from awesome EDM elements to 'what my nightmares sound like'. If you do any film work or music production at all, this library is a no-brainer.
Price: $149
Pros:
A new concept, executed wonderfully.
Intuitive interface.
If you ever have to create dynamic swells, you can now do it in 1/8 of the time.
Incredibly fun! (Are work tools allowed to be fun? They should be!)
Cons:
Only 4 layers to a rise / hit element. You can get around this by using multiple instances of Rise & Hit.
Web: http://www.native-instruments.com/en/products/komplete/orchestral-cinematic/rise-hit