There was a time when there was a plug-in subtractive synthesizer being released almost every week. In the early 2000s, it's what everyone wanted, and many companies stood up and said, 'Yes, we will make subtractive synthesizer plug-ins just for you!'
In recent years, these plug-ins have been released less and less. This is especially true from the major companies. Granted, Korg has released plenty for the iOS, and so on. But, it's been a while since a major company did a bread and butter subtractive synthesizer. Recently, Native Instruments shocked us all with the release of the Monark, a Reaktor-based synthesizer that is a clever, and simple virtual homage to synths like the Mini-Moog.
Recently, I got a chance to spend a lot of time with the Monark. Is it worth your time? Let's find out.
Simple Sells...
Like many of the Reaktor-based synthesizers, Monark is tiny. Weighing in at a whopping 29.2 Mb, downloading the synthesizer took mere seconds. And, installation went just as fast. Once I dropped Reaktor on to an Ableton Live track, the Monark sat in the side bar patiently waiting... Come to daddy.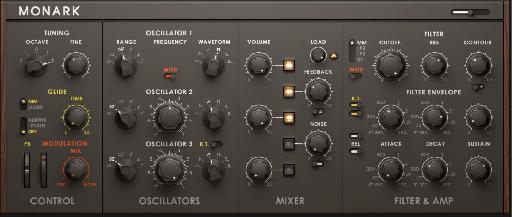 Upon loading up the Monark in Reaktor, I was quickly impressed with the look and feel of the Monark. Knobs and switches are clean, and lightly shadowed upon a charcoal, black faceplate, framed only by Reaktor and a dark mahogany finish. Ron Burgundy would be thrilled.
I was also very happy to discover that there is a back plate to the Monark as well. By hitting the B button, I was greeted with additional features that allowed me to tweak the legato, pitch bend, mod wheel, and so on. Native Instruments were definitely covering all their bases with this on.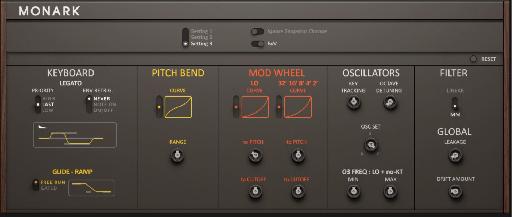 Functionality
The Monark features three oscillators that sound big and bold. And, while the synth is only monophonic, that's okay. It sticks with its Mini-Moog-esque behavior wonderfully and really fills in any track that you place it in. I was particularly pleased with the Mixer section, which is completely built around the idea that you want to overdrive the hell out of this synth. There is even an option switch that lets you choose between two different feedback treatments.
And, of course, the filter sounds wonderful. Featuring 3 low pass filter modes, including a 24 dB/Octave low-pass filter, and a band pass filter. This synth was made to growl.
Sound
The Monark, as you may have guessed so far, is built to be a lead/bass synth. As such, the included sound bank sports many big, booming leads and basses. But, also commits to its retro heritage and includes many presets that pay special tribute to pop icons like Kraftwerk and Yazoo. But, if early electro isn't your thing, you'll be pleased to note that there are also plenty of presets that honor many of the rock legends. In fact, there's one Rush-inspired lead that greatly resembles the Tom Sawyer target that the preset is intended for.
'¨But, if presets aren't your thing, and you're looking to make your own patches. Well, you couldn't ask for an easier synth to work with.
Conclusion
If you're looking for a solid bass and lead synth that has plenty of attitude, you'll be hard pressed to discover a synth out there that competes with the Monark. At a stand alone price of $99 dollars, outside of the Komplete 9 bundle, you'll be continually impressed, while patting yourself on the back for a steal of a price. I would also say that if you're new to synthesis, and have a desire to learn to make your own patches, you couldn't ask for a better starter synth in the virtual domain.
Web: http://www.native-instruments.com/en/products/komplete/synths-samplers/monark/
Learn: http://www.macprovideo.com/tutorial/native-instruments-220-monark-demystified