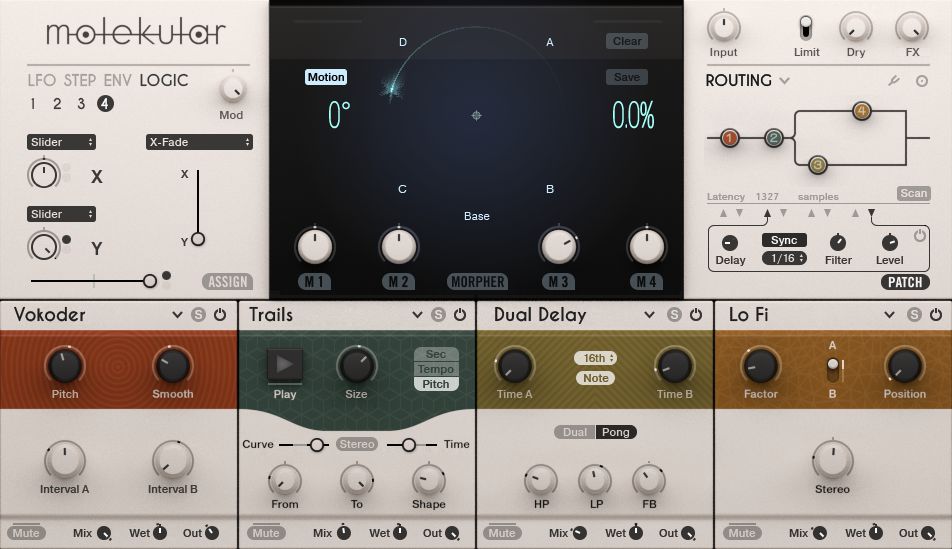 Molekular user interface.
Molekular is the newest addition to an already robust set of modular tools for Native Instruments Reaktor. It's a highly configurable set of filters and effect tools that will make just about any sound designer, EDM musician, synth buff, or film composer extremely excited.
The Vitals
The concept behind Molekular is a simple one at heart. It's hosted inside Reaktor (if you don't already own Reaktor, you can use the free Reaktor player) and you feed it an audio source. This can be from an input on your audio interface, from a track in your DAW, from a virtual instrument or from a live instrument. Once you've routed some audio to Molekular, strap in and hang on because the possibilities behind this instrument are limitless.
There are four DSP slots available to you in Molekular. You can fill those slots with up to 14 DSP modules that modify your sound. Some of these are traditional like delay or chorus, and some of these are not (I'm looking at YOU 'spektral smear'). The DSP modules will twist and turn your audio in ways that hurt your brain to even comprehend. You can emulate the filter stage of vintage synths and drum machines as well as utilize the completely unique effect processors that Native Instruments has provided for you. I had an incredible amount of fun feeding Molekular a sine wave and just going to town with the filters and effects. I was able to make keyboard sounds I never even knew could exist.
It's OK to be a Control Freak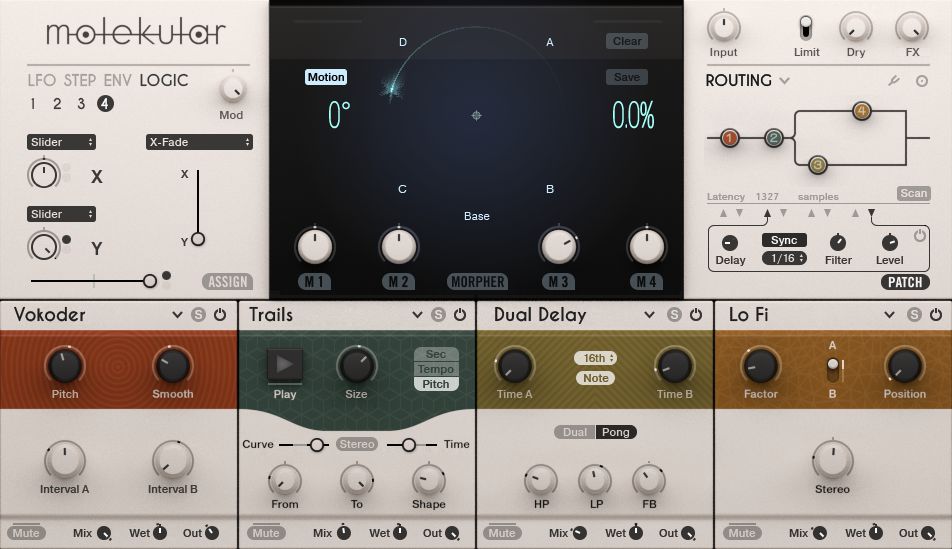 If you like buttons and knobs you're going to LOVE Molekular.
The amount of control you have in Molekular is staggering. You can literally have modulators modulating other modulators… which I'm pretty sure is 'Inception'.
The morph window allows you to create up to 4 presets for any FX/filter set you create. NI has created a really cool paradigm here that allows you to slowly shift between presets. Instead of just loading up preset A or preset B you can actually 'morph' between presets A and B. You have a complete X/Y axis available to you that allows you to transition between 4 sets of effect parameters and modulators. This type of behavior existed to a certain extent in Reaktor, but it's much more user-friendly here.
Feed Me!
I spent two days sending Molekular all kinds of audio and I can honestly say I didn't find a single instrument that wasn't incredibly fun to augment, filter or completely destroy with Molekular's robust filter and effect set. Feeding Molekular the output of a classic analog synth was as inspiring as hooking up my guitar or routing a vocal track to Molekular just to see what I could do. I was able to create huge atmospheres and complex, evolving pads with just a single note from an organ.
Conclusion
Molekular is a great addition to your Reaktor library, and a good reason to pick up Reaktor if you don't already have it. It's deep, it sounds great and is fairly intuitive to use.