Komplete 10 by Native Instruments is packed to the gills with new effects, plug-ins and instruments. One of the most interesting of the bunch is Kontour'"a Reaktor ensemble with some really cool tricks up its sleeve, and one that was created by Stephan Schmitt'"the founder of Native Instruments.
Sonic Diversity
I'm going to admit, at first I wasn't sure what to expect from Kontour. Native Instruments has spent a few years building out Kontakt and adding libraries with each update, and it was only in the last version or two of Komplete that they truly started turning their attention towards Reaktor. Users now have a lot to explore with the addition of Polyplex, Monark, Molekular, and Kontour.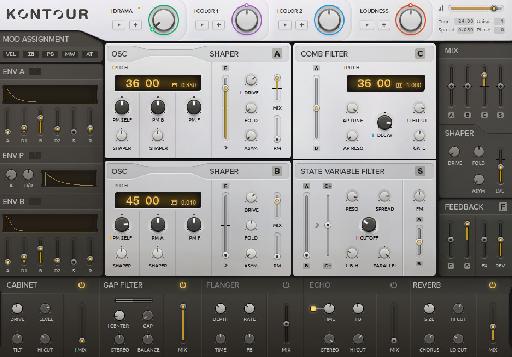 After my first hour with Kontour, I was incredibly pleased to discover an incredible range of sounds. In fact, I found myself referencing the manual and specifications several times, because I couldn't believe this synth wasn't wavetable or a sampler of some kind! This may be an analog-style synth, but there are a plethora of patches (cool band name?) to choose from that emulate plucked strings, woodwinds, metallic sounds, soundscapes'¦ just about anything you can think of.

Control Freak
There are quite a lot of layers to how Kontour is controlled. There is a well-thought-out labeling system that activates when you choose a modulator. Pick velocity, and you can instantly see what velocity is triggering. Choose the mod wheel, and you have instant access to anything that is modified by using that controller. There are 4 macro knobs that can control an entire host of parameters. They are pre-labeled with such titles as '˜drama', '˜color', and '˜loudness' and they themselves can be automated with motion.
While we're on the subject of motion, I should tell you that the motion modulation in Kontour is far beyond a simple LFO. You can create a completely custom wave shape that moves and modulates any parameters you like in any possible shape you can imagine. Kontour even treats the motion recorder like a looping engine, and this allows you to select all or any part of your recorded motion shape to use as your modulation source.
Out of the Box
The presets for Kontour are truly unreal. Right after installation, you've got a lot to play with. I had a ton of fun bouncing around from sound to sound and activating the motion on various aspects of the included presets. The macro controls are all intelligently assigned to truly bring the most out of any given sound.
If you're lucky enough to have a Komplete Kontrol, you'll find the tweaking options magnified as you have an immense amount of control at your fingertips. Running Kontour inside of Komplete Kontrol with the automapped modulators and built-in arpeggiator patters of Komplete Kontrol was a wonderfully fun experience.
Conclusion
Kontour is as much fun to tweak as it is to just browse and enjoy. The presets are incredibly well designed, the sounds are really wild, and the control options are staggering. If synths like this are the future of what Native Instruments has planned for Reaktor, then the future is indeed a bright one for synth enthusiasts!