Review: Native Instruments Komplete Kontrol M32
NI's smallest ever keyboard punches well above its weight - and costs less than you might think. Hollin Jones went on the road with the Komplete Kontrol M32.
In recent months we have seen Native Instruments bring its expertise to bear on a different part of the market than that on which has traditionally focused. Its new A-series of Komplete Kontrol keyboards eschews some of the higher-end features of the S series, but also comes in at a significantly lower price. But even the A25 - the smallest keyboard NI made - was, at least in a world accustomed to iPads and wafer thin laptops, still relatively bulky.
Smallest Ever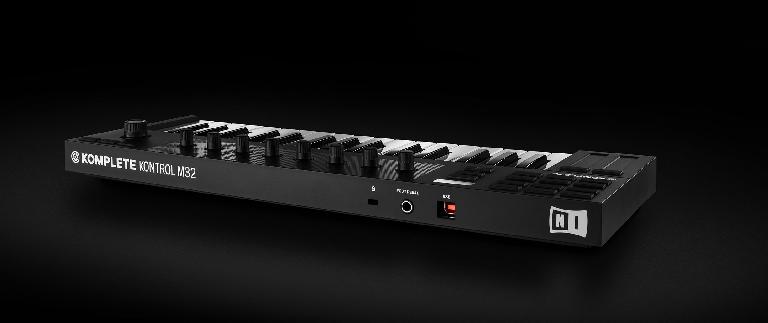 Enter NI's new baby - the Komplete Kontrol M32 MIDI controller keyboard. It's smaller in every physical way, but with NI's engineering talent and software ecosystem behind it, has more functionality than you would expect from such a compact unit. And at just 1.4KG, it really can be carried in a fairly small bag alongside your computer or iPad.

It is USB 2 bus powered and of course this bundled cable also carries MIDI. There's no USB-C included yet - this format is still in the process of becoming the industry standard, which will take a couple more years. But you can add your own cable to connect to to a USB-C device. There's also a TRS pedal input that can be assigned to the sustain parameter, and like all KK keyboards, it can work as a generic MIDI controller.
What Do You Get?
The M32 however is at its best when paired with NI's software. And boy, do you get a lot of integration and extra goodies for your modest spend here. Let's start with the hardware. The 32 synth-action keys are small but much more playable than you might expect. There's some resistance, they don't just flop up and down, so you can be expressive with them.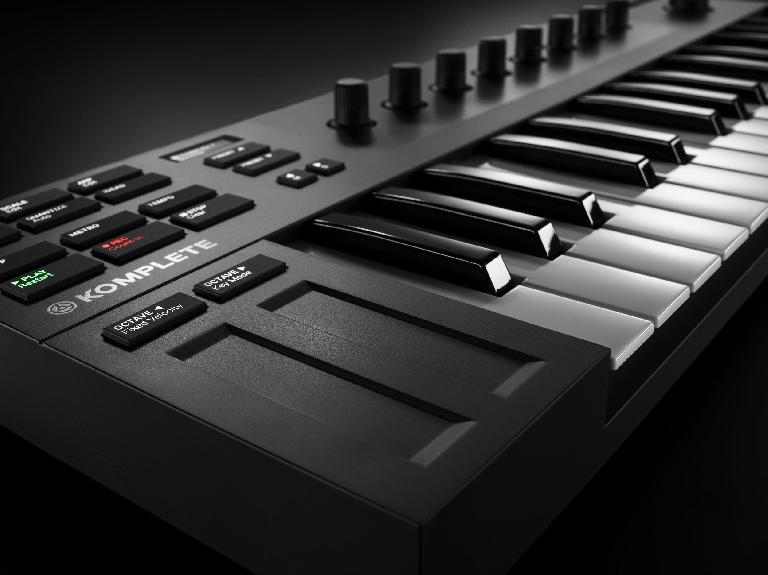 There are 8 touch sensitive control knobs, two touch strips and a four-way push encoder as well as an OLED display that is small but perfectly functional. It's the only visual feedback (though the buttons are backlit) - a cost saving measure, but an acceptable one. The buttons feature the core controls you need to operate NI's software and other DAWs from the hardware. So at the top right there's buttons for the Browser, Plug-In or Track Selection. To the left are transport controls, octave, scale, arp, undo and more, with secondary functions accessed via Shift pressing.
DAW Control
There are a number of the performance features from the much larger KK keyboards so you get Smart Play (chords, scales and arpeggios), pre-mapped control of all Komplete and NKS-format software instruments and effects and control of key features in Logic, Garageband and Live, with Cubase and Nuendo support coming soon. There's also VSTi and VST FX support, tag-based browsing with Previews and integration with Maschine software.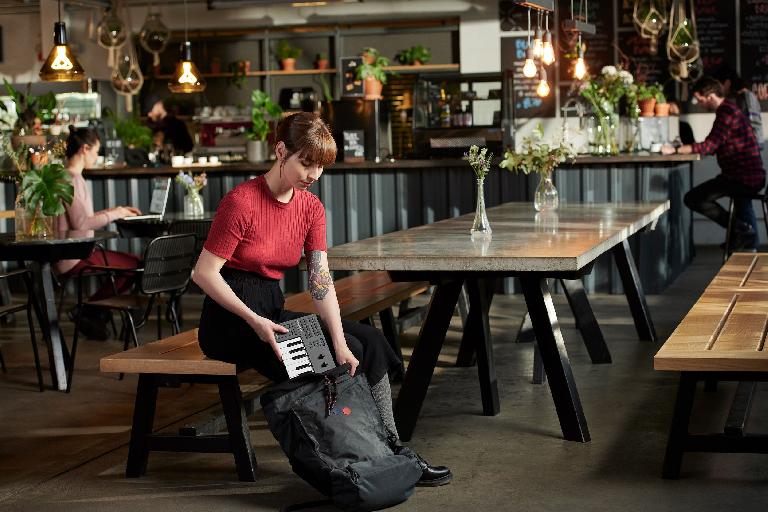 In terms of software, NI has been very generous thanks to the vast library at its disposal. So as well as a copy of Live Lite you get Maschine Essentials with a 1.6GB library, Komplete Start with over 2000 sounds, the Monark, Reaktor Prism, Scarbee MkI instruments, 2 months' access to sounds.com and a £22 voucher for the NI online shop.
Conclusion
The M32 is a triumph of engineering and affordability. With the expertise it's gained developing pro gear, NI has been able to streamline the hardware down to its essentials, save a ton of space and make this unit very affordable. And with its stable of software and the level of integration built into the ecosystem already, you get way more added value here than many companies could deliver.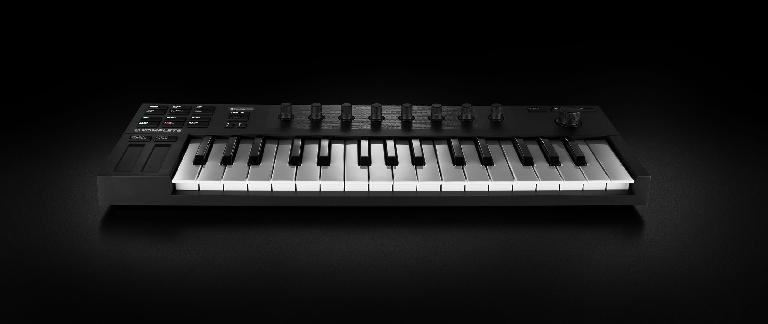 It's small, portable and powerful and doesn't compromise on workflow or usability. Yes, the keys are relatively small, though more playable than I expected. You plug it in, download your software, and it all just works. I didn't even miss features like displays over each capacitive knob, or at least, I was happy to trade them off for something so portable (not to mention affordable) that it will surely help NI become much more widely known outside of the pro audio world.