Review: Native Instruments Komplete Kontrol A25
Native's new A Series of Komplete Kontrol keyboards have many of the features of the S series, but at a price that may surprise you. Hollin Jones took the smallest sibling, the A25, for a spin.
In the late summer of 2018 I was invited to Native Instruments' London offices to be shown a raft of upcoming products - more new stuff, in fact, than I had ever seen one company prepare to release at the same time. Those announcements - Komplete 12, the Komplete Kontrol A series, Traktor 3 and much more - are all now of course public knowledge. But we have also been lucky enough here at Ask.Audio to be among the first to get hands-on experience with the new gear. I've had the new Komplete Kontrol A25 (amongst other new stuff) up and running in my studio for a few weeks, and I'd like to share my impressions of it.
Small Is Beautiful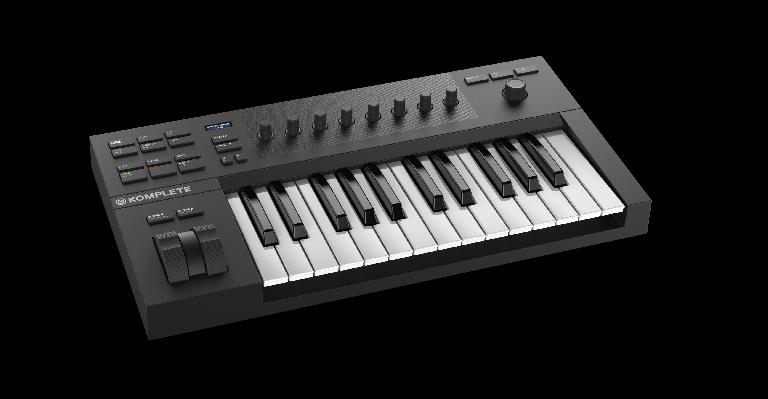 Sometimes as reviewers we are lucky enough to be able to request specific models for review - so why the smallest, 25-key model, you may ask? Well, in terms of their functionality, all three models - 24, 49 and 61-keys - are identical, save for the number of keys. The larger models just space their controls out more. As a piano player I have a stage piano that never leaves the house, several performance keyboards too large for my studio desk and a Komplete Kontrol S61 which is great, but as I find myself working on the move more and more, I have begun to want a super-portable MIDI keyboard with the functionality of the Komplete Kontrol system. So, the A25 it was.
Who Is It For?
One important theme of NI's recent mega-update of its products was that for the first time it included more affordable models of its hardware controllers. The company has always tiered its hardware - from more entry level all the way to big and professional, but this is the first time it has really ventured into price brackets that seem designed to tempt ordinary consumers - by which I mean people not necessarily already in the music technology world.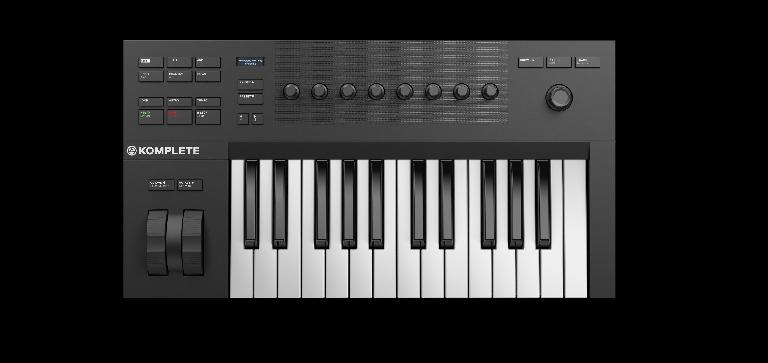 Of course this doesn't mean lowering your standards - merely making things a little more accessible. The integrated nature of the way NI builds software and hardware, where software is developed to accommodate hardware of varying price points and complexities - is not dissimilar to how Apple does things. It's a comparison I'm sure NI would find flattering, and it's also pretty accurate. Once you have built your software ecosystem, you can key your hardware into it at different levels.

Keep It Simple
The reason I mention all this is that NI's expertise and size means that like Apple, it can introduce lower priced products without introducing a bunch of compromises with them. Yes, those cost savings do come from somewhere, but they have been very carefully considered. The casing of the A series is a little more lightweight than the S series, but still of course very sturdy. Around the back there's USB for power and MIDI, a foot pedal input and a Kensington lock port. The A25 weighs just 2.4KG.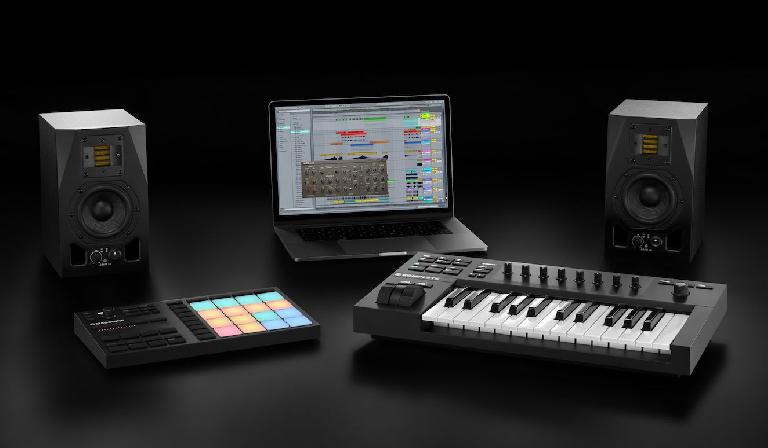 The semi-weighted keys are full size, and well suited to most kinds of playing you're ever likely to do on a 25 or 49-key instrument. There are traditional mod and pitch bend wheels, as well as octave buttons at the bottom left corner of the front panel. As with the S series, the physical controls are designed to tie into the Komplete Kontrol software and also your DAW and any NKS-compatible plug-ins you may be running. In software terms, you can do almost everything you can do with the S series. It also has a MIDI mode so it can be turned into a MIDI controller, and custom maps built using the Controller Editor software.
What's Different?
Of course, there are some differences from the costlier S series. The screen here is much smaller - though perfectly serviceable - and there's less backlighting of buttons. You still get 8 touch-sensitive controller knobs that are "endless" (meaning they just keep on turning), and also a 4-way push encoder for project navigation and sound browsing. All the tag support is present and correct, even if the text display is somewhat smaller. You get sound previews too, which let you hear a sound before loading the whole instrument.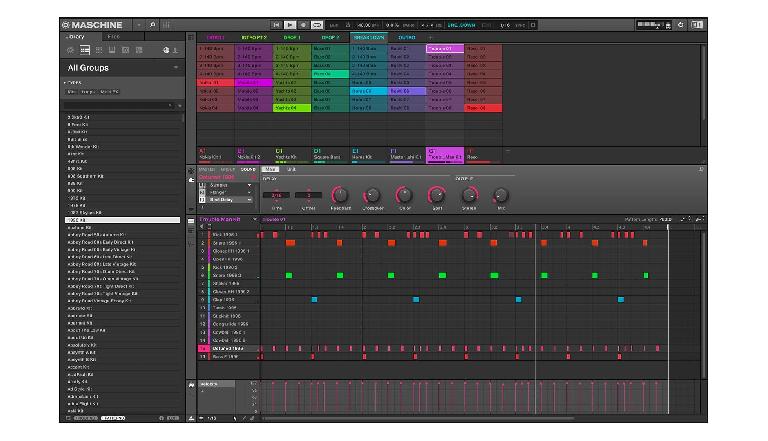 There's no Light Guide on the A series - another concession to cost saving - but there is Smart Play, that lets you stay in key with over 100 scales and modes, play chord progressions and arpeggios with single keys, or map any scale to white keys only. I've found this feature to be helpful for musicians of all levels, not just less experienced players. There are also transport controls for your DAW, with extensive control of Logic and Garageband - and Cubase, Live and Nuendo in development. Core navigation controls as well as track and instance selection, quantize, arpeggiator and undo buttons are all available on the front.

Since you're part of NI's world, Komplete's instruments and FX are pre-mapped, as are any NKS-compatible plugs you may be running, which all works pretty seamlesslyin practice. VSTi's are also supported, and there's deep integration with Maschine too so you can control that software if you also own it. In terms of extras you get a lot for your money: 4500 sounds in 9.7GB of content spread across several instruments. There's the Komplete Kontrol software of course, plus Monark, Reaktor Prism, The Gentleman piano, Scarbee Mk1 electric piano, Kontakt, Reaktor and Guitar Rig Player editions, Reaktor Blocks Wired and an e-voucher for the NI online store. Oh, and Maschine Essentials with its 1.6GB library. Upgrade paths to more extensive versions of Komplete are available as well.
Conclusion
The Komplete Kontrol A series is significantly more affordable than the S series. Of course, this means a somewhat simpler hardware configuration - Light Guide, touch strip and MIDI DIN ports as well as those nice big colour screens are omitted. But the core functionality is still extremely strong, especially given the price. Here is a hardware controller that plugs directly to your computer with a single USB 2 cable and provides access to NI's world of browsing, DAW control, tags, previews, performance and programming. NI is sticking with USB A by the way - and for now the wider music world is too. We will eventually see USB-C replace it in these kinds of devices, but it'll take a couple more years.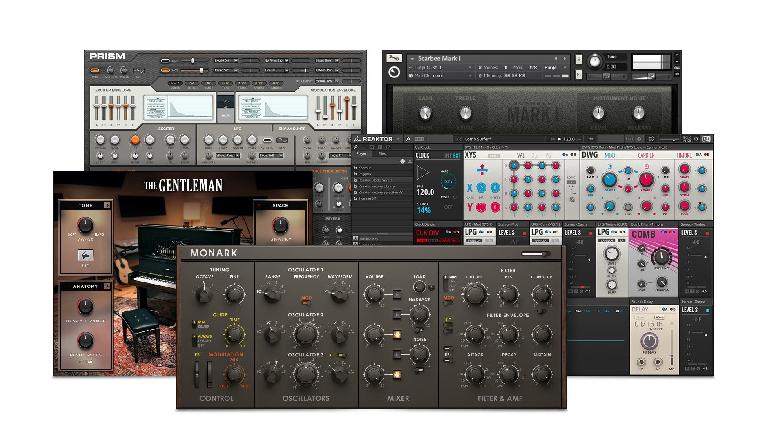 It comes with a solid set of core plugins and instruments as well as the Maschine Essentials software, and DAW support that continues to improve. You get the touch encoders, hands-off navigation and much more. At just £119 for the A25 it's an excellent combination of functionality and features, and you know NI will continue to develop its software - which you will be able to take advantage of going forward. The A-series models are around the price of standard USB-powered MIDI controllers of comparable size, on which you wouldn't get this level of features because few companies develop the software and hardware together in the way that NI does.

NI is clearly making a concerted push into the more price-conscious end of the market, be that beginners, schools and universities or just musicians who don't need all the bells and whistles of the higher end gear - gear which is of course still available should you want it. As a portable MIDI controller the A25 really excels, with all the core functionality you need to perform with and control NI's - and other - software. The larger models behave the same way, only with 49 or 61 keys. At this price point, it's never been easier to get into NI's world.
Price: £119/ £159 / £199 159 / $209 / $259
Pros: Good build quality. Seriously affordable. Access to Komplete Kontrol software and everything it brings. DAW transport control. Maschine integration. Pre-mapped to KK and NKS plugs. Generous software bundle. Good performance features. A great balance of affordability and features.
Cons: Smaller screen than S series. No Light Guide or MIDI DIN ports. Less backlighting of buttons.
Web: https://www.native-instruments.com/en/products/komplete/keyboards/komplete-kontrol-a25-a49-a61