Native Instruments' latest Kontakt instrument is a sample-based behemoth of immaculately-rendered clanging, gonging, ringing and chimes. At first glance, it might be hard think of a context for metallic textures like this in your production, but everything from otherworldly atmospheres to razor-sharp bells make their usefulness known more quickly than you might expect.

Metallurgical Laboratory
Built from the ground up with a wide array of field recordings that include cauldrons, clocks, grates, gates, kettles, swords, tanks, keys, springs, coils and more, it's clear that sound designer Jeremiah Savage put not only a lot of thought, but also a great deal of time into creating this instrument. The samples are recorded impeccably and run through Native Instruments' notoriously advanced post-production processing before being layered smartly and programmed into a well-honed selection of preset starting points.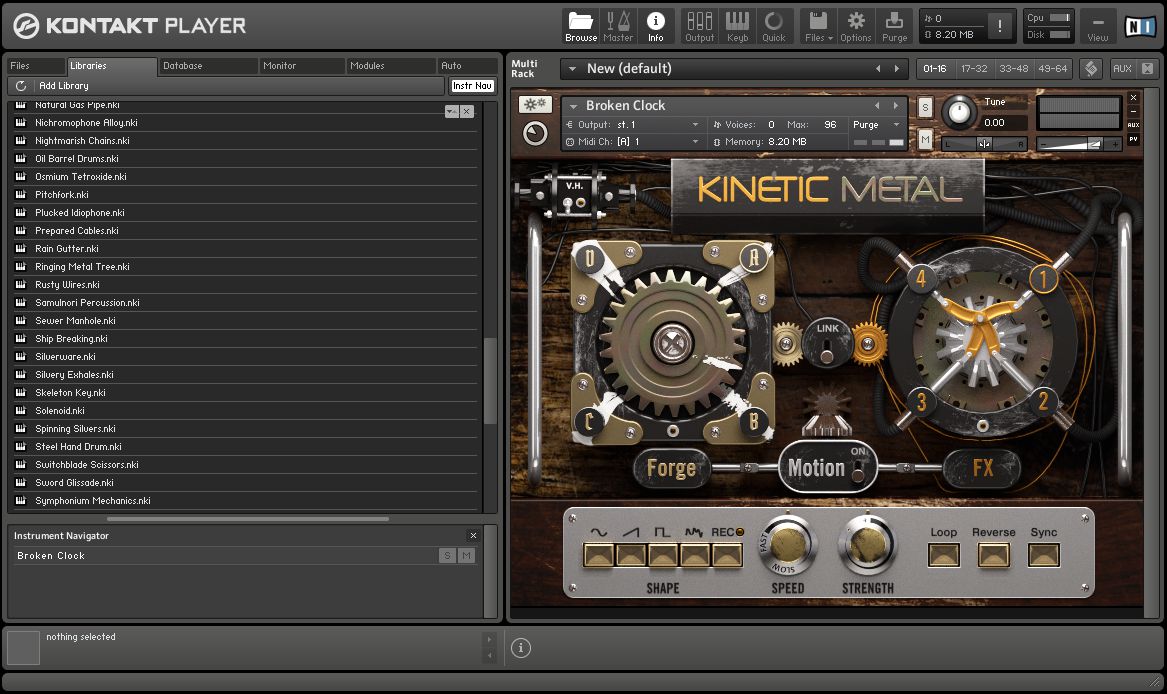 Welder's Delight
Running inside Native Instruments' free Kontakt player, there are three primary components of Kinetic Metal. First up, the main sound-shaping area is appropriately dubbed the Forge.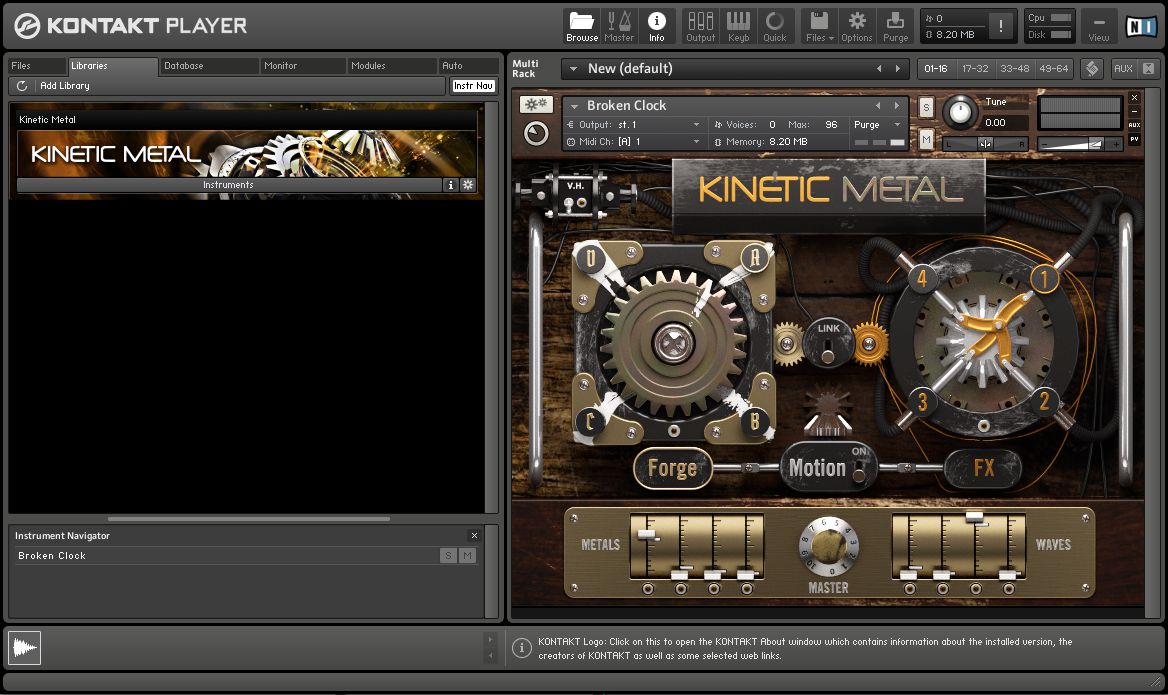 Kinetic Metal's sounds are generated by a combination of four sample layers and four synthesized waveforms. In the lower segment of the Forge, we have two mixer areas: to the left of the master output dial, we can choose the levels for our sample layers, and to the right of the master output we can balance the waveforms.
Corresponding to these mixer levels on the left hand side of the skeuomorphic GUI above, we have a large gear that allows for morphing between four distinct mix states, each comprised of different sample layer and waveform blends. We can jump between these snapshots by clicking their corresponding letters in each corner of the gear – or we can twist the gear itself to smoothly shift between them. Doing so, you'll notice the layer mix levels have two faders each: one fixed, which can be changed at any time, and one relative, which is controlled by the morph gear. Twisting the gear quickly results in a range of organic, dynamic changes that are difficult to imagine achieving in any other instrument.

Cause and Effects


Clicking on the FX tab takes us to the other main sound-shaping area, where we have access to four effect types: Color, Distortion, Movement, and Space – each with two parameter controls, available for MIDI and automation.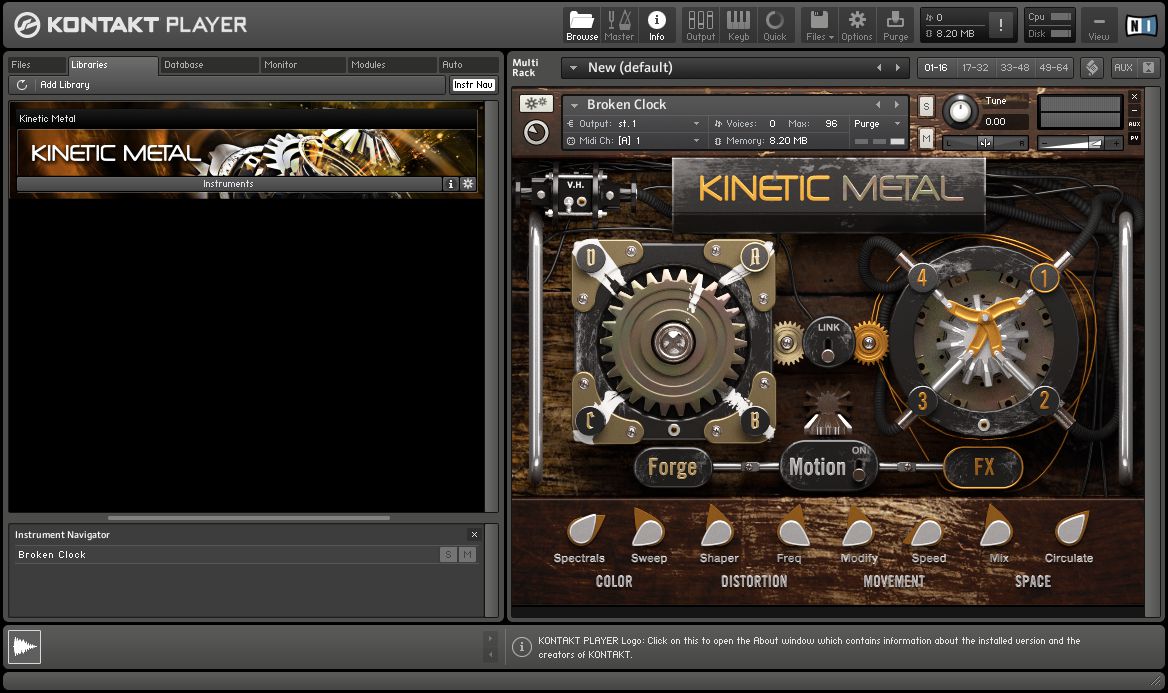 Above the FX button, we have the second of two gears, which again contains four snapshots of discrete effect parameter states, accessible by clicking on the corresponding numbers in each corner of the FX gear. Better yet, we can freely morph between these effect states by twisting the gear, resulting once more in elegant, unique dynamics that open the floodgates for all sorts of sound design possibilities.
By default, the Forge and FX gears operate independently of one another, but by activating the Link switch between them, turning either gear twists both simultaneously for extreme morphing results.
Shifting Gears
The third and final component of Kinetic Metal is the Motion area. Clicking on the middle zone view button titled Motion – which can be toggled on or off completely from the button itself - provides access to a powerful set of LFO-based parameters to control the layer mix. Beside the four standard LFO shapes provided (Sine, Ramp Up, Square, and Sample & Hold), there's also a Record button that allows you to capture your own unique twists of the left layer morphing gear. In the center, we have a Speed and Strength dial which control the rate and amount of motion applied, and to the right of those dials we have three options: Loop, Reverse and a host Sync button. With a few minor adjustments, it's easy to get inject your metallic tones with a wild range of movement.
Platinum and Gold
Every once in awhile, a truly unique instrument comes along that really doesn't sound like anything else. Kinetic Metals sounds fantastic, and it's intuitive to use. Whether you're specifically looking for metallic sounds or just want an inspiring new tool in your arsenal, Kinetic Metals will do the trick.


Price: $99
Pros: Easy to use, top-notch fidelity, and a highly unique sound palette.
Cons: The morphing gear controls aren't configurable for automation in Ableton Live.

Web: http://www.native-instruments.com/en/products/komplete/orchestral-cinematic/kinetic-metal/