Thanks to its Kontakt architecture, NI has made it relatively easy for itself and a number of third party developers to create new sample and synthesis-based instruments inside an existing shell: the Kontakt Player. The latest is Drumlab, which retails at just 99 Euros and runs in the full or the free version of Kontakt on Mac and PC. It's a 2.5GB download that unpacks to around 5.5GB of sample content, and you can choose to install this on an external hard drive if you are using a laptop where space is at a premium.

Back to the lab
The idea behind Drumlab is that it is 'production ready' and it aims to provide you with great drum sounds and some flexibility, but without the many deep editing tools that you get in something like Battery. Let's face it, a lot of the time you want to get inspired and start making beats within 30 seconds rather than spending hours sampling and programming envelopes and such like. That's where Drumlab comes in.
The interface is slick and modern and split into several sections. At the top you can select whole kits and sound sets and on the right, choose from over 900 preset grooves: more on this later. In the main part of the window is the drum grid and clicking on each square will trigger that sound as well as revealing a level, pan, solo and mute control for each one, plus routing options.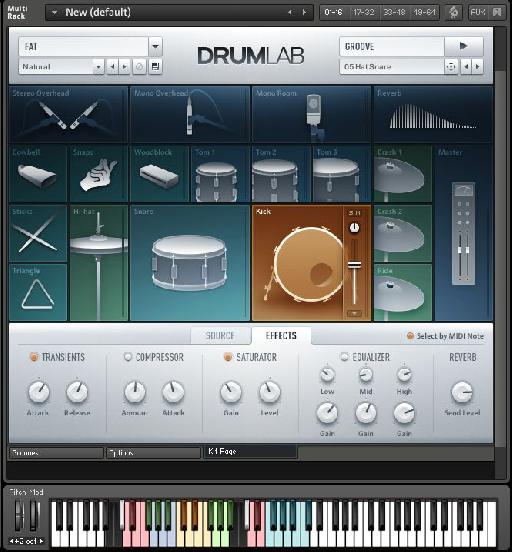 The interface is cool and provides easy access to the most important controls
Here's a beat I knocked together in about 30 seconds, by hand:
In the Groove
Selecting any drum causes the lower part of the window to flip to display its settings. Every drum can use two layers, an acoustic and an electronic sample, and you can blend between them using the Mix fader to create unique sounds. This, NI says, was the key to getting great drum sounds on many hit records and here it's very simple to achieve. Each source can be separately tuned and have various characteristics set like attack, hold, decay, filtering and mic position. A second tab lets you set up specific effects for every drum from a choice of transient shaper, compressor, saturator, EQ and reverb. These are taken from NI's much revered SOLID series, and sound excellent.
I mentioned a Groove mode, and you can switch between the many supplied patterns and edit their swing, groove and tightness in the Grooves section. You can't alter the pattern notes but you can map grooves to individual notes so they can be triggered in sequence from a keyboard.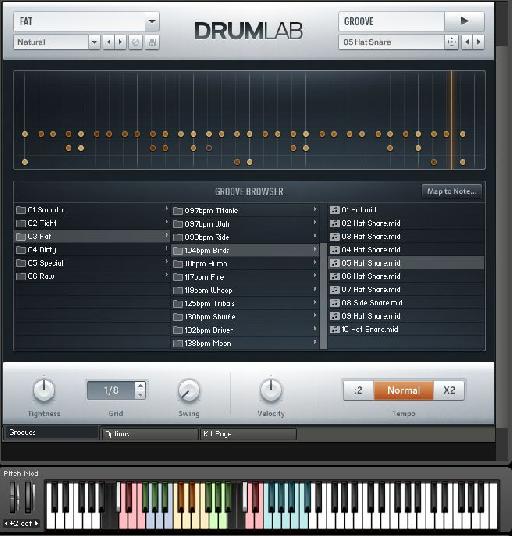 900 grooves are included so you'll never be stuck for inspiration.
Final thoughts
A great deal of care has gone into sampling the drums in Drumlab, as well as making it really easy to tweak and tune kits, layering different beats together and quickly dialling in effects to create excellent-sounding drum parts. It's billed as a 'drum layering instrument' and this is accurate, but it's more fun than that description makes it sound. It sounds massive, and it made me want to knock some beats out as soon as I started playing it. These are really useable sounds, the kind that would slot perfectly into many kinds of productions from indie rock through hip hop and dubstep to full-on electronic music. At the price it's a brilliant way to get a powerful but fun beat making tool for your setup.