NI has been steadily increasing its presence in the scoring field with a series of more cinematic instruments powered by its Kontakt multi-sampler. I was particularly impressed with the Damage rhythmic instrument, and the latest addition to the lineup is Action Strings, a dramatic orchestral phrase instrument retailing at $299. It requires a hefty 14 GB of disk space to install, though this is because it is sample based. The sample library is easy enough to put on an external drive during installation.
The probem with many sampled string libraries is that as good as they sound, playing a keyboard makes it very difficult to replicate the kinds of musical phrases that a real string section would play. The faster and more dramatic the desired results, the more difficult it becomes to do it with a MIDI keyboard. You can get around this if you're brilliant at programming articulations in MIDI, but frankly for most people that's a headache.
Enter Action Strings, which aims to take the hassle out of dramatic, cinematic string arrangements. It's essentially a phrase instrument which means that pressing MIDI keys plays a series of notes rather than a single note. As Kontakt users may be familiar with, you see some notes shown in different colors representing which ones have sounds assigned to them. Blue notes are playable and red notes, further down the keyboard, switch between phrases. Phrases are shown on a virtual score and even if you don't read music, give you an idea of how they might sound from the position of the notes on the stave.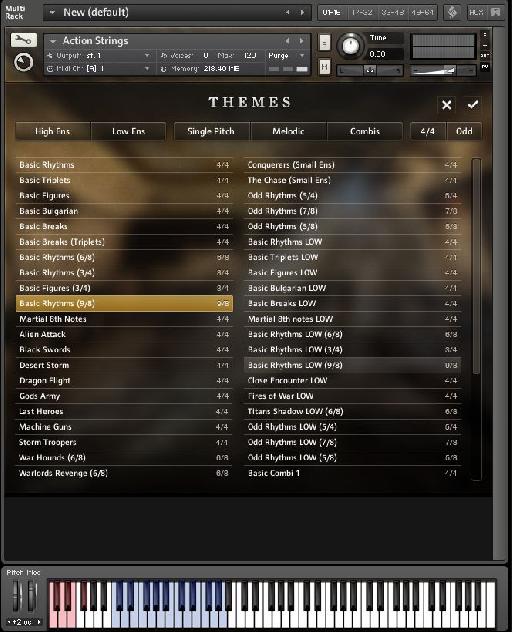 Select from pre-programmed musical phrases. Blue notes represent pitch and red notes switch between phrases.
The idea is that you play the pitch with the blue notes and then switch between phrases by triggering the red notes. These can both be done live or by recording MIDI into a sequencer. There are 154 phrases grouped by type and character and these can be easily searched and loaded. They are subdivided into 62 themes, each of which comprises five phrases. You also get two switchable mic positions for sounds, master EQ, dynamics and multiple reverb types to color the sound.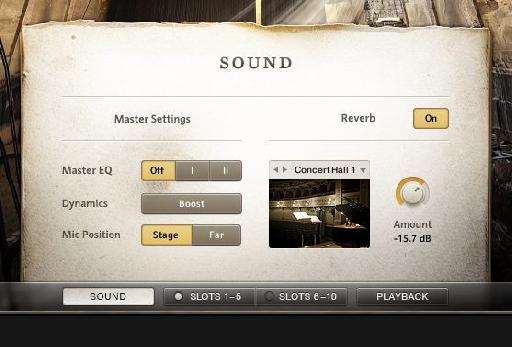 Some simple but effective onboard effects help to increase the dramatic tension.
In use, Action Strings sounds great, and the use of live orchestral players in the production of the instrument really pays off. The focus is not on cycling between endless permutations of violins and cellos, but providing dynamic, exciting and energetic string phrases that are easily triggered and controlled. The sounds are pin-sharp and the phrases clearly suited to cinematic work, grouped into high and low character, and some with velocity switching between minor and major versions of the same phrase. The Mod wheel can be used to control expression too.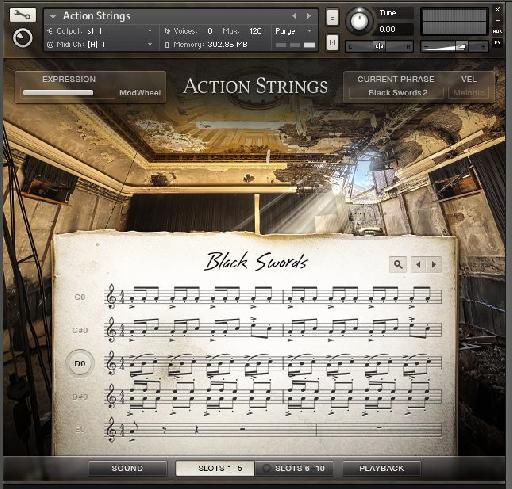 Switch between multiple musical phrases quickly and easily.
Crucially '" and this doesn't always happen with phrase instruments '" everything stays in sync with your host's tempo, so there's no tedious fiddling about with lining up MIDI parts and bars. When you're composing for film or TV, the last thing you want is to have to keep retriggering stuff, so this is a big deal.
This perhaps isn't an impulse buy but for anyone working with film, TV or other kinds of commissioned music it's an excellent way to get studio-quality, believable and flexible string parts into your productions with a minimum of fuss.
To learn more about Action Strings, visit http://www.native-instruments.com/en/products/komplete/orchestral/action-strings