More and more people are discovering the health benefits of meditation and are looking for tools to aid them in dropping into a relaxed state. Some need help with insomnia, anxiety or simply assistance with stress reduction. Sound and Music designed to assist people with relaxation, meditation and healing are becoming more popular. One of the hot new areas of development in this movement is sound meditation and relaxing music Apps for iOS.
myNoise for iOS is one worth mentioning in more detail due to its sound quality and interface innovation. This app gives the listener the ability to customize what they want to hear, build multis with different layered sounds, create calibrated listening presets and adjust the frequency bands within each sound in addition to animating them. There are a wide variety of beautiful sound categories and sources to discover. myNoise provides the sonic building blocks of healing music, where you can be your own conductor on your path to wellness.
MyNoise.net is the main website showcasing over 100 sounds or sound generators originally conceived and constructed by Stephane Pigeon, a signal processing Ph.D. engineer with a strong passion for sound design. The website is a great place to spend some time listening to sounds, learning about the App and reading about how certain sound generators are created, even detailed information about the sounds you are hearing. The Screenshot above shows a new sound generator release on the website called 'Palm Garden,' recorded in Morocco. It's important to note that this website came before the App. The App was designed from the ground up to include more features than the website and allow users to listen without having connectivity.
MyNoise App Features
The Free version of the App comes with five sound generators to get started including Spring Walk, Binaural Beat Machine, Rain Noise, Temple Bells and White Noise. The colored sliders in each sound generator have different sounds or frequency bands of noise or tones for you to mix in and out. Can't decide on a mix you like? No problem. Select 'Animate' and choose from 5 speed settings to randomize the sounds for you. The dynamic nature of this feature will make you feel like you are inside the environment.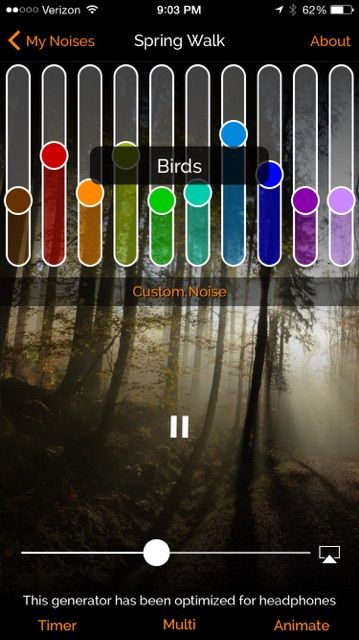 Figure 3—Mix the Sounds.
Perhaps my favorite feature of the App is the ability to create a multi listening environment where you can activate and layer a bunch of sound generators at once. And if you animate a few of them, the sound will always stay interesting.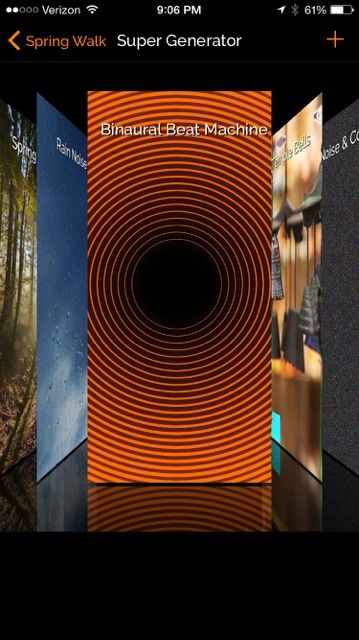 Figure 4—Create A Multi in MyNoise.
You can also create custom Calibration settings that are ideal for listeners with hearing loss or damage as well as a Noise Blocker setting to block out ambient noise in an Office environment, for example.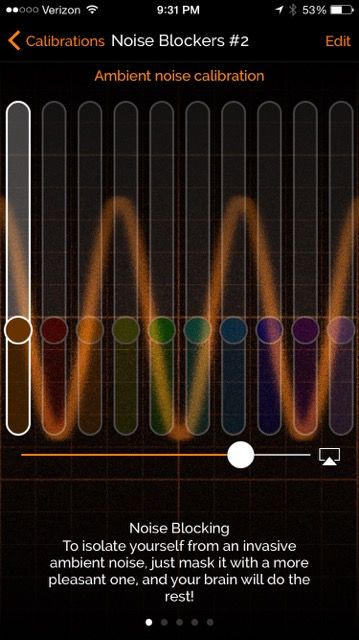 Figure 5—Ambient Noise Calibration Setting.
In the Downloads section, you can upgrade to all full version of the App with all the sound generators in one bundle for $9.99 or listen and download individual sounds for $.99 each. Trust me, this is a site for us audiophiles!