I was very impressed with the MunroSonic Egg150 monitoring system, though as a package it was a little large for smaller home studios. Now the British company has come up with a smaller version that should sit quite comfortably in even a compact space, the Egg100 system. It borrows the unique look and design of its bigger brother but has a smaller footprint and a lower price to boot.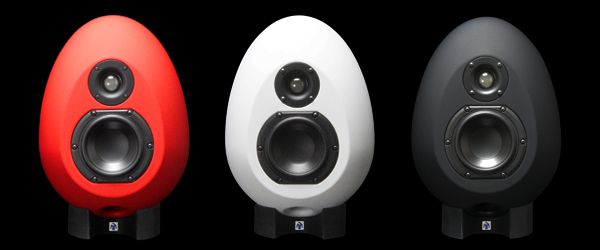 Three Color Sonic Munro Egg100s: red, white and black.
Although lighter than the 150s the 100 system still feels extremely well put together and will certainly be a talking point in any studio. The shell is a monocoque design and resonant neutral, constructed to eliminate internal standing waves which reduces 'smearing'. Each speaker has a four-inch driver, tweeter and an integrated and downward-facing angled bass port which allows far bigger and punchier bass response than you might expect out of relatively compact speakers.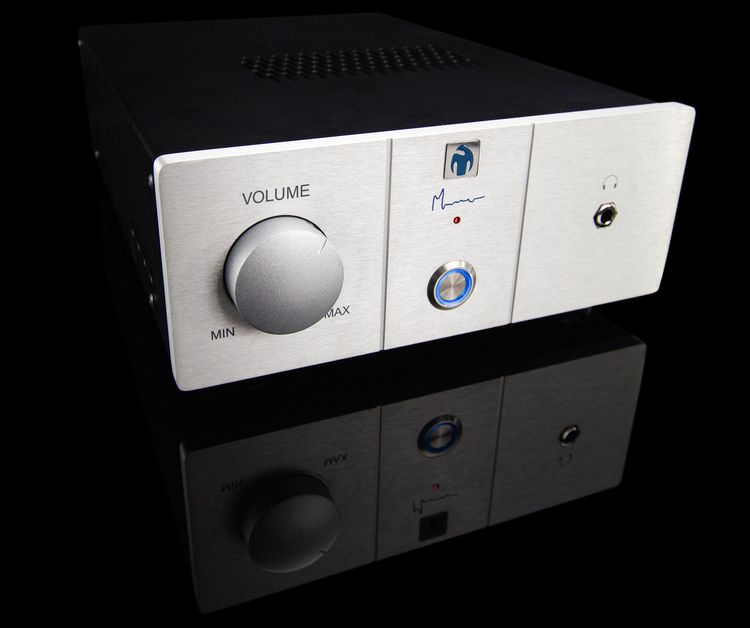 A close up of the control and amp unit that comes with the MunroSonic Egg100s.
Tilt and Fire
They are designed as nearfield monitors and as such are likely to be used on consoles or other flat surfaces. To that end, they come with a special variable tilt base accessory that lets you angle the speakers slightly upwards to suit your environment and avoid any reflections that might otherwise come from the surface on which the speakers sit. In practice, this is a very effective approach and I found that angling the speakers up very slightly in my studio did indeed focus both the bass response and the stereo image. Munro Sonic states that the phase coherent bass energy results in up to 6 dB low frequency headroom and the system was certainly able to reproduce bass with excellent clarity.
The speakers are only one component of course, there's also a matched amplifier and control unit with passive analogue crossovers, low and high frequency trim pot EQ for tailoring the system to any particular space, and a class A headphone amplifier. You get two 3m matched speaker cables and the control unit also has an LED headroom indicator. The 100s have many of the features of the 150s and so their benefits are similar: striking design (in a range of colors), centralized control of EQ and volume from the amplifier meaning less fiddling with the speakers themselves, and a system where the constituent parts are designed to be perfectly matched: amp, cables and speakers. Freeing the speakers of amplifier components means they can be lighter and also focus purely on sonic accuracy rather than having to deal with amplification.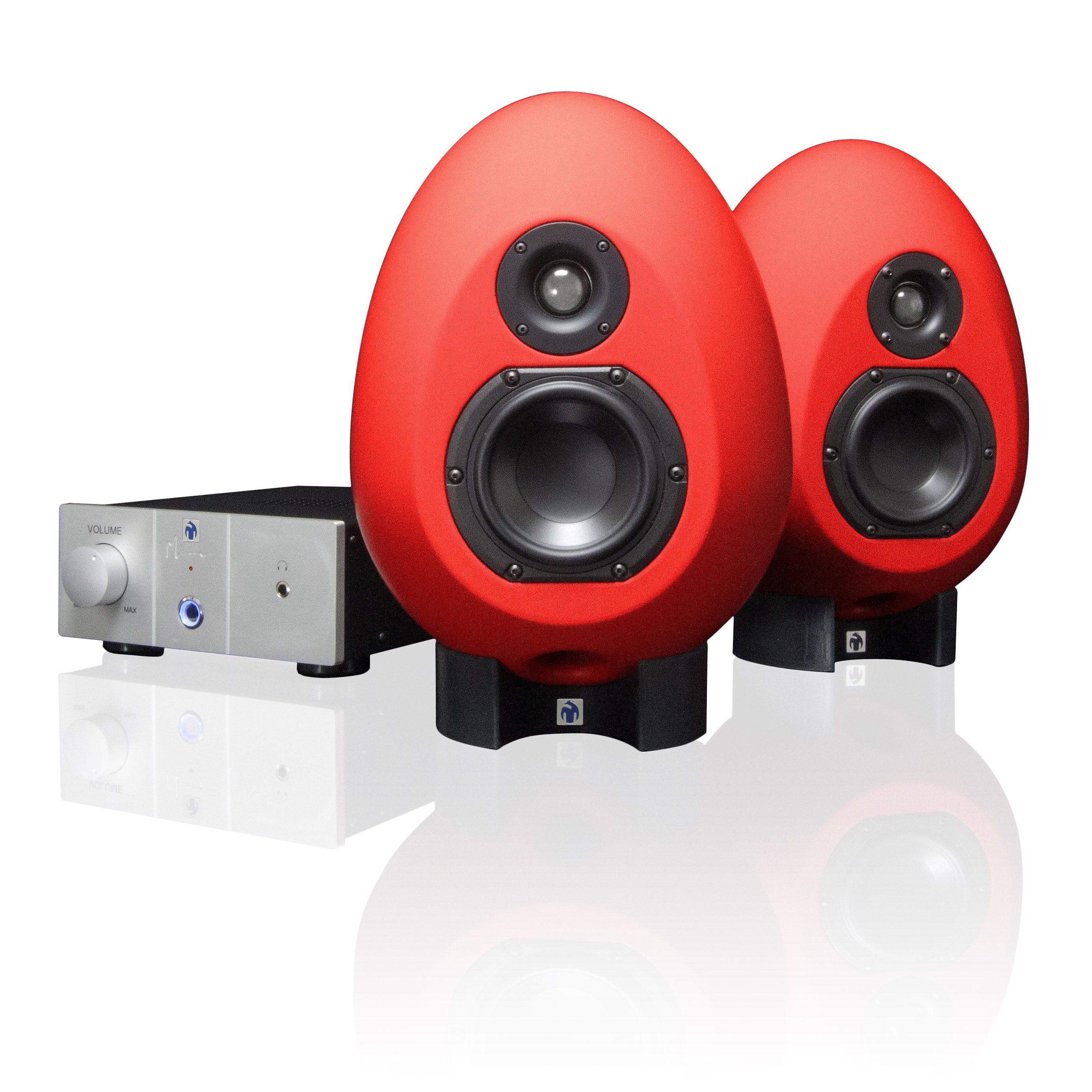 The MunroSonic Egg100 with the included control and amplifier unit.
Egg-Straordinary
In tests the Egg100s were able to cope well with a variety of styles of music, picking out the nuances of jazz but also with a weighty and focused bass end that gave plenty of heft to dubstep and techno. Overall the balance was excellent, especially once I had used the customization features to tune the setup to my studio, which can sometimes be a little boomy. The fact that they are relatively compact doesn't hinder the sound, but is helpful when desk space is at a premium.

These aren't exactly an impulse buy, but they are a very serious monitoring system and you can easily spend more on a similar setup from other manufacturers. It's a beautifully balanced system capable of crystal clear sound reproduction, tight but powerful bass and excellent stereo imaging. With clever features like the adjustable stand, centralized control unit and amp and angled bass ports, your ears will thank you for choosing the Egg100 system.
Price: £1,299 Ex VAT / $1,999 USD
Pros: Striking design. Excellent build quality. Matched components. Amazing reproduction. Surprisingly compact.
Cons: In this price range, you will probably have to be pretty serious about your setup.
Web: www.munrosonic.com
MunroSonic offers a free seven-day loan service in the UK for their products, which is ideal if you'd like to see how the Egg150 compares to your existing speakers, or to see how they sound in your studio. Contact them on +44 (0) 845 500 2 500 or email loans@MunroSonic.com to find out more.