If you're serious about mixing and music production more generally, you will understand the importance of having a proper monitoring system. All the plug-ins in the world mean nothing if you're being let down right at the end of the signal chain by substandard speakers. Big commercial studios spend a fortune on monitoring systems for this very reason, but those working in smaller spaces sometimes make do with more basic equipment. What MunroSonic has aimed to do is bring top-level performance to a wider market with a system that while not exactly 'cheap', is still far more affordable than many other custom designed monitors.
Back story
Andy Munro and Sonic Distribution first collaborated back in 2011 on the original Egg system which used unconventional egg-shaped speaker housings to reduce diffraction and internal resonance. It was well received, and this new version is updated in some key areas : but more of that in a moment.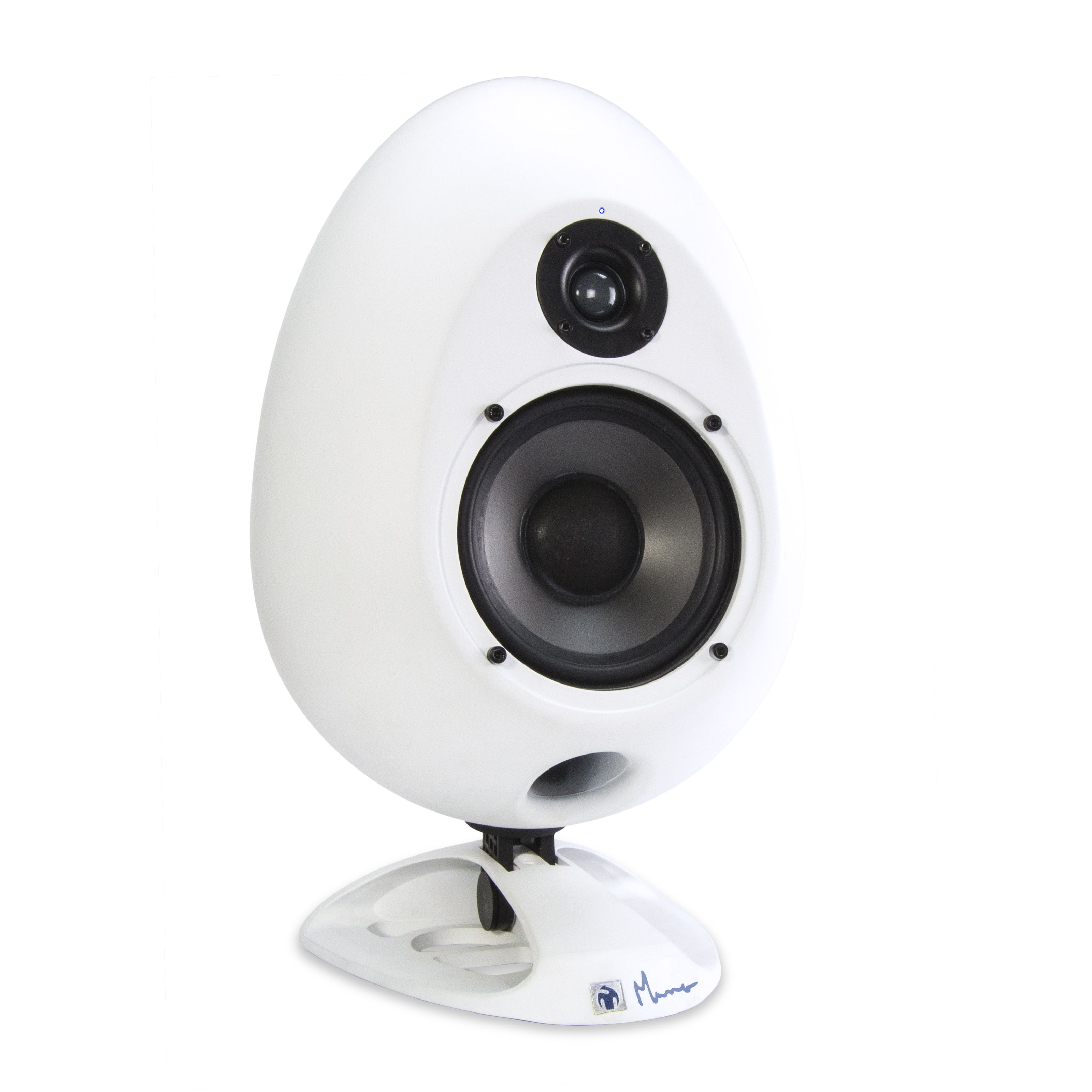 Normally your studio monitors are either powered internally by amps inside the speaker cabs, or connected to a power amplifier. This system falls into the latter category, with a central amplifier unit powering the cabs via bundled cables. In fact the amp unit has four 50W amps fed by dual linear power supplies which means that each speaker is bi-amped. Amplifying each driver individually means a cleaner and more accurate sound and it's common practice in the world of serious hi-fi as well.

"I tested some commercial tracks I've mixed and mastered myself and so am very familiar with and heard stuff in there that I'd not realized was there."
The cabs themselves are surprisingly light since they don't contain power units, but they are of course extremely well built and look incredible in the flesh. There are instructions as to how to place them optimally and some clever features to help you achieve the best sound you can. Each speaker can be positioned using its adjustable stand and you can use these to angle the speakers downwards slightly if necessary. Each cab has an LED light on it which is for positioning purposes and the idea is that you place each speaker such that the light appears brightest when you are sitting at your mixing position. This represents the best speaker alignment and you can turn the LEDs off afterwards so they don't get annoying.

Amp it up
Getting back to the amp, it's actually more than just a way of driving the speakers. It's very solidly built with a thicker front panel than the previous version and can sit atop your meter bridge or be rack mounted using the bundled rack ears if you prefer. On the rear panel is where you do your I/O and you'll find two XLR inputs to accept the main feed from your desk or perhaps audio interface, two unbalanced gold plated phono inputs for consumer equipment like DATs, and two Speakon outputs for connecting the speakers using the special multicore, impedance matched cables. It's also possible to tweak the frequency of the system here, using HF and LF controls for each channel. These might usually be found on powered speakers but here they're on the amplifier and can help you to tailor the behaviour of your system to the space you are working in. The PCBs inside the amp have also been redesigned.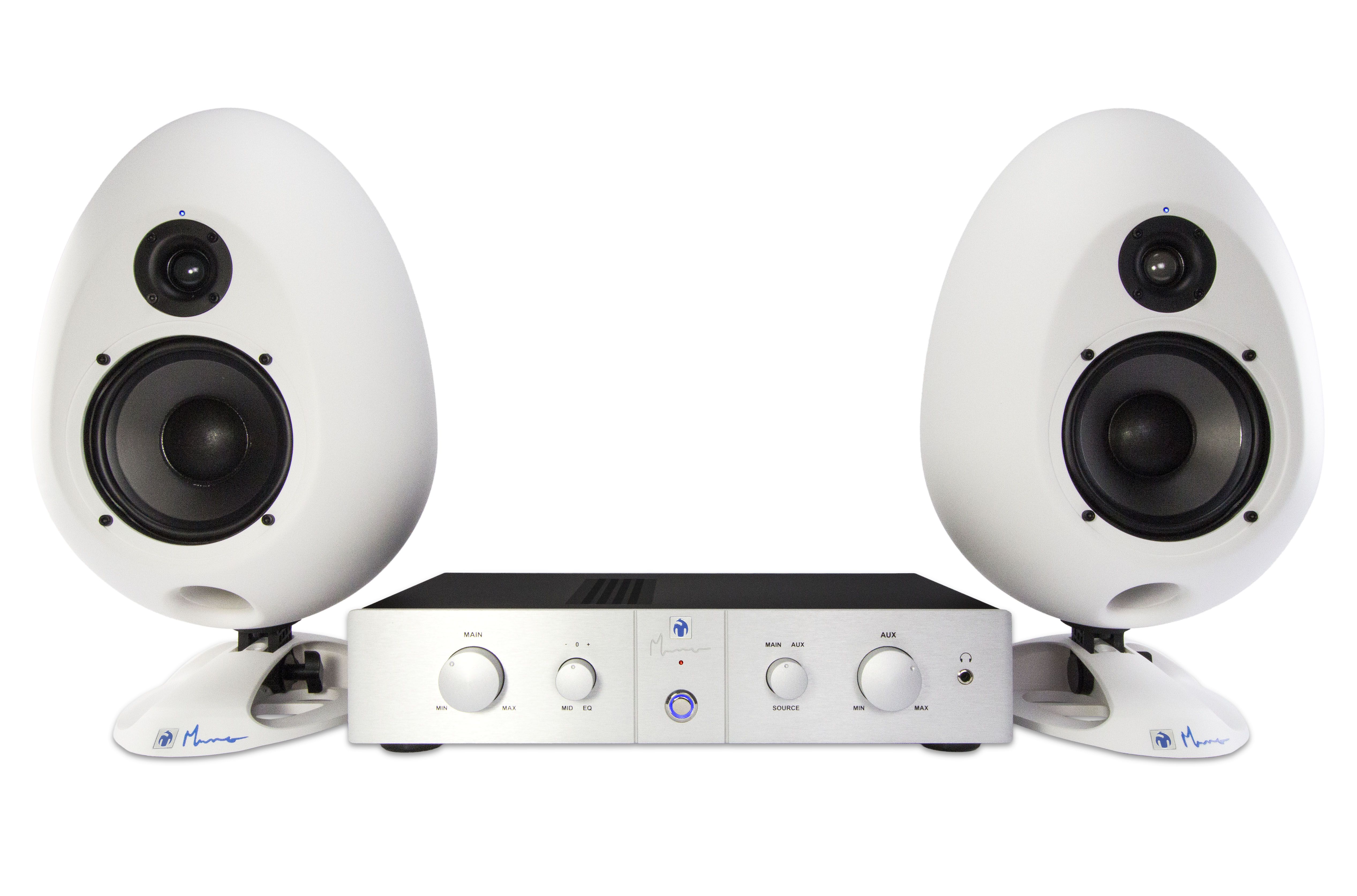 The front panel of the amp unit is pretty straightforward too and contains a main volume and separate aux volume control, a source select knob and a Mid EQ control that allows you to tweak the mid EQ response from softer through flat and slightly harder which the developer says can be good for working with vocal takes. There's also a headphone socket here and generally speaking the quality of the dials has been improved from the previous iteration.

"The power amps in the central unit allows for their focus to be completely on sonics rather than amplification."
Having practically all the controls on the central amp unit has several advantages. Firstly you can perform tweaks and adjustments from a central position rather than constantly going from one speaker to another to move knobs, and having to decide whether it's worked after the fact. By setting up EQ and levels while positioned optimally you can save time. Having the power amps in the central unit rather than the speaker cabs allows for their focus to be completely on sonics rather than amplification and thus their integrity is maintained.

Getting hot in here
The cables are 3m long which allows a good deal of freedom when it comes to positioning and since the centre unit powers the speakers you can turn power on and off without having to reach around the back of the cabs. The system is also protected against overloads, with a thermal fuse in each HF driver that will reset itself following a cooling down period if you have been listening for long periods at high volumes, and an overload LED to tell you when to turn things down. They have chosen not to use artificial limiting as they say this can give a false impression of true dynamic range, so you'll have to take responsibility for not pushing them too hard for too long. The system is covered by a two year zero-downtime guarantee for any manufacturing defects though this doesn't cover drivers.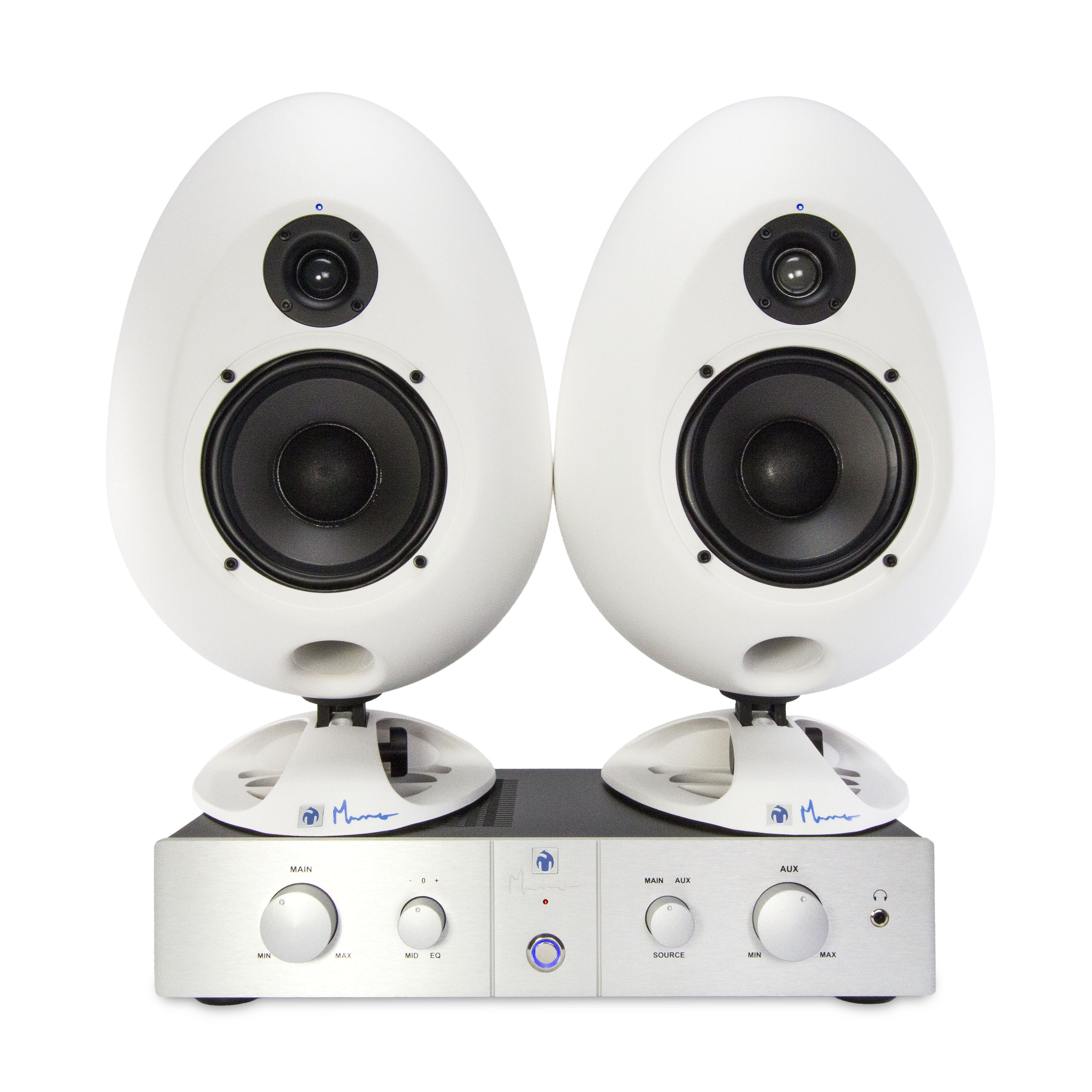 Egg-cellent sonics
The Egg 150s sound incredible, and as a system they are really very honest and neutral, which is what you want in a monitoring system. There's no point in mixing on speakers that overly flatter your music because they give you a false sense of what it really sounds like. Of course you can't account for every playback system going but if you can say your mixes sounded great on a neutral system you've covered most eventualities.
"The Egg 150s will give you a very accurate picture of your mixes, with a good solid bass and very detailed mids and top ends."
The soundstage is excellent too, with an incredible sonic depth and stereo separation, helped perhaps by the useful LED system to assist you with placement. I tested some commercial tracks I've mixed and mastered myself and so am very familiar with and heard stuff in there that I'd not realized was there. Luckily I didn't unearth any glaring mixing errors, but with some older material I could definitely pick out a few things that I would do differently were I mixing from scratch on this system. The Egg 150s will give you a very accurate picture of your mixes, with a good solid bass and very detailed mids and top ends, and they demand the best of you by rewarding time and effort spent on the sound. At this price they're probably not for newcomers but if you're serious about your production, perhaps if you run a commercial studio or work with audio professionally in any way, I'd very much recommend checking the Egg 150s out.
Price: UK RRP £1999 GBP
Pros: Very detailed sound. Amazing clarity. Excellent stereo separation. Great build quality. Clever design and setup features.

Cons: Look after them : don't blast at full volume for hours. May be out of the price range of more intermediate users.
Web: www.munrosonic.com
MunroSonic offers a free seven-day loan service in the UK for their products, which is ideal if you'd like to see how the Egg150 compares to your existing speakers, or to see how they sound in your studio. Contact them on +44 (0) 845 500 2 500 to find out more.